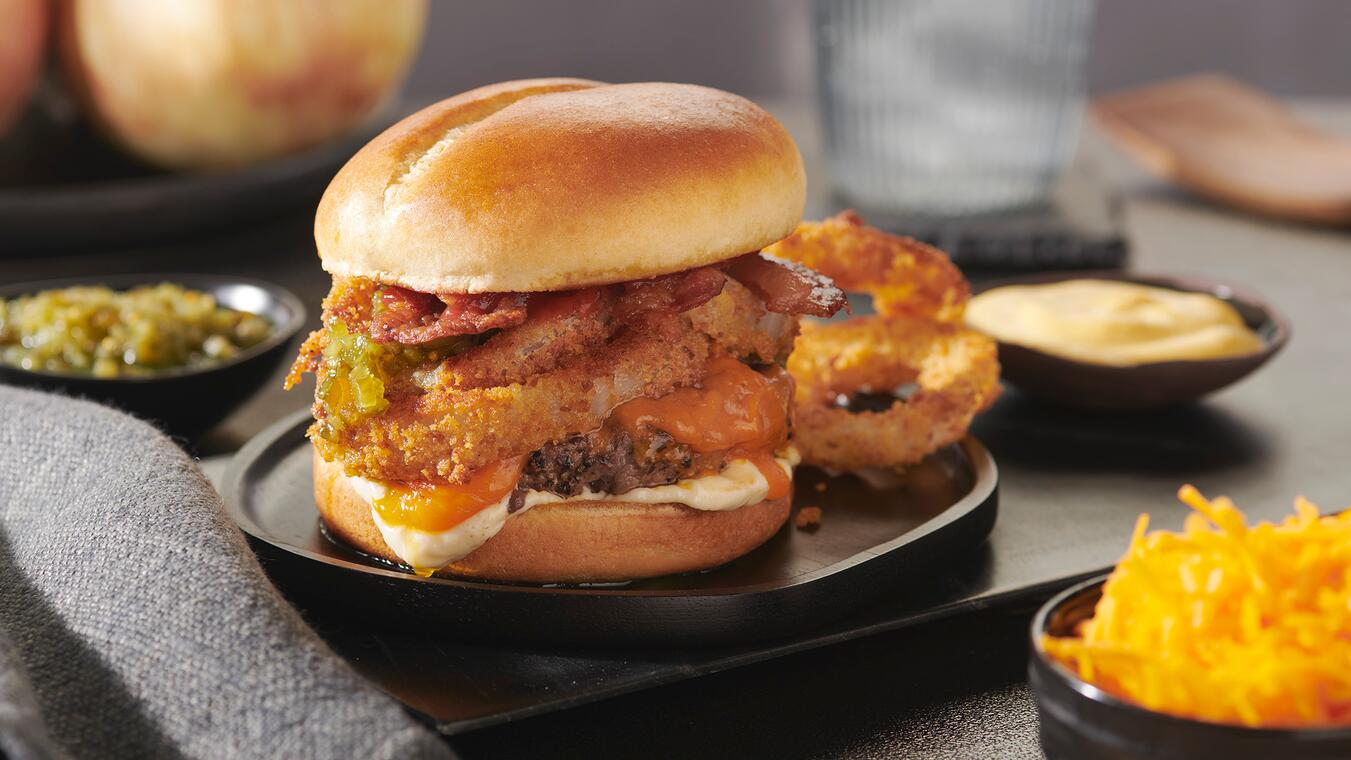 Prep Time: 15 mins
Cook Time: 20 mins
Servings: 6
Bacon Cheeseburger

Rate this recipe for points

42
Ingredients
Burger:
6 Dempster's® Signature Gold Burger Buns
1.5 Lbs. (680g) Ground Beef
3 Cups (750g) Cheddar Cheese, shredded
6 Tbsp (90g) Mayonnaise
6 Tbsp (90g) Ketchup
6 Tbsp (90g) Mustard
6 Tbsp (90g) Green Relish
12 Slices Thick-Cut Bacon, cooked crispy
Thick Cut Air-fryer Onion Rings:
2 Dempster's® Signature Gold Burger Buns
1 Tsp (5g) Onion Powder
1 Tsp (5g) Garlic Powder
1 Large Sweet Vidalia Onion – Cut into 1/2" thick slices and separated into rings
1 Cup (250g) All-Purpose Flour
1 Egg
Spray Cooking Oil
Flaky Sea Salt
Directions
Preheat the air-fryer to 400°F (205°C).
Remove 2 of the burger buns from the package and set aside.
Using a food processor, combine/pulse the 2 burger buns with the onion powder and garlic powder on high speed for 30 seconds for coarse breadcrumbs, or 1 minute for fine breadcrumbs, and set aside on a plate.
Whisk the egg in a small shallow bowl.
Measure flour onto a plate.
Slice onion into 1/2-inch-thick rounds and separate into rings.
Pat the onions dry with a paper towel to remove excessive moisture.
Dredge each ring into the flour, then dip into the egg mixture, and finally into the breadcrumbs.
Place onion rings in a single layer onto the air-fryer tray and spray with cooking spray.
Air-fry at 400°F (205°C) until golden brown and crispy, for about 20 minutes.
Divide the ground beef into 6 x 4oz (115g) patties and grill until the desired doneness, flipping at least once during cooking. Do not press down on patties at any time.
When there is about a minute left on the cooking time, top each with shredded cheese.
Place buns on the grill, cut sides down and toast for about 10 seconds or until just golden.
Remove the burgers and buns from the grill and allow them to rest for 1 minute.
Serve with mayonnaise, ketchup, mustard, and relish
Top each patty with cooked bacon and onion rings.

Tip: Freeze the breaded onion rings for 15 minutes on a baking sheet to help the mixture stick better.