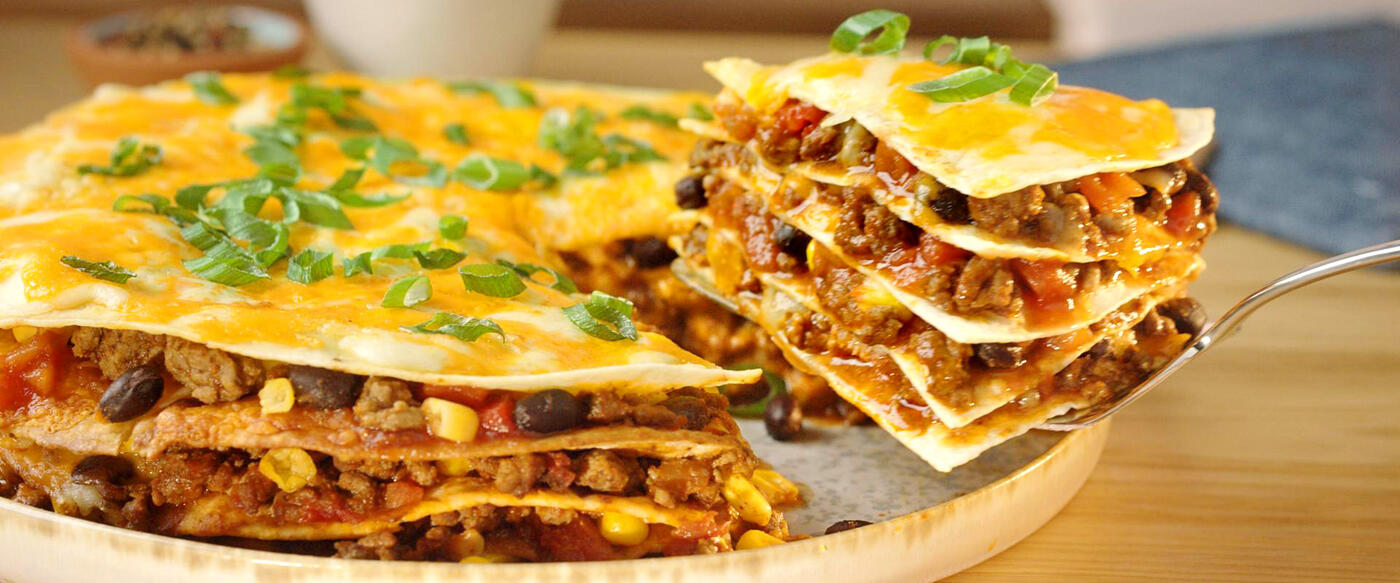 Prep Time: 20 mins
Cook Time: 40 mins
Servings: 2
Baked Mexican Tortilla Lasagna

Rate this recipe for points

3
This Baked Mexican Tortilla Lasagna recipe is full of flavour and is super easy to put together. Ground beef, black beans and corn are covered in taco seasoning and layered with cheese on top of Dempster's® 100% Whole Wheat 10" Tortillas. Quick, hearty and delicious, this dinner dish makes a great alternative to take-out. Serves two.
Ingredients
5 Dempster's® 100% Whole Wheat 10" tortillas
1 lb (500 g) extra-lean ground beef
1 packet taco seasoning
1 cup (250 mL) water
2 cups (500 mL) salsa
1 can (796 mL) black beans, drained and rinsed
1 cup (250 mL) corn niblets (frozen or canned)
2 ½ cups (625 mL) shredded cheese
¼ cup (60 mL) chopped green onions
Directions
Preheat oven to 350°F (180°C).
Brown beef in skillet.
Drain.
Stir in taco seasoning and water.
Bring to a boil, reduce heat and simmer for 10 minutes.
Stir in salsa, black beans and corn.
Remove from heat.
Place one tortilla on a parchment lined baking sheet.
Spread one quarter of the meat mixture evenly over the tortilla and sprinkle with 1/2 cup (125 mL) of the cheese.
Repeat layers 3 more times.
Top with remaining tortilla and cheese.
Bake uncovered in preheated oven until cheese is melted and bubbling, about 20 minutes.
Sprinkle with green onions and serve hot.
Cut into wedges to serve with sour cream.

Tip: Add ½ cup (125 mL) chopped fresh cilantro to the meat mixture for extra flavour.