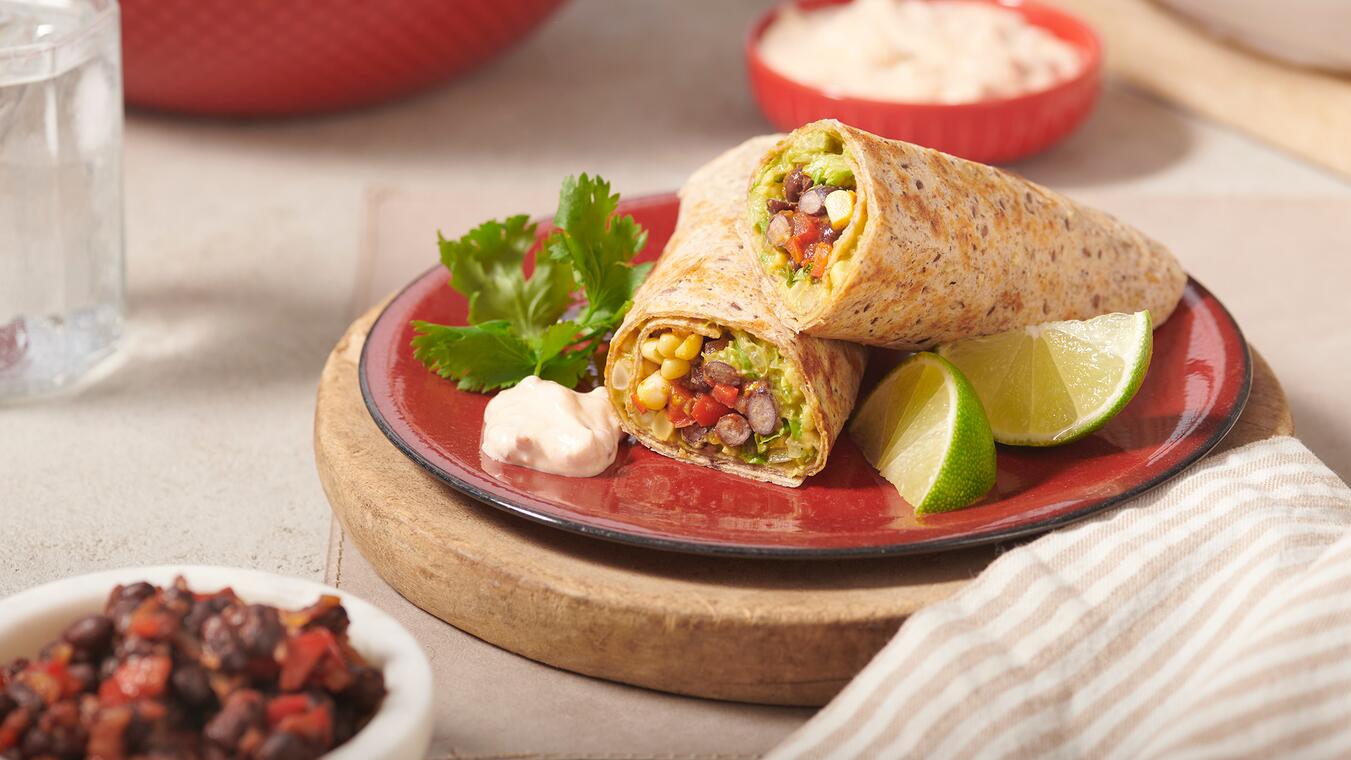 Prep Time: 10 mins
Cook Time: 25 mins
Servings: 4
Black Bean and Avocado Breakfast Wrap

Rate this recipe for points

21
Ingredients
Wrap:
4 Dempster's® Ancient Grains Large Tortillas
2 Tbsp (30ml) Olive Oil
1 Onion, chopped
1 Sweet Red Bell Pepper, seeded and chopped
2 Cloves of Garlic, minced
2 Cups (500g) Black Beans
1 Tbsp (15g) Taco Seasoning
1 Cup (250g) Chunky Guacamole
1/2 Cup (125g) Corn
1/2 Cup (125g) Fresh Cilantro
1 Lime, cut into wedges
Chipotle Sour Cream Sauce:
1/2 Cup (125mL) Mayonnaise
1/4 Cup (60mL) Sour Cream
2 Adobo Chipotle Peppers, chopped
Juice of 1 Lime, freshly squeezed
1 Clove of Garlic, minced
Pinch Flaky Sea Salt
Directions
In a mixing bowl combine all the chipotle cream sauce ingredients, mixing well to incorporate all the flavours and set aside.
In a non-stick pan, over medium heat, sauté onions in olive oil for 2 minutes, then add in red peppers and garlic and continue cooking for another 2 minutes until fragrant.
Stir in the black beans, taco seasoning and continue cooking for another about 1-2 minutes to heat through and combine flavours.
Heat up a dry fry pan over high heat and quickly toast up each tortilla for about 20-30 seconds per side until toasty, but, still pliable.
On a clean work surface evenly divide and spread each tortilla with guacamole.
Sprinkle each with corn.
Evenly divide the black bean mixture and layer over top of each tortilla and top with fresh cilantro.
Roll up tightly to secure fillings.
Serve with chipotle sour cream sauce for dipping and extra cilantro.