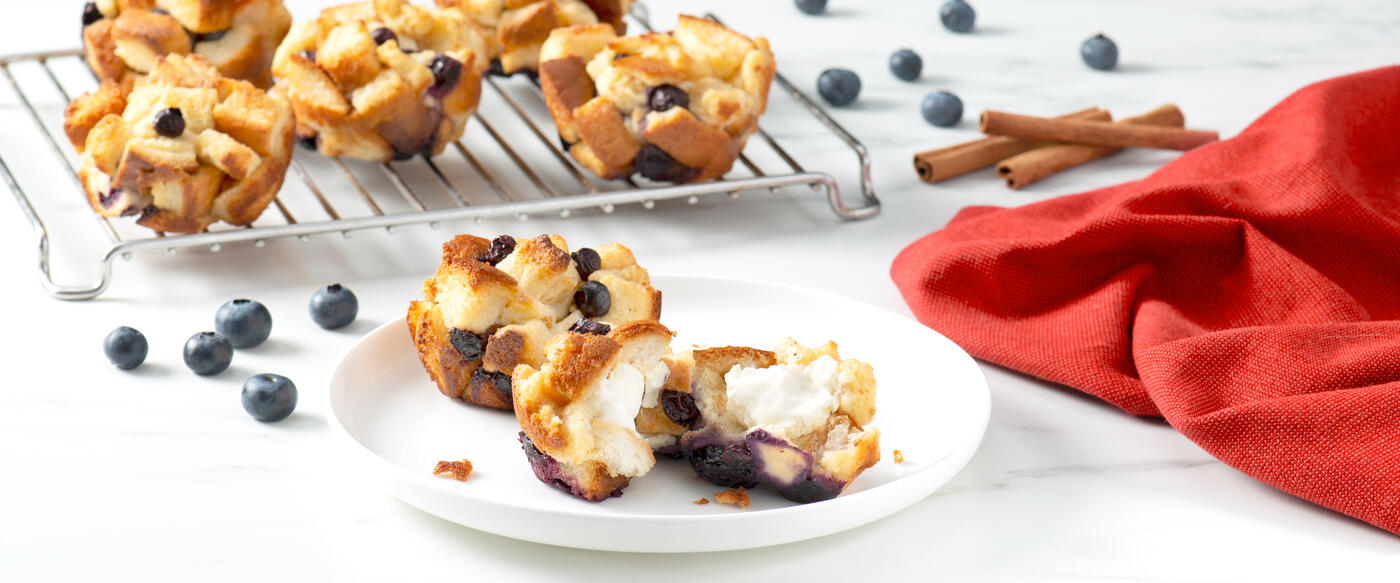 Prep Time: 5 mins
Cook Time: 30 mins
Servings: 4
Blueberry French Toast Breakfast Muffins

Rate this recipe for points

3
Blueberry French Toast Breakfast Muffins are a quick grab-and-go breakfast or a sweet mid-day treat. Easy to make, this recipe uses Dempster's® White Bread as the base, then adds fresh blueberries for a burst of colour and flavour. A warm cream cheese centre provides a delectable touch that'll have you coming back for more. Serves four.
Ingredients
8 slices Dempster's® White Bread, cubed
2 eggs
1/2 cup (125 mL) 18% table cream
1/4 cup (60 mL) honey
1 tsp (5 mL) vanilla extract
1/2 tsp (2 mL) cinnamon
1/2 cup (125 mL) blueberries
4 oz (125 g) brick-style plain cream cheese, cut into 8 cubes
Directions
Preheat oven to 350°F (180°C).
In large bowl, whisk together eggs, cream, honey, vanilla and cinnamon.
Add bread cubes, tossing until well coated.
Stir in blueberries.
Divide mixture among 8 greased muffin cups.
Place cube of cream cheese in centre of each muffin.
Bake for 20 to 25 minutes or until puffed, golden on top and cream cheese melts.