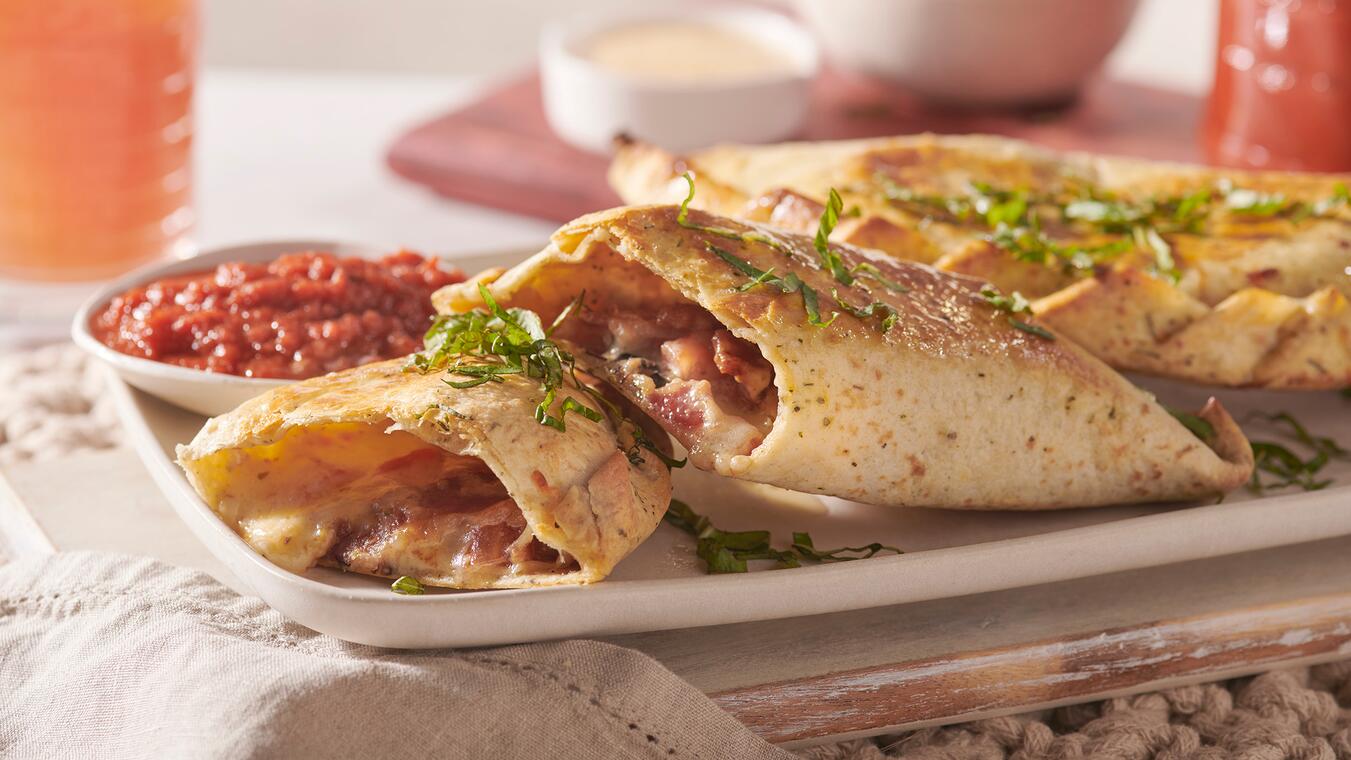 Prep Time: 10 mins
Cook Time: 35 mins
Servings: 4
Calzone

Rate this recipe for points

13
Ingredients
Calzone:
4 Dempster's® Tortizza™
1 1/2 Cups (375g) Cheddar, shredded
1 1/2 Cups (375g) Provolone
1/2 Cup (125g) Asiago
1/2 Cup (125g) Parmesan, freshly grated
1 Cup (250g) Mushrooms, sliced
6 – 8 Slices of Thick Cut Double Smoked Bacon
1/2 Cup (125g) Roma Tomatoes, seeded and diced
1 Cup (250mL) Thick Ranch Dressing
Olive Oil Spray
Marinara Sauce (Dipping Sauce):
1 Tbsp (15ml) Olive Oil
3 Cloves of Garlic, peeled and smashed
1/2 Tsp (3g) Dried Basil
1/2 Tsp (3g) Dried Oregano
2 Cups (500ml) Tomato Sauce
Salt & Pepper, to taste
Garnish:
1/2 Cup (125g) Chopped Parsley or Basil
Directions
Preheat the Air-fryer to 400°F (205°C).
Line a tray with parchment and air-fry the bacon in a single layer at 400°F (205°C) for 12-14 mins. Set aside on a paper-towel-lined plate to absorb extra grease and cut into 1-inch sections.
Prepare sauce by heating up olive oil over medium-high heat in a saucepan, for approx. 5 mins., until simmering. Then, add in garlic cloves and sauté until browned for about 3-4 minutes. Discard the garlic. Stir in dried basil and dried oregano and cook for 30 seconds until fragrant. Reduce heat to medium, then stir in tomato sauce and allow to simmer for 10 minutes, until the flavours have blended. Keep warm on low heat until ready to serve.
Spread ranch dressing over each Dempster's® Tortizza™
leaving edges clean.
Layer with cheeses, mushrooms and sprinkle with cooked bacon and diced tomatoes.
Fold clean side over to create a half-circle shape
Crimp the edges with your fingers to seal the filling inside.
Spray the calzone with olive oil.
Air-fry at 400°F (205°C) for 10 minutes, then, flip and continue cooking for another 10 minutes until golden brown.
Repeat the process with each Dempster's® Tortizza™.
Serve with marinara sauce for dipping and top with fresh chopped basil.