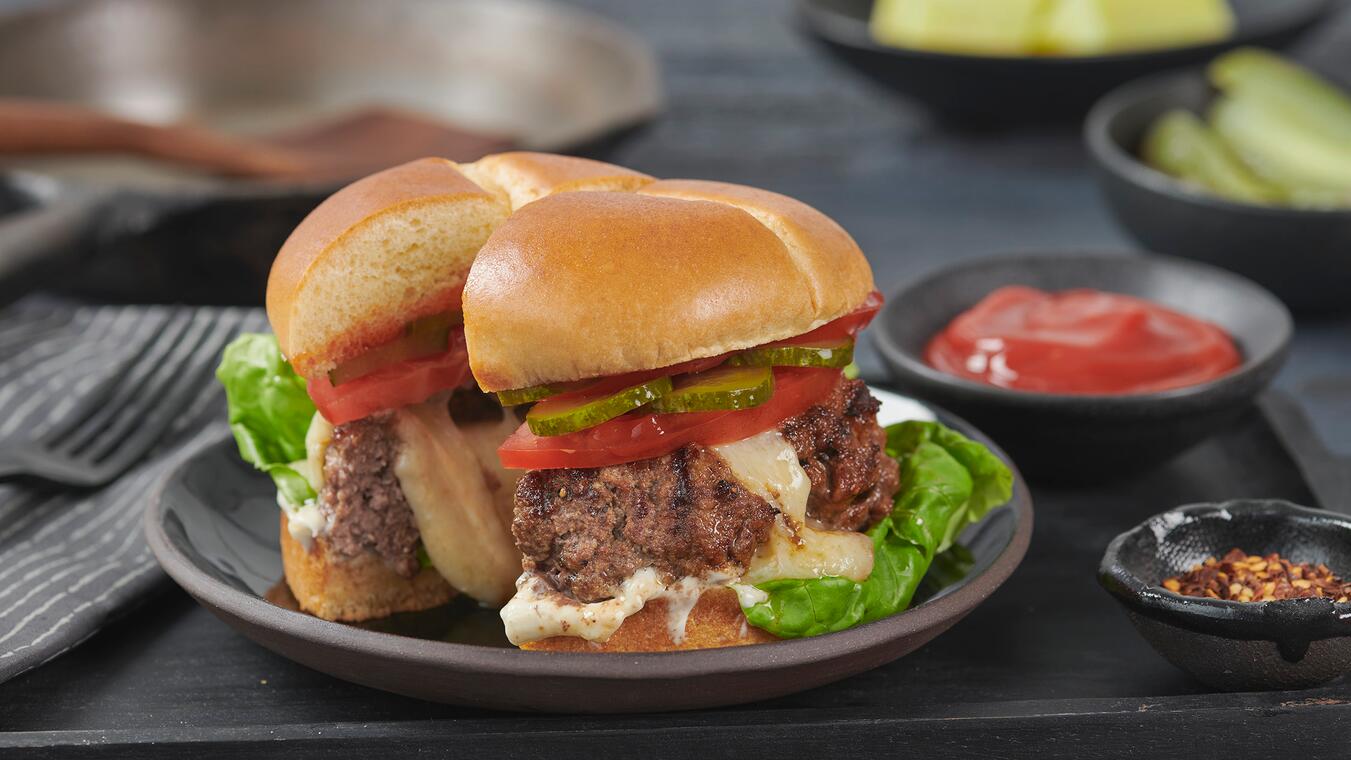 Prep Time: 15 mins
Cook Time: 20 mins
Servings: 4
Cheddar Stuffed Burgers

Rate this recipe for points

21
Ingredients
4 Dempster's® Signature Gold Burger Buns
1 1/2 Lbs. (450g) Lean Ground Beef
1 Tbsp (15g) Onion Powder
1 Tbsp (15g) Garlic Powder
1 Tsp (5g) Smoked Paprika
Salt and Pepper, to taste
1/3 Cup (75mL) Ketchup
2 Tbsp (30mL) Worcestershire Sauce
6 oz (170g) Extra Sharp Cheddar Cheese
4 Tbsp (60g) Mayonnaise
4 Leaves Boston Leaf Lettuce
1 Beefsteak Tomato, sliced
4 -5 Sweet Pickles, sliced
Directions
Preheat the grill over high heat.
In a large mixing bowl, combine ground beef with onion powder, garlic powder, and smoked paprika.
Cut a block of cheddar cheese into 4 equal pieces evenly divide the ground beef mixture into 4 patties and insert a block of cheese into the center of each patty.
Sprinkle both sides with salt and pepper, to taste.
Mix ketchup and Worcestershire sauce together and set aside.
Grill the burgers for 5 minutes per side.
Brush with the ketchup & Worcestershire sauce mix.
Continue cooking for another 5 minutes, until the patties are cooked to at least medium to allow the cheese to fully melt.
Split and place 4 hamburger buns on the grill, cut sides down and toast for about 10 seconds, or until just golden
Remove the burgers and buns from the grill and allow them to rest for 1 minute.
Spread the inside of each bottom bun with mayonnaise and then layer with Boston lettuce leaf, grilled burger patty, tomato slice, pickles, and top with bun.