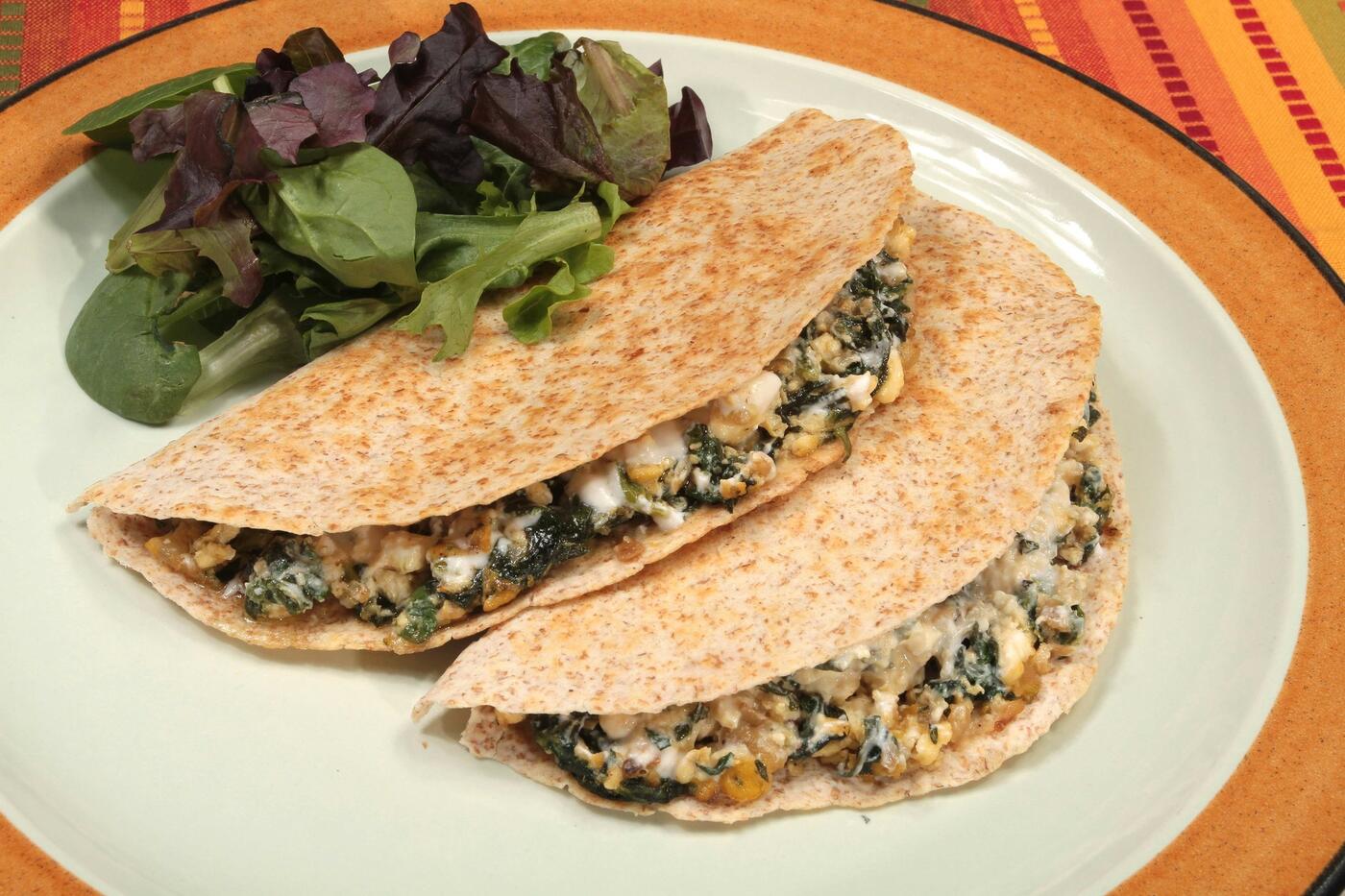 Prep Time: 5 mins
Cook Time: 12 mins
Servings: 4
Cheese and Spinach Quesadillas

Rate this recipe for points

7
Cheese and Spinach Quesadillas are a quick and easy way to enjoy the flavours of classic spinach dip. Dempster's® 100% Whole Wheat 10'' Tortillas, yogurt, feta cheese and fresh herbs offer a deep flavour profile that's hard to resist. Enjoy these vegetarian quesadillas for lunch or dinner or impress your guests with them at your next party. Serves four.
Ingredients
4  Dempster's® 100% Whole Wheat 10'' Tortillas
3 tbsp (45 mL) Olive oil, divided
1  Small onion, diced
3  Green onions, sliced
3  Cloves garlic, minced
4 cups (1 L) Chopped spinach
Salt and pepper
Pinch cayenne
Pinch nutmeg
tbsp (15 mL) Chopped fresh herbs (thyme, oregano, parsley)
2  Eggs, beaten
5 cup (125 mL) Crumbled Feta cheese
2 tbsp (30 mL) Plain yogurt
Directions
HEAT 1 tbsp (15 mL) olive oil in a small skillet over medium-high heat.
Add onions and garlic cook for 2-3 minutes or until tender and fragrant.
Add spinach and toss to combine.
Season with salt, pepper, cayenne, nutmeg and herbs.
Stir in eggs and continue to cook, stirring for 2-3 minutes or until eggs are set.
Remove from heat and stir in Feta cheese.
LAY tortillas on a large, clean work surface.
Divide spinach mixture between each of the tortillas, spreading over one half of the tortilla.
Fold in half, brush the outside with olive oil.
HEAT a large non-stick skillet over medium heat.
Place tortillas in pan and cook for 3-4 minutes per side until golden and crisp.
Serve with a dollop of plain yogurt on the side.