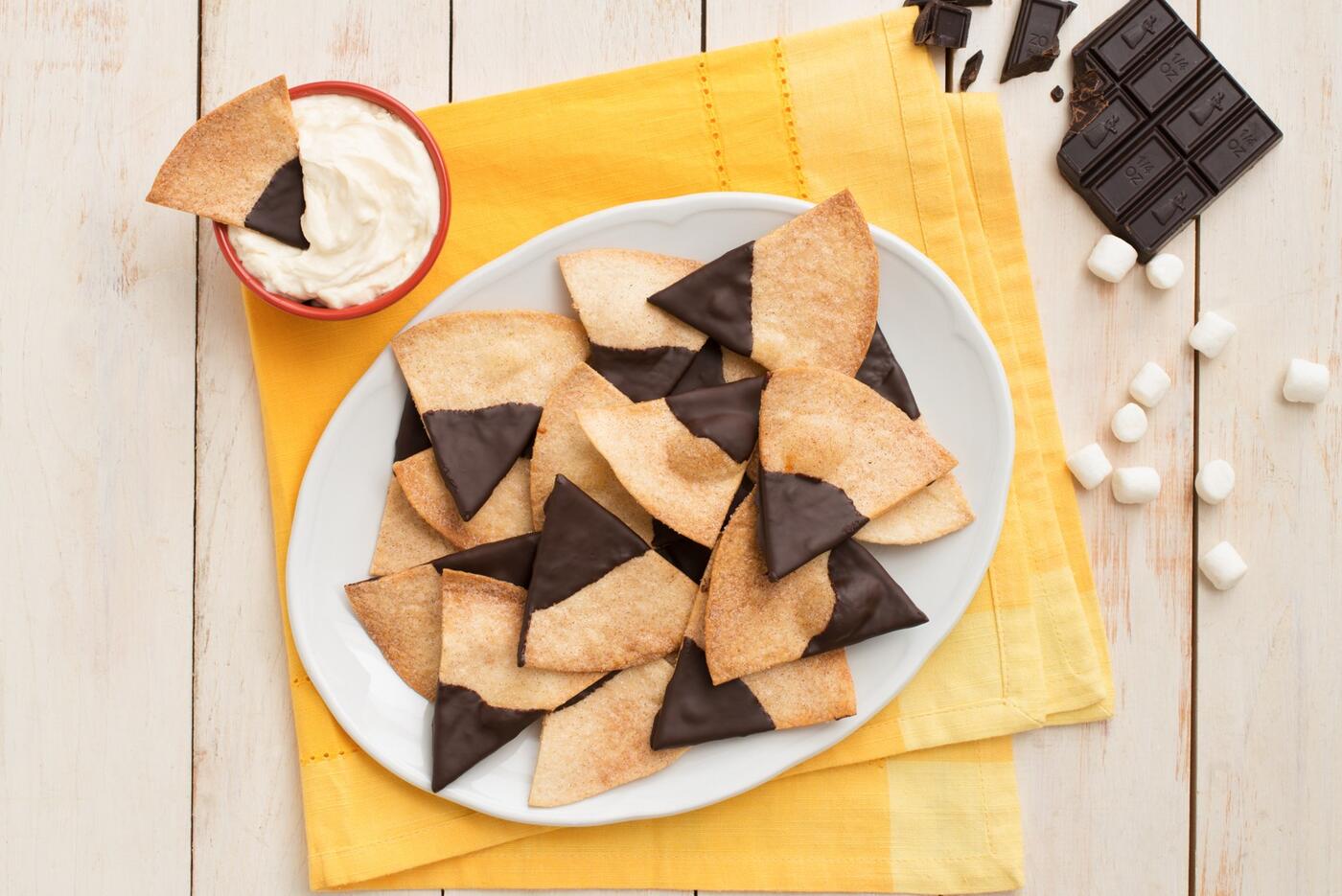 Prep Time: 10 mins
Cook Time: 30 mins
Servings: 4
Chocolate-Dipped Tortilla Chips and Marshmallow Caramel Dip

Rate this recipe for points

4
Sweeten up snack time with Chocolate-Dipped Tortilla Chips and Marshmallow Caramel Dip. Coated with sugar and cinnamon and dipped in chocolate, Dempster's® Original 7'' Tortillas are baked into crispy treats the whole family will love. Especially when you bring out the Marshmallow Caramel Dip. Serves four.
Ingredients
Marshmallow Caramel Dip:
1/4 cup (60 mL) .
35% whipping cream
4 oz (125 g).
plain cream cheese, softened
3 tbsp (45 mL) .
prepared caramel sauce
Pinch .
salt
1/3 cup (75 mL) .
marshmallow fluff
Directions
Line large baking sheet with parchment paper.
Brush one side of each tortilla with melted butter; stir sugar with cinnamon and sprinkle evenly over tortillas.
Cut each tortilla into 6 wedges; arrange on prepared pan.
Bake in 375°F (190°C) oven for 12 to 15 minutes or until golden brown.
Let cool completely.
Dip each chip into melted chocolate, shaking off excess; transfer to parchment paper-lined baking sheet.
Refrigerate for 15 minutes or let stand at room temperature for 1 hour or until chocolate is set.
Serve with Marshmallow Caramel Dip.
Marshmallow Caramel Dip: Whip cream to stiff peaks; set aside.
Stir together cream cheese, caramel sauce and salt until blended.
Fold in marshmallow fluff; fold in whipped cream.

Tip: Store chips in airtight container for up to 3 days.
Store dip, covered, in refrigerator for up to 3 days.