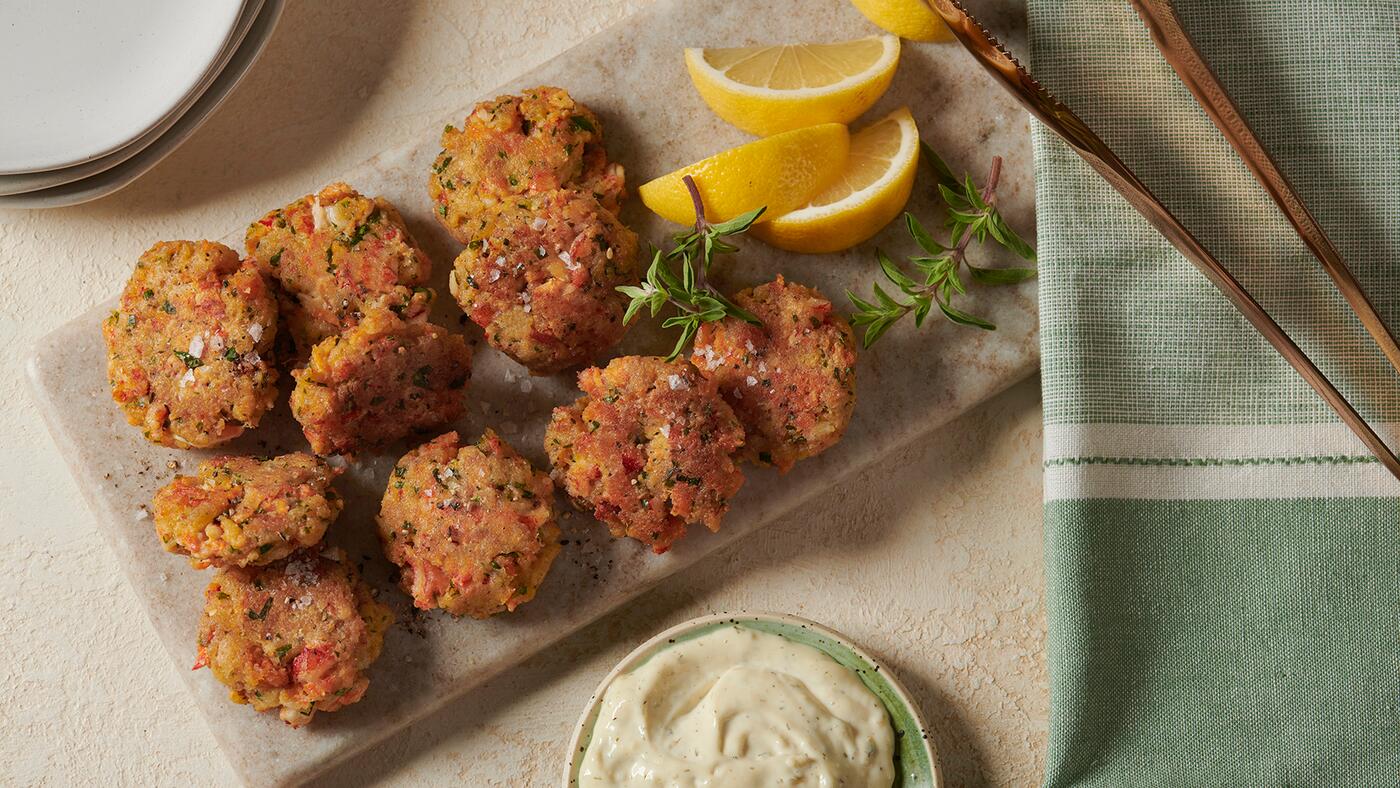 Prep Time: 20 mins
Cook Time: 10 mins
Servings: 2
Crab Cakes 

Rate this recipe for points

58
Ingredients
Crab Cakes:
4 slices of Villaggio® Classico Italian Style Thick Slice White Bread
1 Egg
1/3 cup (80g) Mayonnaise
1/4 cup (21g) Red Bell Peppers, finely chopped
2 tbsp (60g) Fresh Chives, chopped
1 tbsp (30g) Fresh Parsley, chopped
1 Lemon zest
1 tbsp (30ml) Lemon Juice
2 tsp (10ml) Worcestershire sauce
2 tbsp (60g) Dijon Mustard
1 tsp (5g) Old Bay seasoning
1 lb (500g) Crabmeat, picked over for shells
2 – 4 tbsp (60 – 120 ml) Olive Oil
Lemon wedges
Tartar Sauce:
1/2 cup (50g) Mayonnaise
1 Small Dill Pickle, finely chopped (3 tbsp/90g)
1 tbsp (30ml) fresh Lemon juice
1 tbsp (30g) fresh Dill, chopped
1 tsp (5ml) Worcestershire sauce
1/2 tsp (2.5g) Dijon Mustard
Salt & Pepper, to taste
Directions
Crab Cakes:
Cube 4 slices of bread and add into a food processor and process on high speed for 30 seconds or a full 1 minute, for finer breadcrumbs.
Transfer the 3/4 to 1 cup of breadcrumbs to a large mixing bowl and add in the egg, mayonnaise, red bell peppers, chives, parsley, lemon zest, lemon juice, Worcestershire sauce, Dijon mustard, Old Bay Seasoning and crab meat. Stir everything together until incorporated.
Using a 1/4 cup measuring spoon, form little cakes and set aside.
Heat up olive oil in a skillet, over medium-high heat.
Place each crab cake a few at a time, and cook for 5 minutes per side until golden brown. Repeat with remaining crab cakes.
Tartar Sauce:
To prepare the Tartar sauce, combine all of the ingredients together in a mixing bowl and stir until blended and creamy. Adjust the seasoning to taste and refrigerate for at least 30 minutes.
Serve with lemon and tartar sauce.