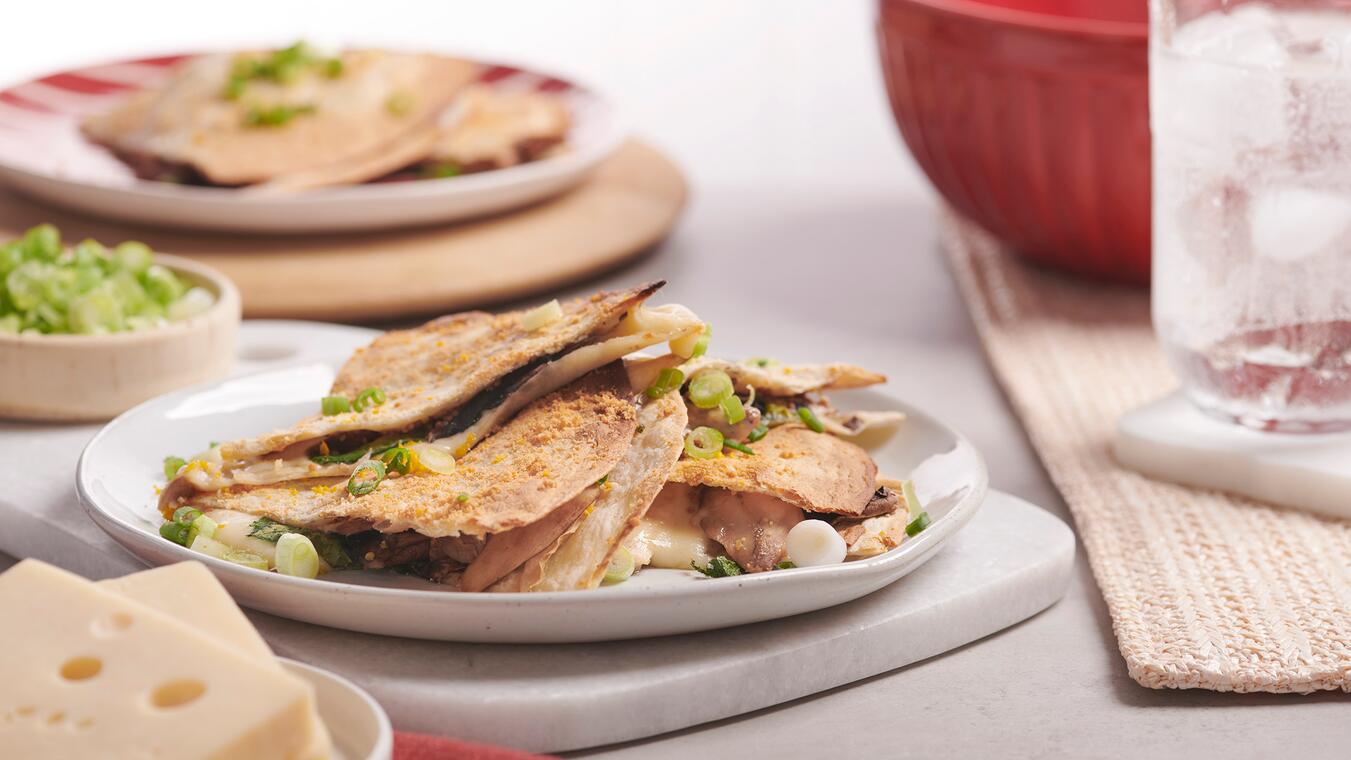 Prep Time: 20 mins
Cook Time: 35 mins
Servings: 4
Crispy Mushroom and Greens Quesadilla

Rate this recipe for points

19
Ingredients
8 Dempster's® Original Large Tortillas
1 Tbsp (15mL) Vegetable Oil
1/4 Cup (60g) Grated Parmesan
2 Tbsp (30mL) Olive Oil
4 Large Portobello Mushrooms, sliced
4 Large King Mushrooms, sliced
1 Tbsp (15g) Garlic Powder
1 Tbsp (15g) Onion Powder
2 Cups (500g) Baby Kale
1 Tsp (5g) Freshly Grated Orange Zest
8 Slices of Swiss Cheese
3 Tbsp (45mL) Whole Grain Dijon Mustard
1 Tbsp (15mL) Vegetable Oil
1/4 Cup (60g) Grated Parmesan
2 Scallions, finely chopped
Directions
Preheat the oven to 450°F (210°C).
Heat olive oil in a fry pan, over medium-high heat.
Sauté the portobello and king mushrooms for 4-5 minutes then, add in garlic powder, onion powder, and kale and continue cooking for another 2 minutes, then stir in orange zest.
Prepare 2 baking trays by lining them with parchment paper and lightly mist them with vegetable oil.
Evenly divide and sprinkle parmesan into 4 'tortilla-sized' circles.
Lay 4 tortillas over top of each of the parmesan circles.
Divide and evenly top with mushroom mixture, then, layer with Swiss cheese slices.
Spread the remaining 4 tortillas with whole grain Dijon mustard and place them mustard side down on top of each prepared tortilla.
Mist the top of each tortilla with a light coating of vegetable oil and sprinkle with parmesan cheese.
Bake at 450°F (210°C) for approximately 5-6 minutes, then, flip and bake for another 5-6 minutes, until browned.
Set aside until cool enough to handle and slice into quarters.
Finish with a sprinkle of chopped scallions.