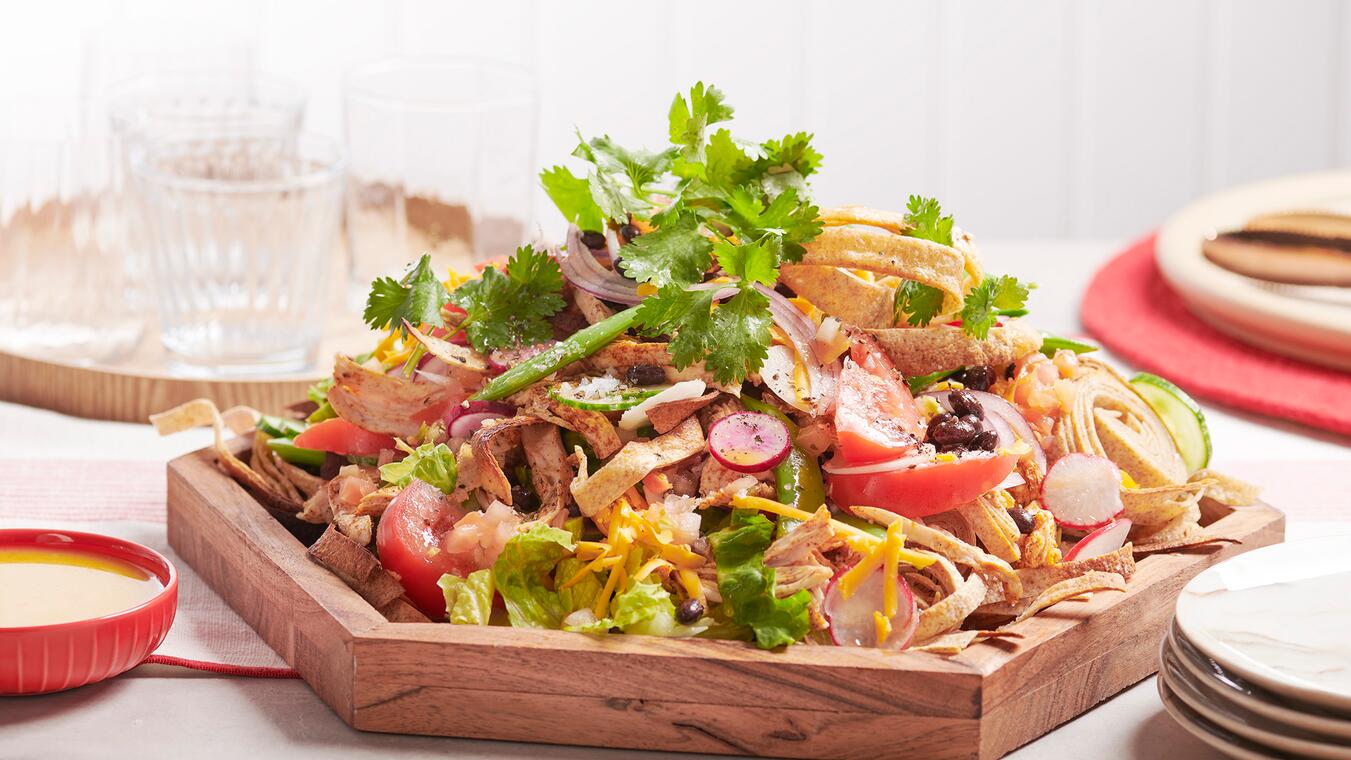 Prep Time: 30 mins
Cook Time: 40 mins
Servings: 8
Crispy Tortilla Strip Salad

Rate this recipe for points

102
Ingredients
Salad:
1 Package of Dempster's® Whole Wheat Large Tortillas
4 Tbsp (60mL) Vegetable or Canola Oil
Salt, to taste
1 Whole Rotisserie Chicken, shredded
2 Tbsp (30g) Taco Seasoning
1 Head of Romaine, washed
2 Large Tomato, sliced into wedges
1 Red Onion, thinly sliced
1 Cup (250g) Black Beans
1 1/2 Cups (375g) Cheddar Cheese, shredded
1 Cup (250mL) Salsa
2 Medium Avocado, peeled and chopped
6 Radishes, sliced
1 Cucumber, sliced
1 Cup Sugar Snap Peas, blanched
1 Cup Cilantro, roughly chopped
Salad Dressing:
3/4 Cup (180mL) Olive Oil
1/4 Cup (60mL) Mayonnaise
1/2 Cup (125mL) Taco Sauce
2 Cloves Garlic - Minced
Zest and Juice from 1 Lime
Directions
Preheat the oven to 375°F (190°C).
Roll up the tortillas and, with a sharp knife, cut them into 1/2-inch (1.25cm) strips onto a parchment paper-lined baking tray.
Spray with vegetable or canola oil and give a quick toss to ensure the tortillas are evenly coated with oil.
Sprinkle with salt.
Bake at 375°F (190 °C) for 5 minutes, then rotate the pan and bake for another 5 minutes.
Prepare the salad by tossing all the prepared ingredients together with the salad dressing into a large mixing bowl.
Top with extra cilantro for colour and brightness.