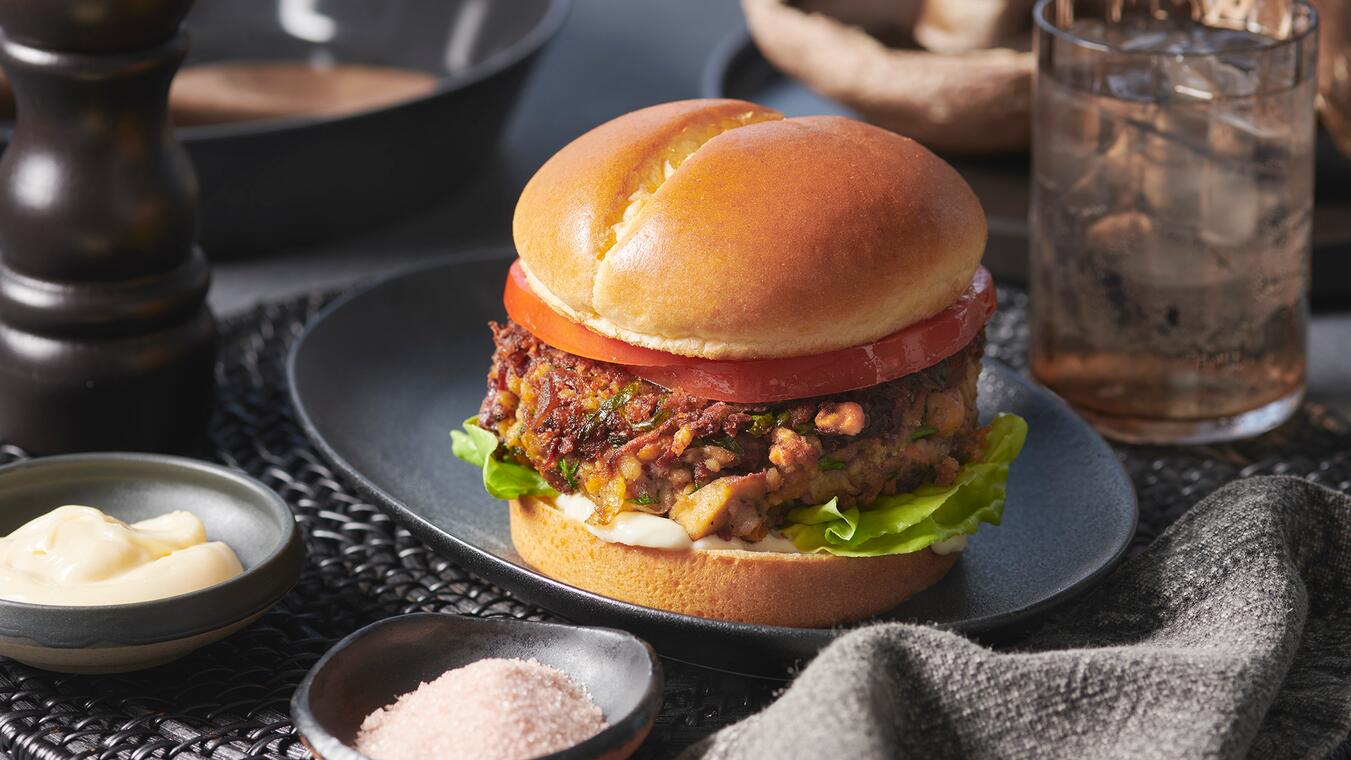 Prep Time: 25 mins
Cook Time: 35 mins
Servings: 6
Crunchy Veggie Burgers

Rate this recipe for points

10
Ingredients
1 Package of Dempster's® Signature Gold Burger Buns
1 Cup (250g) Pearl Barley
3 Cups (750mL) Water
2 Tbsp (30g) Ground Flax Seed
1 Small Onion, chopped
13 oz Can (398 mL) Chickpeas, mashed
13 oz Can (398 mL) Red Kidney Beans
3 Tbsp (45mL) Tamari Sauce
3 Tbsp (45mL) Olive Oil
2 Cloves of Garlic, minced
1 Tsp (5g) Chili Pepper
1 Tsp (5g) Cumin
1 Tsp (5g) Dried Thyme
3 Carrots, Grated (approx. 1 1/2 Cups or 375g)
2 Cups (500g) Spinach, chopped
1/2 Cup (125g) Walnuts, toasted and chopped
Salt and Pepper, to taste
2 Tbsp (30mL) High-Heat Cooking Oil
3/4 Cup (180g) Mayonnaise
1/2 Head of Boston Leaf lettuce
2 Tomato, sliced
Directions
In a saucepan, cover pearl barley with water and bring to a boil over high heat, watching carefully to ensure that it doesn't boil over.
Reduce the heat to a low simmer, and continue cooking, covered, for about 25 minutes until done.
Allow to cool and leave it to sit, covered until all the water is absorbed and is cool enough to handle safely.
If there is a lot of water left, drain the barley in a strainer over the sink.
Add to a large mixing bowl, with ground flax seed, chopped onions, mashed chickpeas, and red kidney beans.
Blend in tamari sauce, olive oil, minced garlic, chili pepper, cumin, dried thyme, grated carrots, chopped spinach and walnuts until well combined without overworking.
Form into 4-6 equal-sized patties and sprinkle each side with salt and pepper, to taste.
Preheat a heavy non-stick skillet over medium heat.
Add in cooking oil and cook 2-3 burgers at a time, for about 4-5 minutes per side, allowing room for flipping.
Transfer to a paper-towel-lined plate and repeat with the remaining burgers.
Spread each bottom bun with mayonnaise.
Layer with lettuce, burger, and tomato.
Top with a bun and enjoy!