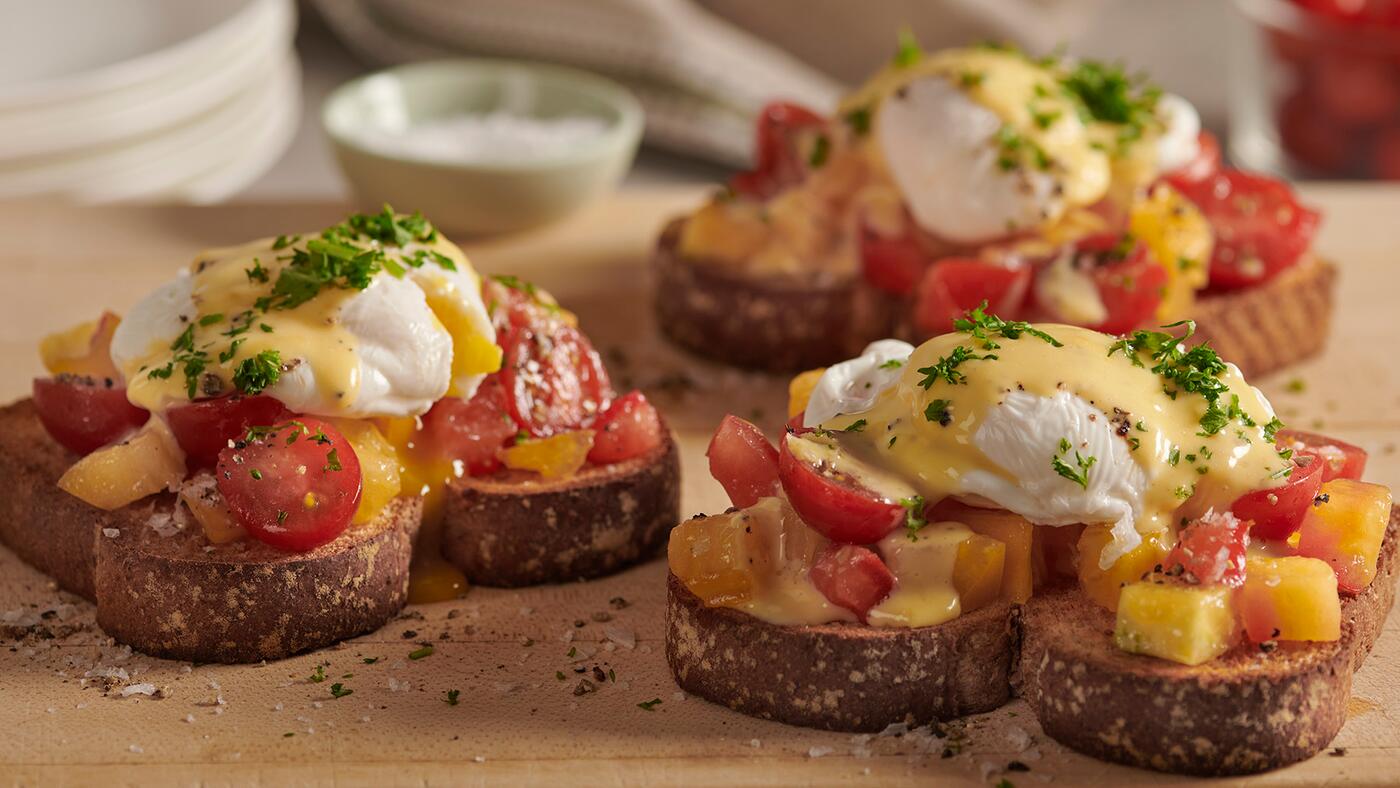 Prep Time: 20 mins
Cook Time: 35 mins
Servings: 4
Four-Tomato Eggs Benedict

Rate this recipe for points

10

The colourful tomatoes star in this flavourful twist on a perennial brunch favourite.
Ingredients
4 slices Villaggio® Italian Style Thick Slice 100% Whole Wheat Bread, toasted and buttered
8 cherry tomatoes, quartered
1 yellow tomato, chopped
1 Roma tomato, chopped
2 tbsp (30 mL) finely chopped sun-dried tomatoes
2 tbsp (30 mL) olive oil
1/4 tsp (1 mL) coarse salt
4 poached eggs
1 tbsp (15 mL) chopped fresh parsley
3/4 cup (175 mL) salted butter
4 egg yolks
2 tbsp (30 mL) lemon juice
1 tsp (5 mL) Dijon mustard
1/4 tsp (1 mL) each salt and freshly ground pepper
Pinch smoked paprika
Directions
Toss cherry, yellow, Roma and sun-dried tomatoes with olive oil and salt.
Let stand for 10 minutes.
In a small saucepan, heat butter over medium-high heat until melted and bubbling. Combine egg yolks, lemon juice and mustard in a blender; purée until smooth.
With the motor running, pour the bubbling butter into the blender.
Season with salt, pepper and smoked paprika.
Spoon tomatoes over slices of bread.
Top each with poached egg and Hollandaise Sauce.
Garnish with parsley.

Tips: To poach eggs, fill a saucepan with enough water to come 3 inches (15 cm) up the side. Heat until water simmers gently; stir in 1 tsp (5 mL) vinegar. Break each egg into a small dish; holding the dish just above simmering water, slip each egg into the water. Cook, in barely simmering water, for 3 to 5 minutes or until the white is set and the yolk is cooked to the desired doneness. Remove eggs with a slotted spoon; drain well on a paper towel.