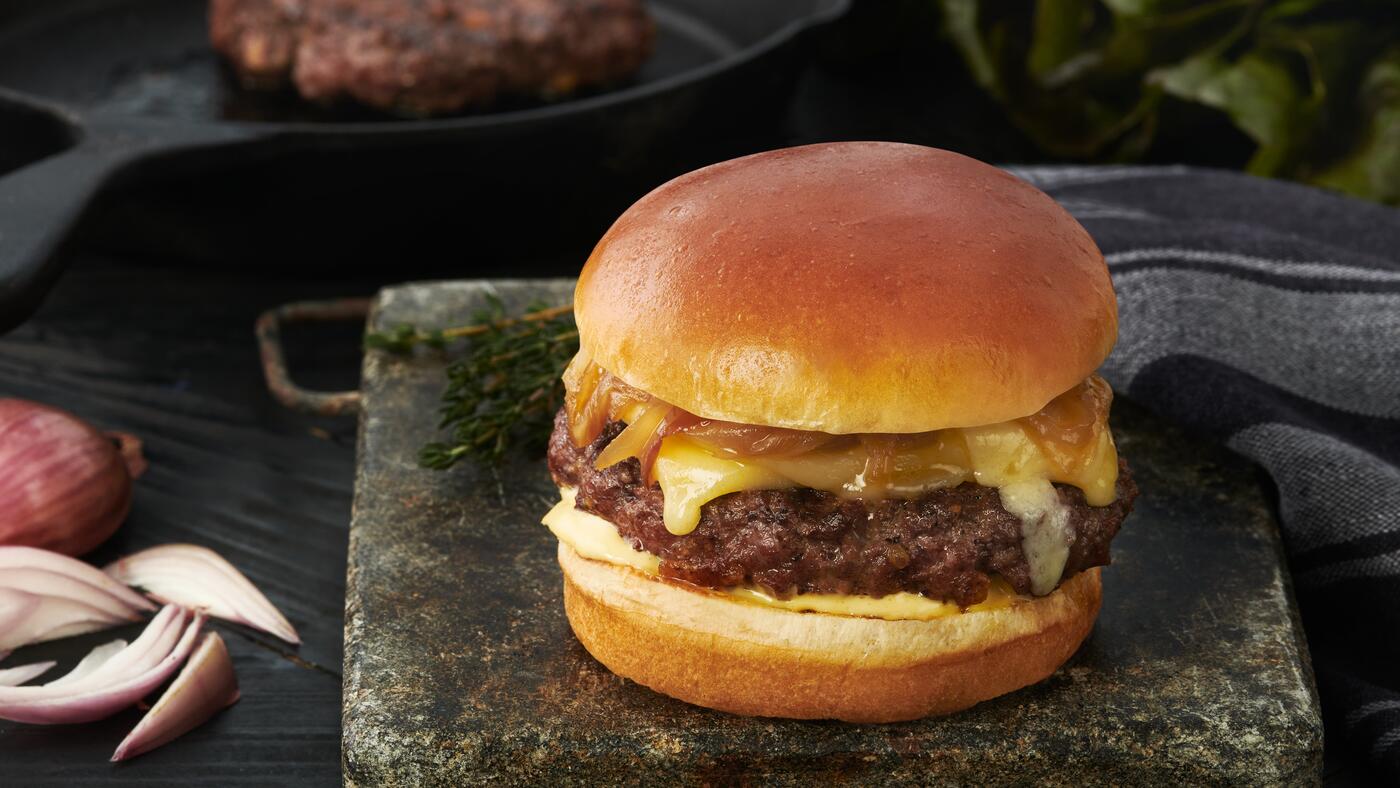 Prep Time: 20 mins
Cook Time: 28 mins
Servings: 4
French Onion Burger

Rate this recipe for points

39

Fresh take on French onion soup in burger form.
Ingredients
4 Villaggio Artesano® Brioche Hamburger Buns
2 lb (908 g) ground chuck
1 tbsp (15 mL) Worcestershire
4 slices mild provolone
4 slices gruyere
1/4 cup (60 mL) unsalted butter
1 tbsp (15 mL) sugar
1 tbsp (15 mL) olive oil
5 medium sweet onions
2 sprigs of thyme
1 tbsp (15 mL) tomato paste
1 tbsp (15 mL) Worcestershire
1 tbsp (15 mL) red wine vinegar
Salt and pepper
1/2 cup (125 mL) mayonnaise
2 tablespoons (30 mL) Dijon mustard
3/4 cup (190 mL) onion flakes
1/3 cup (85 mL) beef bouillon powder
1 tbsp+ 1 tsp (20 mL) onion powder
1/4 tsp celery seeds
1/4 tsp sugar
1/4 tsp ground pepper
1/8 tsp paprika
Directions
Mix all of the French onion seasoning ingredients together for a 1-cup yield
Combine 1/4 cup French onion seasoning with ground chuck and a little Worcestershire together in a mixing bowl
Do not overmix
Form the meat mixture into 4 1-inch thick patties.
Indent the center of the patties with your thumb
In a skillet melt the butter, sugar and olive oil, add the shredded sweet onions and cook for 20 minutes.
Add the thyme, tomato paste Worcestershire, vinegar and beef stock and cook till dry. Season with salt and pepper.
Cook for approximately 2 minutes.
Flip and top with slices of cheese.
Cook for another 2-3 minutes for medium-rare or until the desired doneness
Combine mayonnaise and dijon
Leave patties to cool slightly while lightly toasting buns.
Spread the bottom part of the bun with the mayonnaise mixture.
Top with the burger and onions.