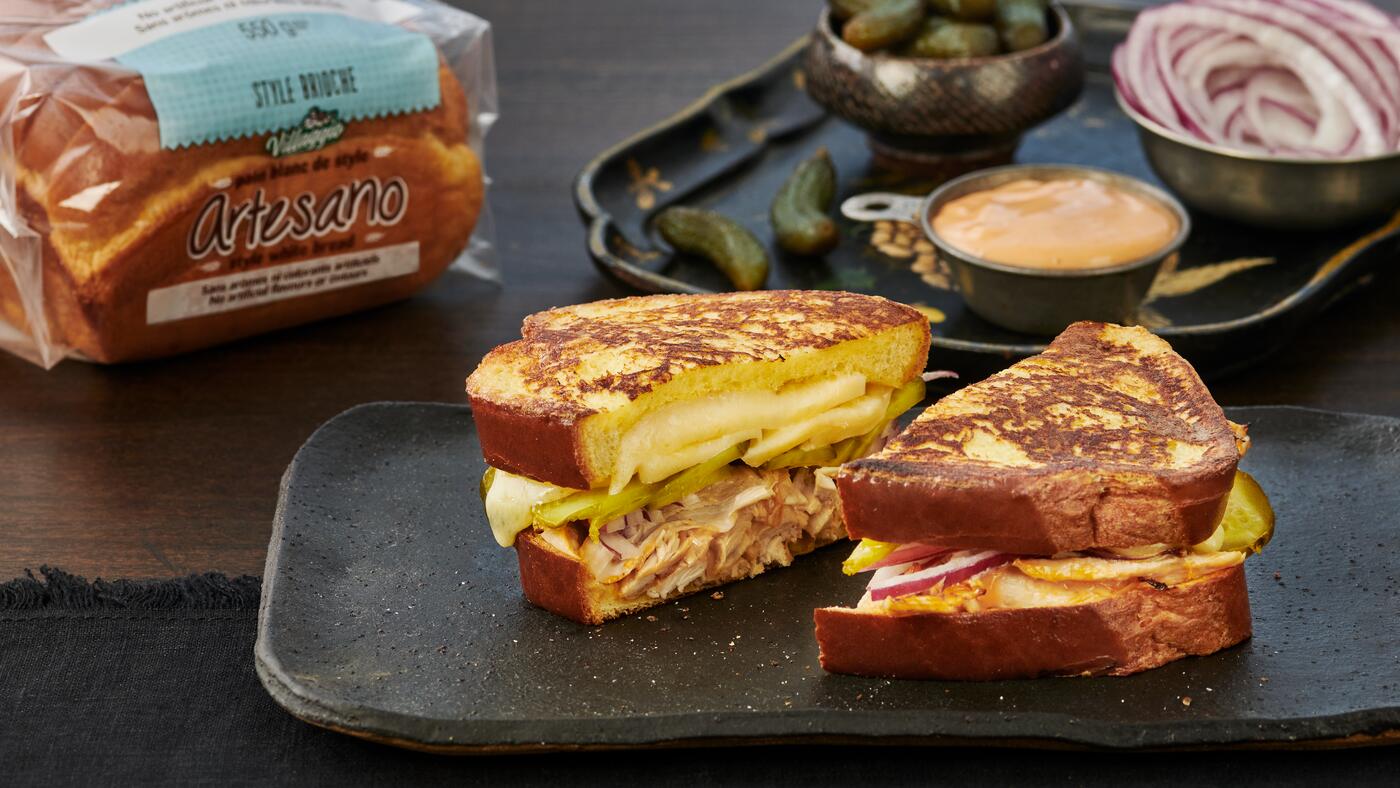 Prep Time: 20 mins
Cook Time: 5 mins
Servings: 4
Grilled Chicken and Gruyere Cheese Sandwich

Rate this recipe for points

43

Shredded Chicken with Mayo Sauce, Gruyere, Sweet Pickles and Red Onion. Toasted in a pan until melty and crispy. Enjoy this on our Villaggio Artesano® Original White Bread.
Ingredients
4 Slices Villaggio Artesano® Original White Bread
1 1/2 tbsp (22.5 mL) unsalted butter
1 whole skinless boneless chicken breast
3 tbsp (45 mL) mayonnaise
1 tbsp (15 mL) ketchup
4 slices of gruyere
2 sweet pickles (sliced thin)
2 sweet pickles (whole) for garnish
2 thin slices of red onion
1 large egg
2 tbsp (30 mL) milk
Directions
In a skillet, heat 1/2 tbsp of the butter until foaming subsides over medium-high heat.
Sauté chicken for 15 – 20 minutes, turning once until cooked through.
Shred chicken with two forks.
In a small bowl combine ketchup and mayonnaise with salt and pepper (to taste).
Mix in shredded chicken.
Divide the mixture between 2 slices of Villaggio® Artesano™ Original White Bread.
Top each with 2 Slices of Gruyere Cheese.
Layer slices of pickle and red onion and then, top with the other slice of Villaggio® Artesano™ Original White Bread.
In a shallow dish, beat together egg and milk.
Press each sandwich together firmly and dip into the egg mixture.
Heat the 1 Tablespoon of butter in the skillet and cook the sandwich for about 4 minutes per side until golden.
Flip the sandwich and add more butter if needed.
Slice in half and serve with a pickle on the side.