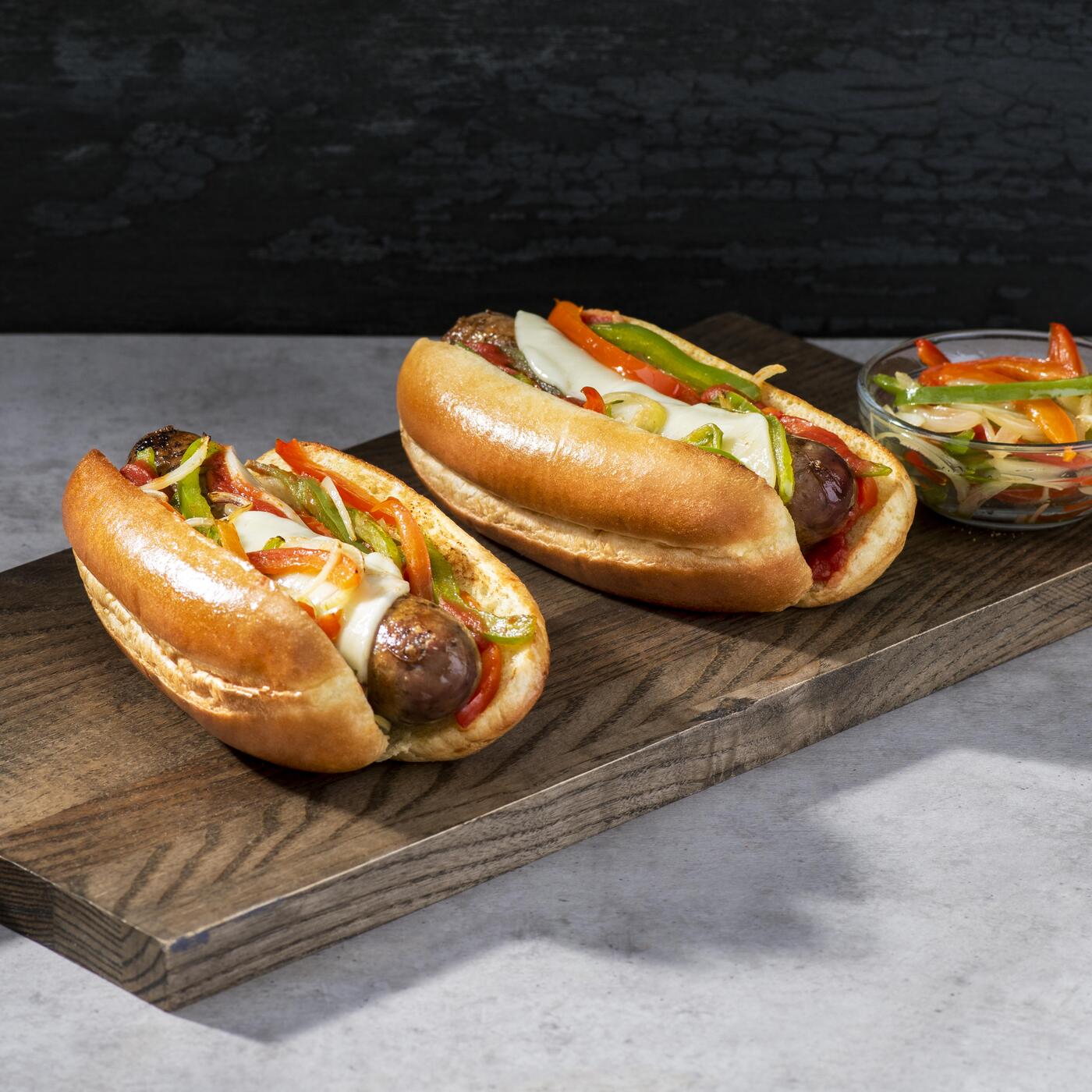 Prep Time: 15 mins
Cook Time: 40 mins
Servings: 4
Grilled Italian Sausage on a Bun with Cheese and Peppers

Rate this recipe for points

5
Serve our Grilled Italian Sausage on a Bun with Cheese and Peppers and bring hearty flavour to any occasion. Perfect for a summer barbecue, these loaded Italian sausages prepared on Dempster's® Signature Gold Sausage Buns are sure to satisfy the whole family. Serves four.
Ingredients
4 Dempster's® Signature Gold Sausage Buns, split and toasted
4 Italian sausages
1 red pepper, halved
1 green pepper, halved
1 onion, sliced into 1/2-inch (1 cm) rounds
1 cup (250 mL) tomato sauce, heated
8 slices provolone cheese, halved
Directions
Preheat grill to medium-high heat; grease grates well.
Grill sausages for 15 to 18 minutes or until golden brown and cooked through.
Meanwhile, grill red pepper, green pepper and onion rounds for 2 to 3 minutes per side or until well-marked and tender.
Let cool slightly; slice vegetables.
Preheat broiler.
Assemble sausages in buns with vegetables, tomato sauce and cheese.
Broil on a foil-lined baking sheet for 2 to 3 minutes or until cheese starts to melt.

Tips:
Use spicy or sweet sausages depending on preference.
Substitute mozzarella or shredded Italian cheese blend for provolone if preferred.
Alternatively, instead of broiling sandwiches to melt cheese, return to the grill set over indirect heat.
Cover and cook for 2 to 3 minutes or until cheese melts.