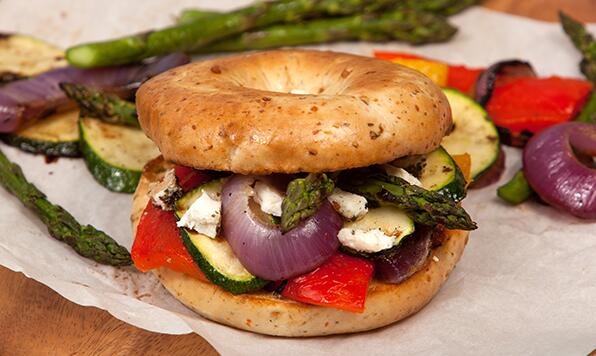 Prep Time: 15 mins
Cook Time: 15 mins
Servings: 1
Grilled Vegetable and Goat Cheese Bagel

Rate this recipe for points

7
Fresh grilled seasonal vegetables with tangy herbed goat cheese and a drizzle of balsamic vinegar to balance the flavours.  
Ingredients
Dempster's® Original Bagels, split and lightly toasted
1/2  Red pepper
1  Slice red onion
2-3  Slices zucchini
3  Stalks asparagus
2 tbsp (30 mL) Olive oil
Salt and pepper
3 tbsp (45 mL) Herbed Goat cheese
Balsamic vinegar to drizzle
Directions
PREHEAT BBQ to medium-high.
TOSS the vegetables with olive oil and season with salt and pepper.
Grill the vegetables until tender crisp, about 2-3 minutes per side.
Remove from heat.
ARRANGE the grilled vegetables on the bottom half of the bagel.
Crumble the goat cheese over top and drizzle with balsamic vinegar.
Top with the other half of the bagel.

Tip: If you don't have a grill, simply sauté the vegetables instead.