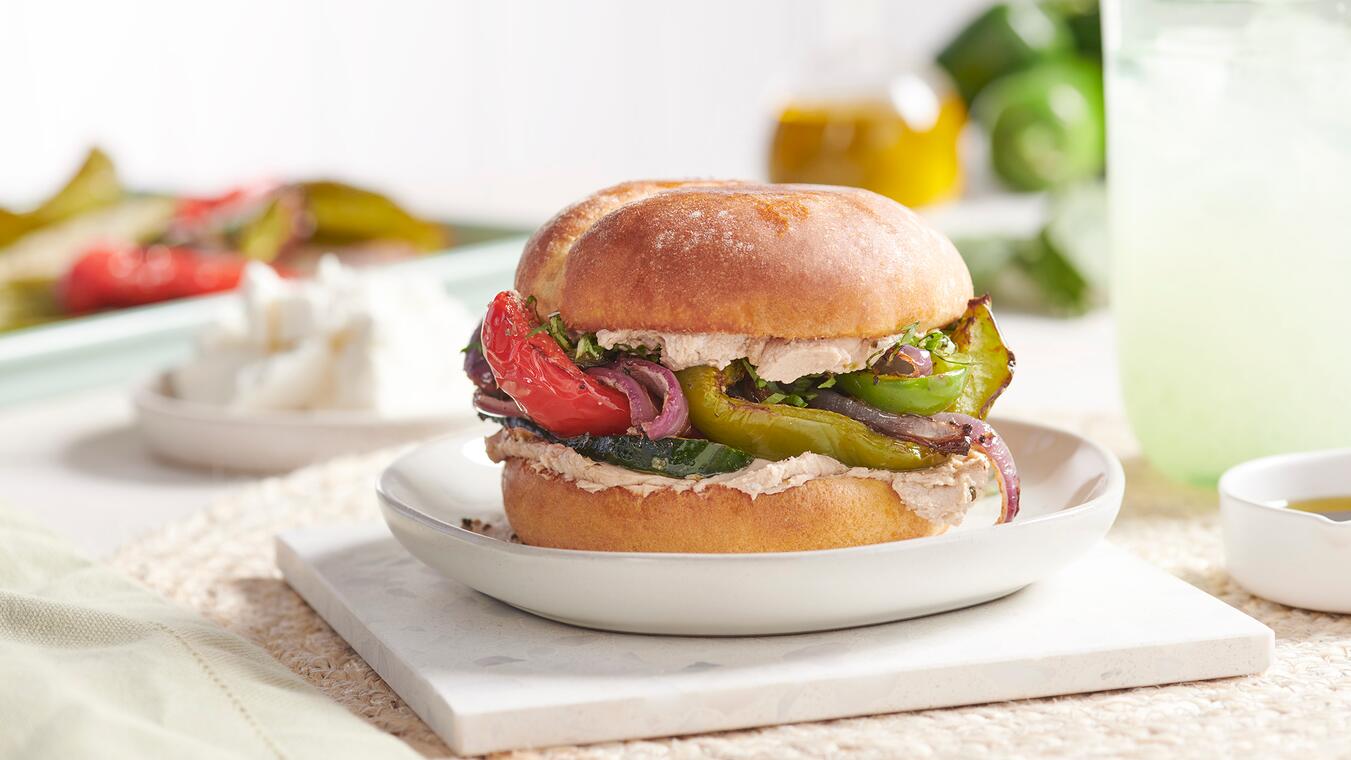 Prep Time: 15 mins
Cook Time: 25 mins
Servings: 4
Grilled Vegetables and Goat's Cheese Burger

Rate this recipe for points

4
Ingredients
4 Villaggio® Toscana™ Hamburger Buns
8 tbsp (120ml) Olive oil
1/2 tsp (3ml) Dried Thyme
1 cup (250ml) Fresh Goat's Cheese
4 tbsp (60ml) Balsamic Vinegar, reduced
1 Red Pepper, cut into 4 (pit and seeds removed)
1 Green Pepper, cut into 4 (pit and seeds removed)
4 Jalapenos, cut into half (pit and seeds removed)
1 Zucchini, thinly sliced
1 Red Onion, sliced
2 Garlic Cloves, chopped
1/2 tbsp (8ml) Dried Oregano
6 Basil Leaves, chopped
Salt and Pepper to taste
Directions
Preheat the oven to 200°C (400°F) with the rack in the middle position Brush the inside of each bun with olive oil and sprinkle with the dried thyme.
In a bowl, mix together the goat's cheese, balsamic vinegar and 2 tablespoons of olive oil.
In a large bowl, mix together the peppers, jalapenos, zucchini, onion, garlic, oregano, remaining olive oil, salt and pepper.
Cover a baking sheet with parchment paper or a silicone mat, arrange the vegetables and oven-cook for 25 minutes. Toast the buns under the grill for 2–3 minutes.
Garnish each bun with the prepared goat's cheese, then add the grilled vegetables and basil.