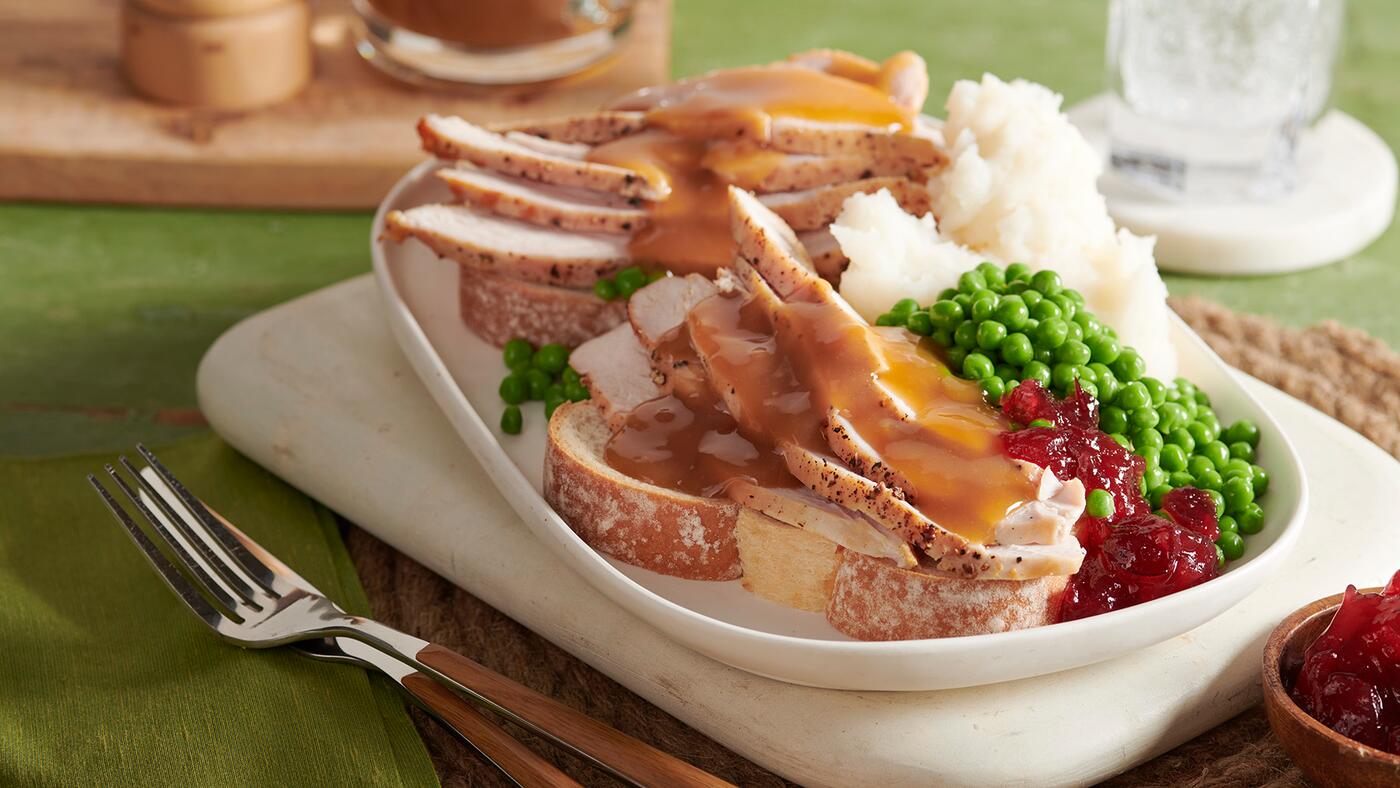 Prep Time: 10 mins
Cook Time: 20 mins
Servings: 2
Hot Turkey Sandwich 

Rate this recipe for points

27
Ingredients
Sandwich:
4 slices of Villaggio® Classico Italian Style Thick Slice White Bread
Leftover Turkey
Sides:
Green Peas
Mashed Potatoes
Gravy
Red Currant Jelly
Mashed Potatoes:
1 1/2 pound (700g) of Russet Potatoes
1/2 cup (125ml) Whole Milk or Heavy Cream
1 tbsp (30g) Unsalted Butter
Gravy:
2 cups (500ml) Poultry or Vegetable Stock
2 Chicken Bouillon Cubes
1/4 cup (30g) Flour
1 tsp (5g) Onion Powder
1 tsp (5g) Dried Rosemary
1/2 tsp (2.5g) Dried Thyme
1/2 Tsp (2.5g) Dried Sage
Salt & Pepper, to taste
Directions
Sandwich:
Option to toast up 4 slices bread OR serve untoasted generously layered with warmed Turkey Slices with the suggested sides of Mashed Potatoes, Peas and Red Currant Jelly and topped with homemade gravy.
Mashed Potatoes:
Heat generously salted water in a medium saucepan over high heat
Peel the potatoes and cut then cut in half, then into quarters, lengthwise.
Cut the quarters into thin strips and drop them into boiling water. Turn the heat down to a simmer and cook for approximately 15-20 minutes
Drain and mash the potatoes with butter. Cook, stir and mash to help dry up any excess water
Add choice of dairy and stir till creamy and smooth
Remove from heat and season to taste
Gravy:
In a microwave-safe bowl or measuring cup, combine the stock and Bouillon cubes Heat for 1 minute and stir
Repeat until the bouillon has dissolved
Melt the butter in a saucepan over medium-high heat and add the Flour, Onion Powder, Thyme, Sage and Rosemary
Cook for 1 minute, then slowly whisk in the stock until smooth and thick
Reduce the heat to simmer and continue cooking and whisking for about another minute
Add Salt & Pepper to taste and serve immediately.