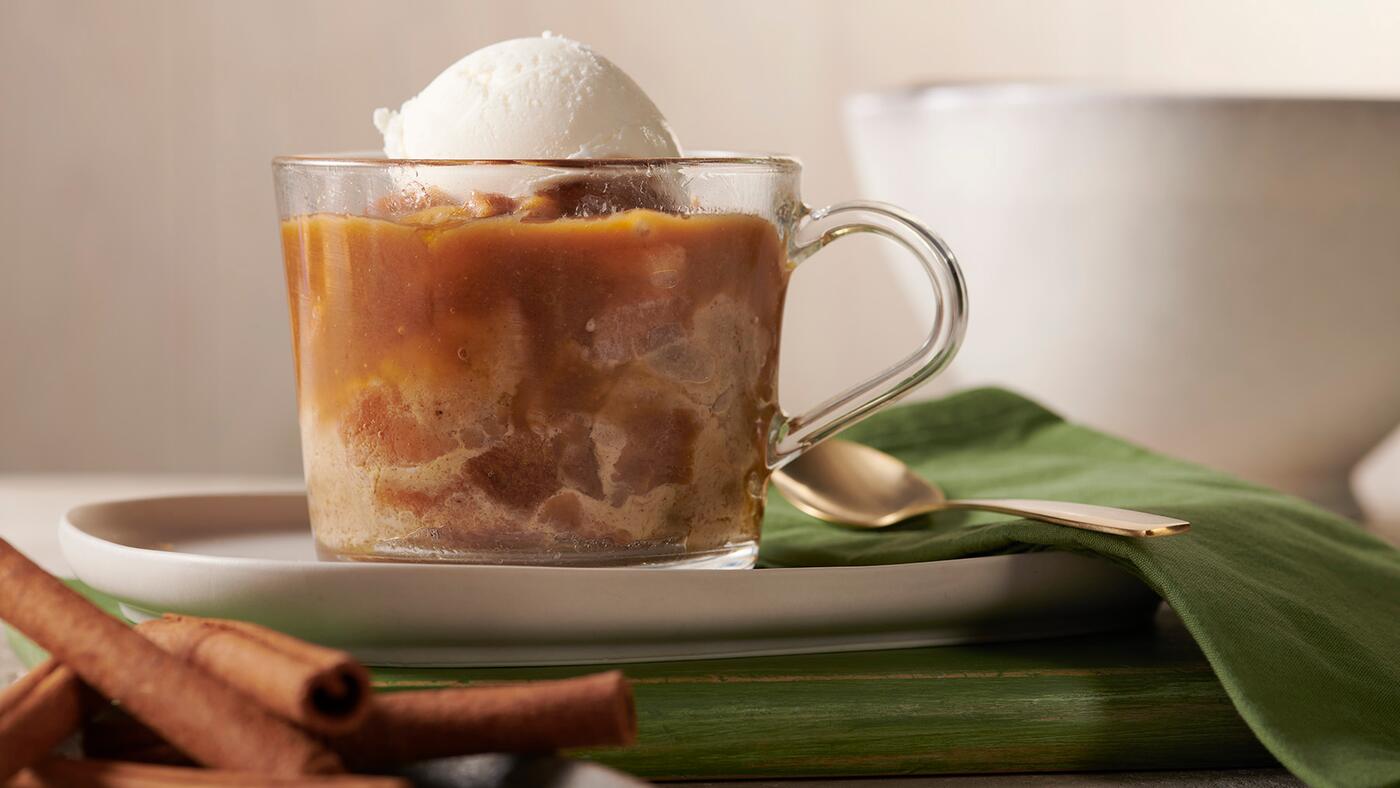 Prep Time: 5 mins
Cook Time: 10 mins
Servings: 1
Microwave Bread Pudding 

Rate this recipe for points

7
Ingredients
2 slices of Villaggio® Classico Italian Style Thick Slice White Bread
1 tbsp (15g) Butter
1 large Egg
3 tbsp (45ml) Milk
1 tbsp (15ml) Brown Sugar
1 tsp (5ml) Vanilla
1/2 Tsp (2.5ml) Cinnamon
Dash of Nutmeg
Directions
Cube 2 slices of bread
Prepare sauce by melting and browning butter in a small saucepan, then add in Milk and Brown Sugar
Continue cooking and stirring over medium heat for 6-8 minutes until it comes to a boil and thickens
Allow to cool for a bit before stirring in Vanilla. Set aside.
In a small bowl whisk together Egg, Milk, Brown Sugar, Vanilla and Cinnamon.
Toss in bread cubes and gently toss until coated.
Prepare a microwave/heatproof mug by adding a tablespoon of butter.
Microwave for 15-30 seconds until butter is melted, then, swirl around the mug to coat the inside.
Add in cubed bread mixture and sprinkle with nutmeg.
Microwave on high for 1 minute and insert a toothpick to check doneness.
Add on 20 – 30 seconds at a time, until the toothpick comes out clean. Depending on the strength of the microwave it can take between 20-30 seconds.
Option to serve with Ice Cream drizzled with Caramel Sauce topped with toasted Bread Crusts for added crunch and texture
Drizzle with sauce and enjoy!