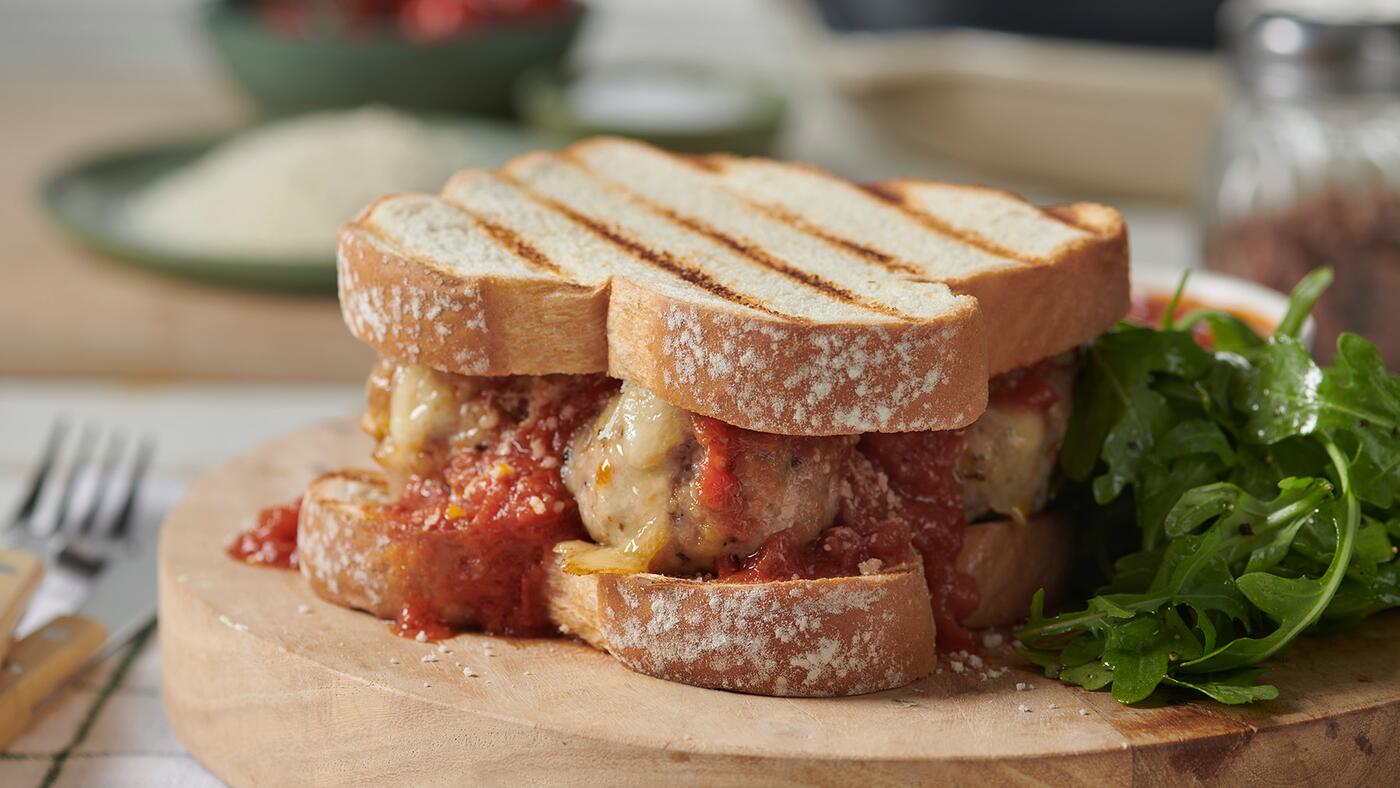 Prep Time: 0
Cook Time: 0
Servings: 0
Mozzarella-Stuffed Meatball Panini

Rate this recipe for points

76

This rich and cheesy Mozzarella-Stuffed Meatball Panini is an ooey-gooey sandwich the whole family will love. Meatballs and tomato sauce are layered between slices of toasted Villaggio® Italian Style Thick Slice 100% Whole Wheat Bread for a savoury grilled sandwich that always hits the spot.
Ingredients
4 slices Villaggio® Italian Style Thick Slice 100% Whole Wheat Bread
1/4 lb (125 g) each lean ground beef and ground veal
1/2 tsp (2 mL) garlic powder
1/2 tsp (2 mL) salt
1/4 tsp (1 mL) dried oregano
1/4 tsp (1 mL) pepper
4 (1/2-inch/1 cm) cubes mozzarella cheese
2 cups (500 mL) strained tomatoes or tomato sauce with basil
2 tbsp (30 mL) finely grated Parmesan cheese
Directions
Mix ground beef with ground veal, garlic powder, salt, oregano and pepper.
Roll and shape into 4 meatballs. Press 1 cube mozzarella into center of each meatball. Form meat around to enclose.
Meanwhile bring strained tomatoes to a simmer set over medium heat. Add meatballs.
Simmer, covered for 20 minutes or until meatballs are cooked through and tender.
Preheat Panini press according to manufacturer's instructions.
Sandwich 2 meatballs between 2 slices of bread.
Top each with 1 tbsp (15 mL) Parmesan cheese.
Cook sandwich in press for 2 to 3 minutes for 2 to 3 minutes or until bread is toasted.
Serve with extra sauce.