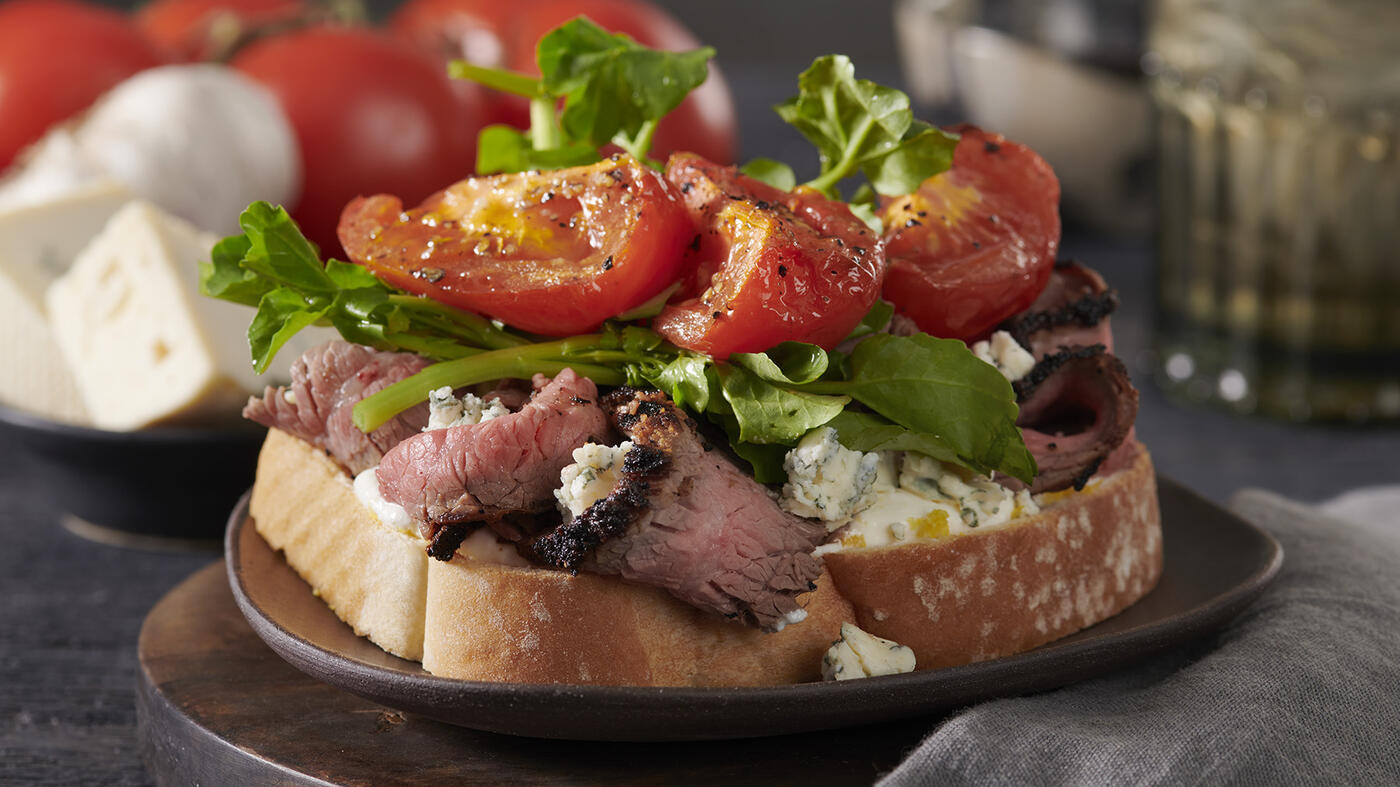 Prep Time: 120 mins
Cook Time: 2 h 10 mins
Servings: 4
Open-faced Steak Sandwich with Blue Cheese

Rate this recipe for points

10

This Open-Faced Steak Sandwich with Blue Cheese is a delicious and hearty meal that is perfect for any day of the week. With tender slices of grilled steak, caramelized onions, and tangy blue cheese, all piled high on a slice of toasted Villaggio Artesano® bread.
Ingredients
8 Slices of Villaggio Artesano® Original White Bread
1 lb (450g) Flat Iron or Flank Steak
1 Garlic Clove, minced or pressed
1 Tsp (5g) Thyme
1 Tbsp (15mL) Worcestershire
1 Tbsp (15mL) Hot Sauce
8 Roasted Tomatoes, quartered
1 Tbsp (15mL) Olive Oil
1 Bunch Watercress
1/2 Red Onion
1/2 – 3/4 Cup (125-185g) Blue Cheese, crumbled
1/2 Cup (125g) Mayonnaise
1/4 Cup (60mL) Sour Cream
1 Tsp (5g) Lemon Zest
Directions
Preheat oven to 415°F (210°C).
In a resealable bag, add garlic, thyme, Worcestershire, and hot sauce and combine.
Add the steak into the resealable bag and turn to coat evenly.
Allow the steak to marinate for 2-3 hours.
Heat up a heavy skillet over medium-high heat and sear the steak for 3-5 mins. per side for medium-rare (less or more time, depending on taste preference).
Remove from heat and allow the meat to rest before cutting.
Toss the tomatoes in olive oil to coat, then roast at 415°F (210°C) for 10-15 mins.
In a small bowl, whisk together the mayonnaise, sour cream, and lemon zest, then evenly divide, and spread over the 4 slices of bread.
Slice up the steak and evenly layer over the remaining 4 slices of bread then top with the blue cheese crumble and layer with watercress, red onions, and roasted tomatoes.
Complete by topping with the reserved four slices of bread which were spread with the mayo mixture.