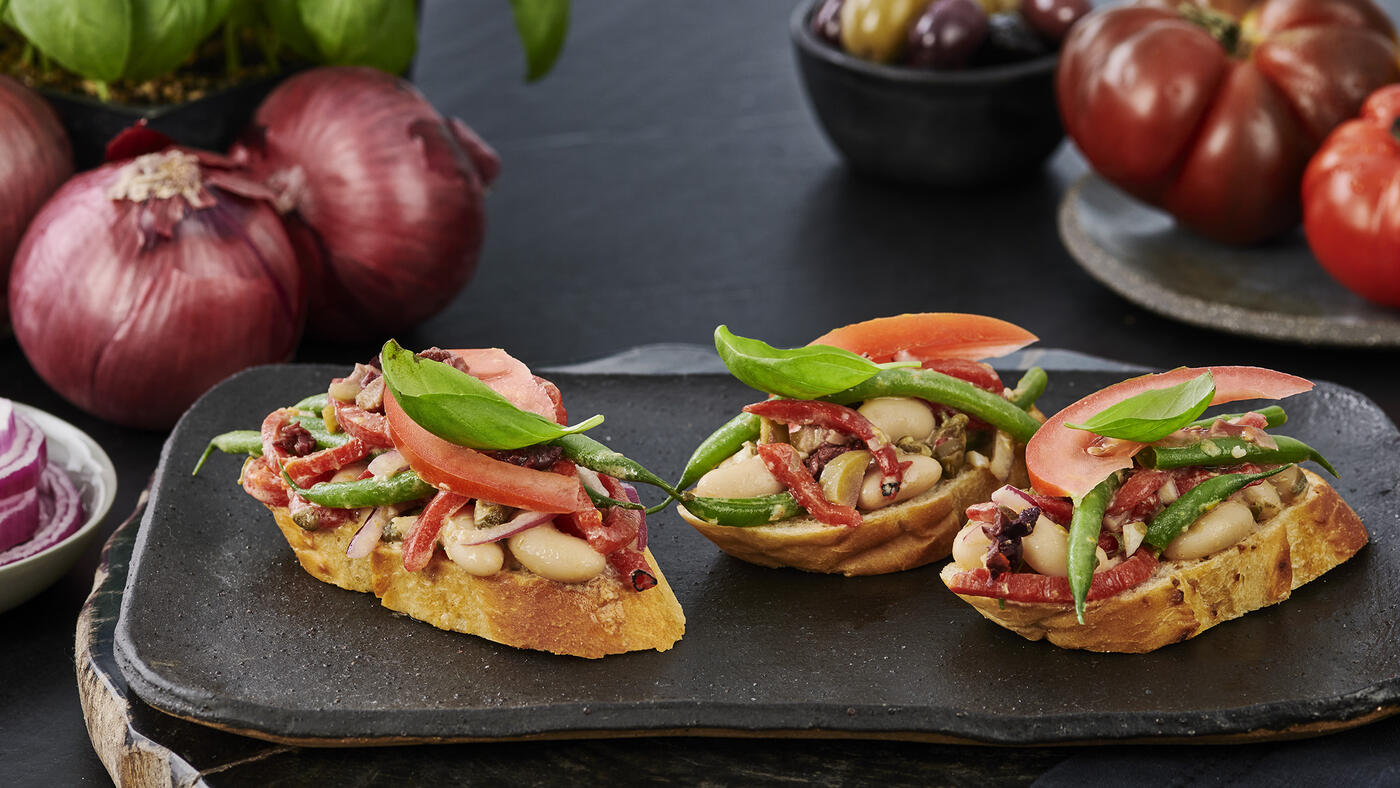 Prep Time: 20 mins
Cook Time: 20 mins
Servings: 8
Plant-Based Bruschetta with Roasted Red Peppers and Olives

Rate this recipe for points

4
Quick to prepare, our Plant Based Bruschetta is a wonderful vegetarian option that will certainly be a crowd pleaser. This fresh and tasty recipe combines roasted red peppers, tomatoes, and olives all topped on an Artesano™ Roasted Garlic Baguette. Great as side dish with your dinner or a savoury appetizer at your next get together. Serves eight.
Ingredients
1 Villaggio® Artesano™ Roasted Garlic Baguette
3 garlic cloves – finely minced
4 tbsp (60 ml) capers – drained and chopped
Zest and juice from 1 lemon
3 tbsp (45 ml) red wine vinegar
4 tbsp (60 ml) dijon mustard
1/2 cup (120 ml) olive oil
Kosher salt
freshly ground black pepper
1 small red onion – very thinly sliced
1 cup mixed olives: nicoise and castelvetrano
1 can (398 ml) white beans drained
300g green beans – blanched
1/2 cup (120 ml) fresh basil leaves
2 heirloom tomatoes
1 jar of roasted red peppers drained
Directions
Prepare baguettes according to package instructions.
Whisk garlic, capers, red wine vinegar and dijon together.
Add in olive oil in a steady stream.
Add in the sliced onions, olives and white beans.
Take the peppers and arrange them on the baguette slices.
Top with the green beans and dressing mix evenly.
Sprinkle the shredded basil over the top. Allow to marinate before consuming.