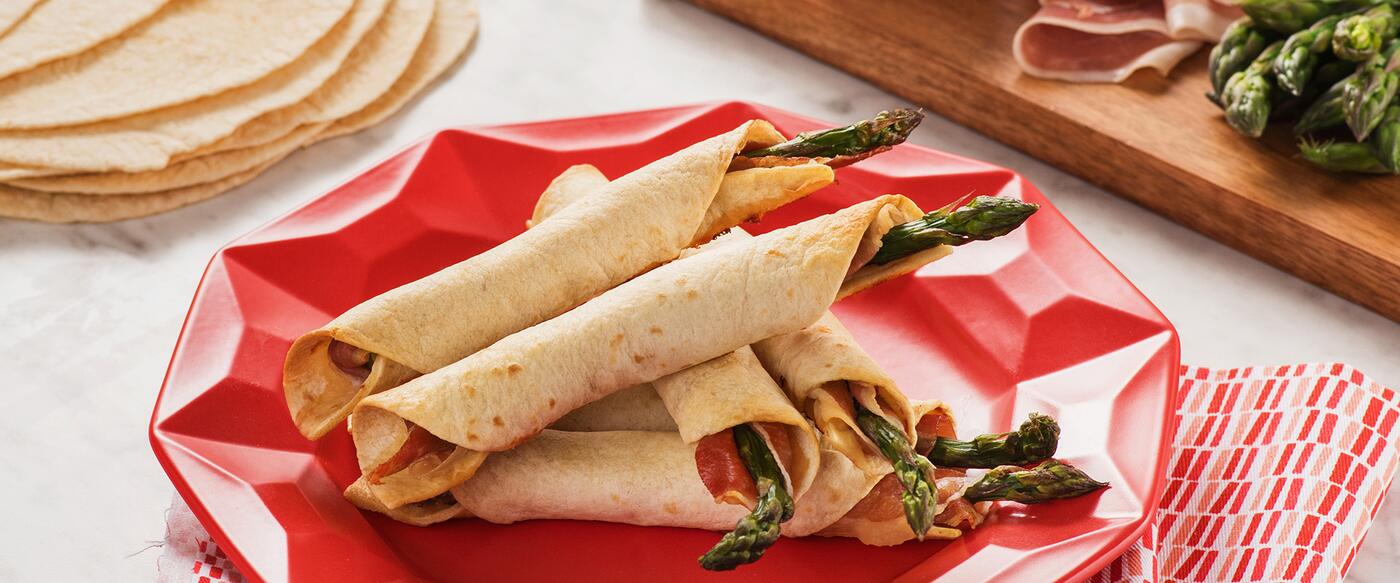 Prep Time: 10 mins
Cook Time: 50 mins
Servings: 4
Prosciutto and Asparagus Cigars with Pesto

Rate this recipe for points

3

This delicious and hearty Chicken Mango Chutney Wrap with Mango Salsa works well for lunch or dinner. Flavourful chicken and chutney filling are rolled up in a Dempster's® Original Large Tortilla to ensure a convenient and tasty meal. Homemade mango salsa on the side adds a bit of heat and freshness.
Ingredients
Wrap:
4 Dempster's® Original Large Tortillas
1 lb (500 g) boneless skinless chicken breast
2 tbsp (30 mL) olive oil
1/4 tsp (1 mL) each salt and pepper
1/2 cup (125 mL) mango chutney
1/4 cup (60 mL) diced red onion
1/4 cup (60 mL) finely chopped fresh cilantro
1 tbsp (15 mL) curry powder
2 cups (500 mL) shredded Monterey Jack Cheese
Mango Salsa:
1 mango, peeled and diced
1 small jalapeño pepper, seeded and diced
1/4 cup (60 mL) red onion
2 tbsp (30 mL) finely chopped fresh cilantro
2 tbsp (30 mL) lime juice
1/2 tsp (2 mL) salt
Directions
Wrap:
Preheat oven to 425°F (220°C).
Toss together chicken, oil, salt and pepper.
Transfer to a parchment paper-lined baking sheet. Bake for 20 to 25 minutes or until cooked through and juices run clear.
Let stand for 10 minutes; dice chicken.
Toss together diced chicken, chutney, red onion, cilantro and curry powder.
Spoon filling down along the centre of each tortilla, leaving a small border at each end.
Sprinkle with cheese.
Fold up the bottom of the tortilla over the filling, then fold in the sides and roll up tightly.
Place seam side down on parchment paper.
Bake for 10 to 12 minutes, turning halfway through, or until the tortillas are golden and the filling is heated through.
Mango Salsa:
Meanwhile, stir together mango, jalapeño, red onion, cilantro, lime juice and salt.
Serve with wraps.