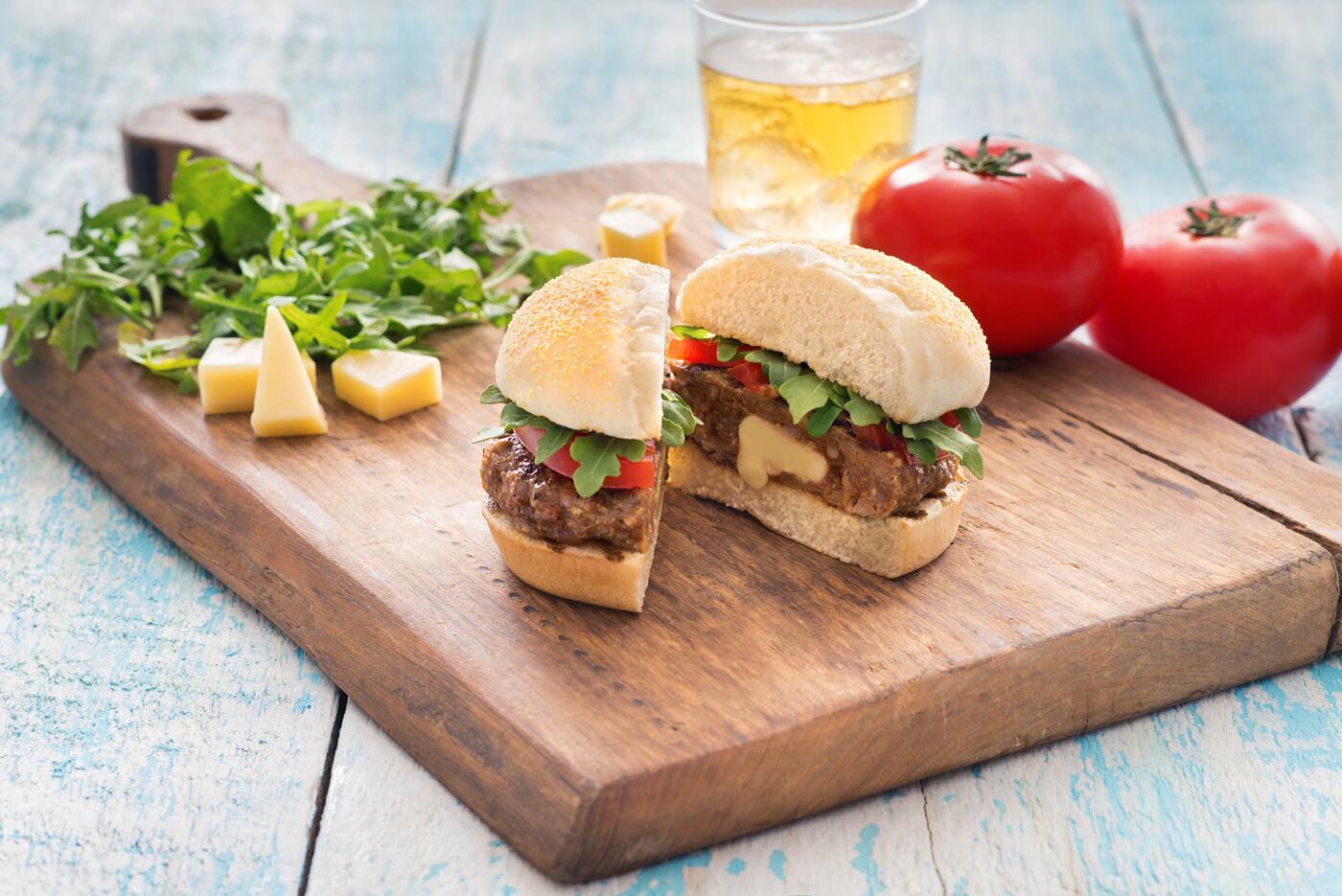 Prep Time: 15 mins
Cook Time: 30 mins
Servings: 8
Savoury Stuffed Cheeseburgers

Rate this recipe for points

8

Impress burger lovers at your next BBQ with these Savoury Stuffed Cheeseburgers. Patties are stuffed with Fontina cheese and assembled on Villaggio® Crustini Hamburger Buns for an ultra-cheesy burger that packs in the flavour.
Ingredients
8 Villaggio® Crustini Hamburger Buns
8 Italian sausages, casings removed
2 eggs, beaten
1/2 cup (125 mL) seasoned breadcrumbs
4 oz (113 g) Fontina cheese, cut evenly into 8 cubes
2 cups (500 mL) arugula
16 tomato slices
Directions
Stuffed Cheeseburger:
Mix the sausage meat with eggs and breadcrumbs until combined.
Divide mixture into 8 balls. Stuff a piece of cheese in the centre of each ball. Flatten and shape into 1-inch (2.5 cm) thick patties.
Meanwhile, preheat the grill to medium-high heat; grease the grate well.
Grill burgers, turning once, for 6 to 8 minutes per side or until cooked through.
Assemble burgers in buns with arugula and tomato slices.
If serving fewer people, divide accordingly.
Top burgers with mayonnaise and sundried tomato pesto, if desired.

Tips: Chill burgers for 1 hour for easier grilling.