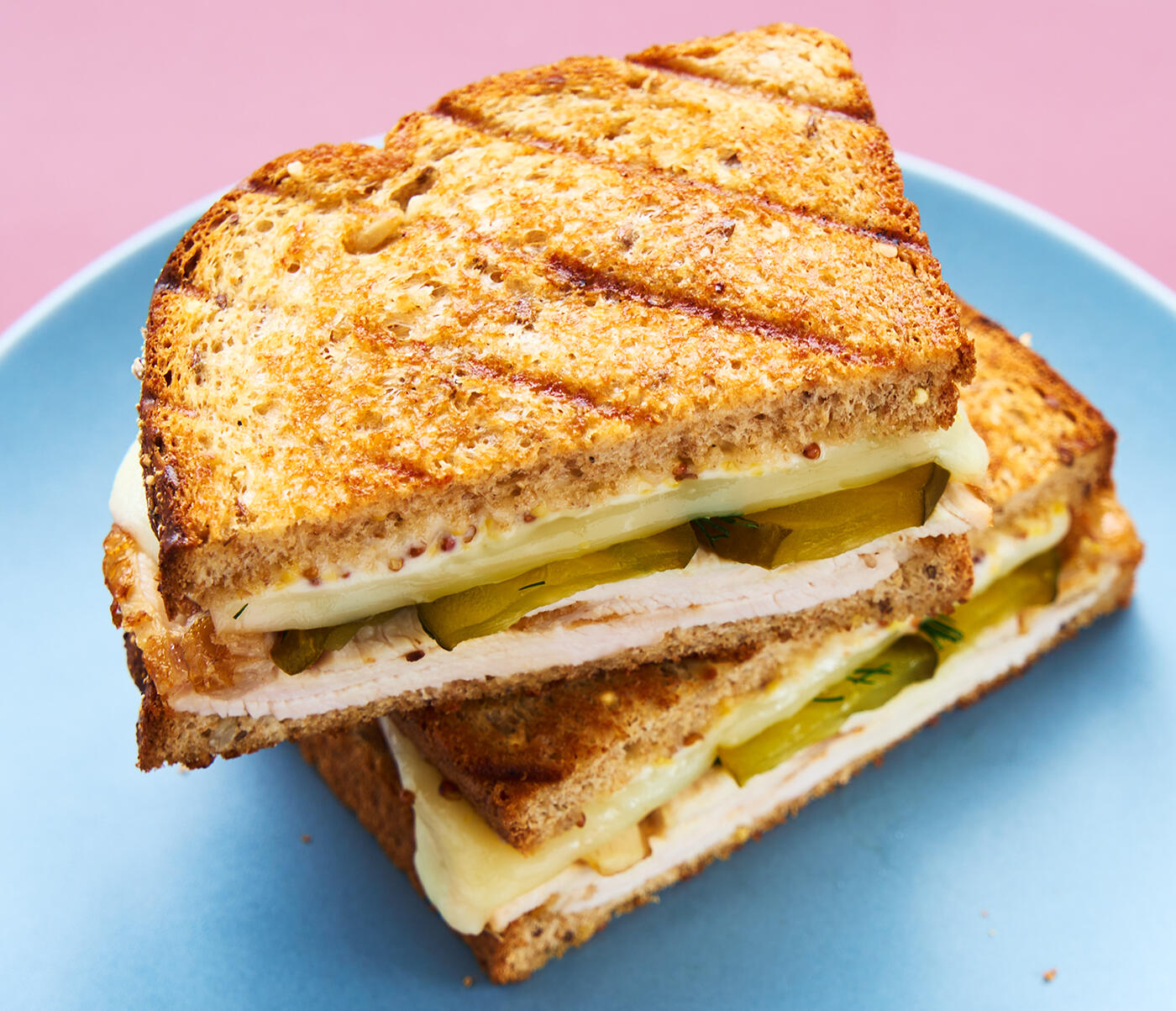 Prep Time: 10 mins
Cook Time: 2 h 15 mins
Servings: 4
Smoked Turkey Cubano Panini

Rate this recipe for points

5

Smoked Turkey Cubano Paninis put a gourmet twist on a lunchtime classic. Fresh dill flavour and tasty turkey on Dempster's® 100% Whole Grains 12 Grain Bread creates a simple and satisfying grilled sandwich you'll want to enjoy again and again.
Ingredients
8 slices Dempster's® 100% Whole Grains 12 Grain Bread
2 cups (500 mL) white vinegar
1/4 cup (60 mL) granulated sugar
2 tbsp (30 mL) kosher salt
4 cloves garlic, chopped
8 baby cucumbers, thinly sliced into 1/4-inch (5 mm) rounds
1/4 cup (60 mL) roughly chopped fresh dill
3 tbsp (45 mL) low-fat mayonnaise
1 tbsp (15 mL) Dijon mustard
12 slices smoked turkey
4 slices Swiss cheese
Directions
In a small saucepan, stir together vinegar, sugar, salt and garlic; cook over high heat, stirring occasionally, for 5 minutes or until simmering and sugar is dissolved.
Toss cucumbers with dill; transfer to a 4-cup (1 L) canning jar.
Pour simmering mixture over cucumbers; let cool for 20 minutes. Cover and refrigerate for at least 2 hours or up to 2 weeks.
Preheat the panini press to medium heat.
Stir mayonnaise with mustard; spread over one side of 4 slices of bread. Top with pickles, turkey and cheese; cap with remaining bread.
Grill for 3 to 5 minutes or until the bread is lightly toasted and the filling is warm.
Serve with additional pickles on the side.

Tip: Toss a pinch of hot pepper flakes with the cucumbers for a touch of heat.