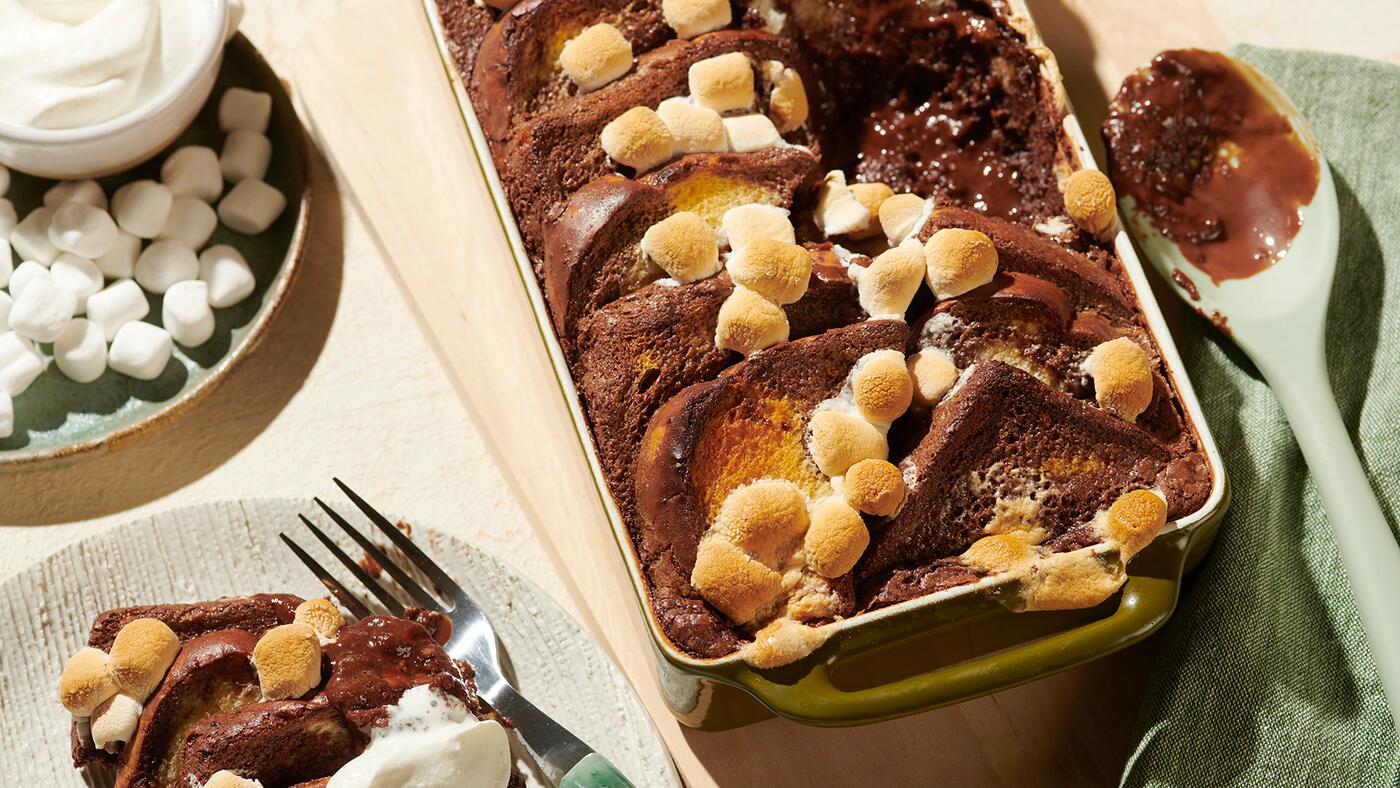 Prep Time: 10 mins
Cook Time: 25 mins
Servings: 6
S'mores Bread Pudding 

Rate this recipe for points

6
Ingredients
1 loaf of Villaggio® Classico Italian Style Thick Slice White Bread
1 cup (250g) Dark Chocolate, Melted
4 Eggs
1 tbsp (30g) Cinnamon
1 tsp (5g) Vanilla
1/2 tsp (2.5g) Almond Extract
4 tbsp (120g) Cocoa Powder
1/2 cup (125g) Light Brown Sugar
3/4 cup (150g) White Sugar
2 cups (500g) Heavy Cream
1 cup (250g) Milk
1 cup Butter (250g), melted
1 – 1 1/2 cups (250-375g) Mini Marshmallows
Option to add Dark Rum
Directions
Preheat oven to 375°F (190°C)
Cut an entire loaf of bread diagonally into slices and layer in an oven-proof dish so that they overlap a little bit, alternating with a few mini Marshmallows in between the bread, but ensuring to save the majority for the top
In a medium mixing bowl, whisk together the melted Dark Chocolate, Eggs, Cinnamon, Vanilla, Almond Extract, Cocoa Powder, Light Brown Sugar, White Sugar, Heavy Cream, Milk and Melted Butter until combined and smooth
Pour over bread slices and allow to soak in for about 10 – 15 minutes.
Bake at 375°F (190°C) for 15 minutes, then, sprinkle with remaining marshmallows and continue to cook another additional 10 minutes.
Do not overcook should be just set. Serve.