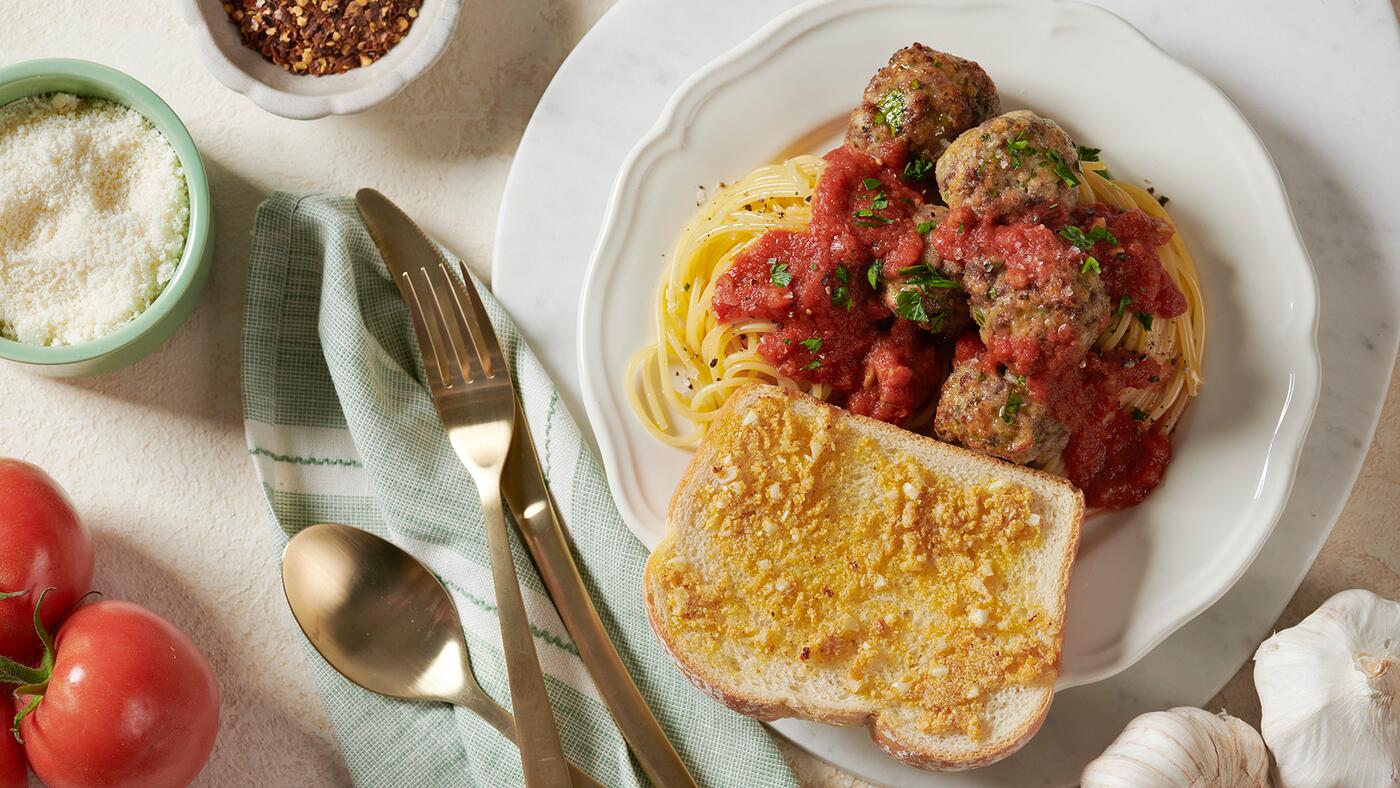 Prep Time: 20 mins
Cook Time: 30 mins
Servings: 4
Spaghetti & Meatballs with Garlic Toast 

Rate this recipe for points

33

A complete family dinner that's a classic combo and a comforting dinner
Ingredients
Garlic Toast:
8 Slices of Villaggio® Classico Italian Style Thick Slice White Bread
1 cup (250g) Powdered Milk
1 tbsp (15g) Minced Garlic
2 tbsp (30ml) Olive Oil
2 tbsp softened Butter (30g)
1 tbsp (15g) Garlic Powder
Optional garnish with finely chopped Italian Parsley
Spaghetti & Meatballs:
1 lb (500g) Ground Beef
1 lb (500g) Ground Turkey
3 cups (750g) Breadcrumbs
1 cup (250ml) Half and Half
2 Eggs
2 tbsp (30g) Garlic Powder
2 tbsp (30g) Onion Powder
3/4 cup (180g) Grated Parmesan
1/2 cup (125g) Chopped Parsley
Salt & Pepper to taste
1 (22 oz) Jar (650ml) Marinara / Pasta Sauce
1 (32 oz) Package (900g) Spaghetti or Preferred Pasta of Choice
Directions
Spaghetti & Meatballs:
Preheat oven to 400°F (204°C)
Prep a lined baking sheet with parchment
Toast 8 Slices of White Bread in a toaster or toaster oven until dry, but not burned
Allow to cool then, crumble in a blender
Combine the Half and Half with the Breadcrumbs
Stir to combine until all of the liquid is absorbed
In another large bowl, whisk together the Egg, Garlic Powder, Onion Powder, Parmesan and Parsley, along with Salt and Pepper to taste
Then, using your hands thoroughly mix both the Ground Beef and Ground Turkey into the egg mixture until combined. Avoid overworking the meat.
Add the soaked breadcrumbs in and mix thoroughly with your hands
Form into meatballs and place on baking sheet
Bake or Roast at 400°F (204°C) for 25-30 minutes, until cooked through and browned
Allow Meatballs and Sauce to simmer, while preparing Pasta according to package directions and Garlic
Garlic Toast:
In a small saucepan, over medium-low heat slowly toast the powdered milk until caramel coloured.
Mix in minced garlic, olive oil, butter, and garlic powder and cook for about 5-8 mins., until flavours incorporate

Tip: You can also cook the meatballs directly in the sauce, by bringing marinara sauce/pasta sauce to a simmer, then adding in the meatballs, covering and simmering for 30-35 minutes.