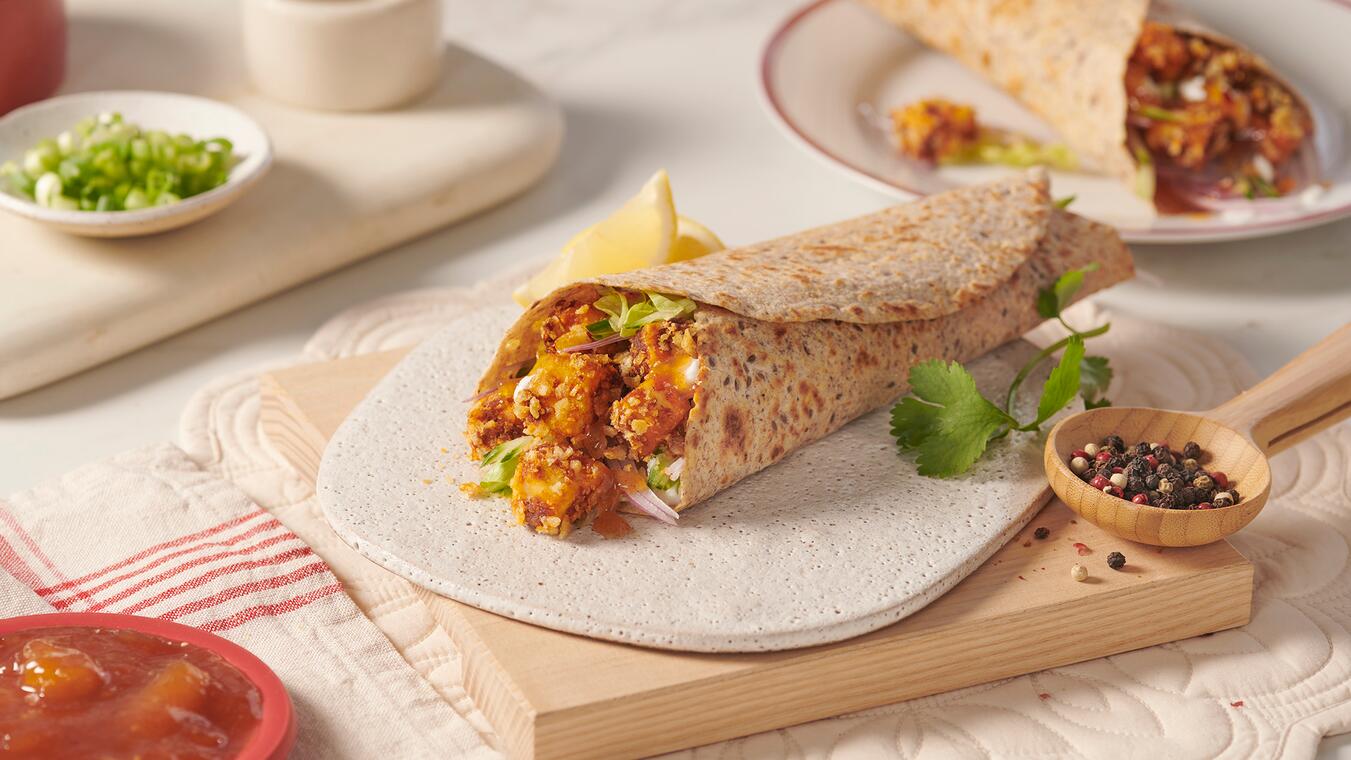 Prep Time: 10 mins
Cook Time: 25 mins
Servings: 4
Spicy Paneer Wrap

Rate this recipe for points

22
Ingredients
4 Dempster's® Ancient Grain Large Tortillas
1/2 Cup (125g) All-Purpose Flour
1/4 Cup (60mL) Water
Pink Himalayan Salt, to taste
4 Tbsp (60g) Tikka Masala Seasoning or Paste
2 Cups (500g) Ground Corn Chips
1 1/2 Cups (375g) Paneer
1 Tbsp (15g) Olive Oil
Salt & Pepper, to taste
3/4 Cup (185g) Mango Chutney
1/2 Cup (125g) Plain Yogurt
1 Red Onion, thinly sliced
1/2 English Cucumber, thinly sliced
1/4 Iceberg Lettuce, shredded
1 Lemon, cut into wedges
Directions
Preheat the air-fryer to 400°F (205°C).
Place flour onto a shallow plate.
In a separate small bowl, mix water with the salt and tikka masala seasoning or paste.
Place ground corn chips onto a separate shallow plate
Cut the paneer into evenly divided equal-sized 1-inch (2.5cm) cubes.
Roll each to coat in flour, then coat in tikka masala mixture and roll each to coat in ground corn chips
Place onto a prepared parchment-lined tray and spray with olive oil
Air-fry at 400°F (205°C) for 15 minutes.
Heat up a dry fry pan over high heat and quickly toast up each tortilla for about 20-30 seconds per side until toasty, but, still pliable.
On a clean work surface, evenly divide and spread each tortilla with yogurt and mango chutney, then, scatter with onion slices and layer with English cucumber slices and shredded lettuce.
Finish each tortilla with cooked paneer.
Roll up and serve with fresh Lemon Wedges to add brightness to each delicious bite.