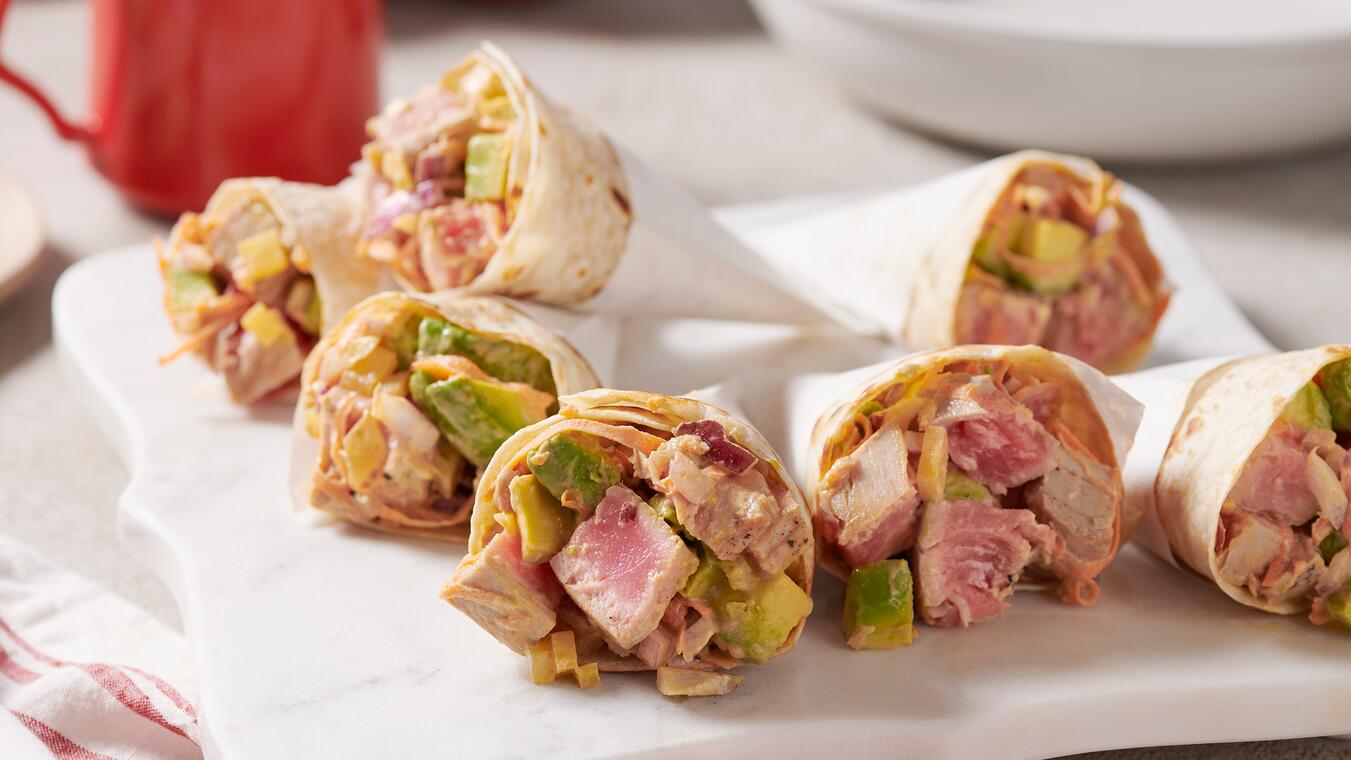 Prep Time: 15 mins
Cook Time: 20 mins
Servings: 4
Spicy Sriracha Tuna Wrap

Rate this recipe for points

46
Ingredients
4 Dempster's® Original Large Tortillas
16 oz (472g) Fresh Sushi-Grade Tuna
1 Tbsp (15g) Sesame Oil
2 Tbsp (30g) Kewpie Mayo
1 Tbsp (15g) Soy Sauce
1 Tbsp (15g) Sriracha Sauce
1 Avocado, peeled, pitted, and finely diced
1/2 Cup Pickled Daikon, finely diced
1/2 Red Onion, finely minced
1 Carrot, shredded (1/2 Cup or 125g)
Directions
In a sauté pan or skillet, heat the sesame oil over high heat, then add the tuna and sear very quickly on all sides.
Remove and allow to rest until it is cool enough to handle.
Once the tuna has cooled, cut it into large chunks.
In a large bowl, gently mix with kewpie mayo, soy sauce, sriracha, avocado, daikon, red onion, and carrot.
Heat up a dry fry pan over high heat and quickly toast up each tortilla for about 20-30 seconds per side until toasty, but still pliable.
Cut each tortilla from the center, into 3 equal triangles then roll each into a cone shape for a total of 12 cones.
Use a muffin tin to place each cone upside down, while prepping, to help keep the shape and cover with paper cone cup.
Evenly divide and fill each cone with the tuna mixture to serve your delighted guests.