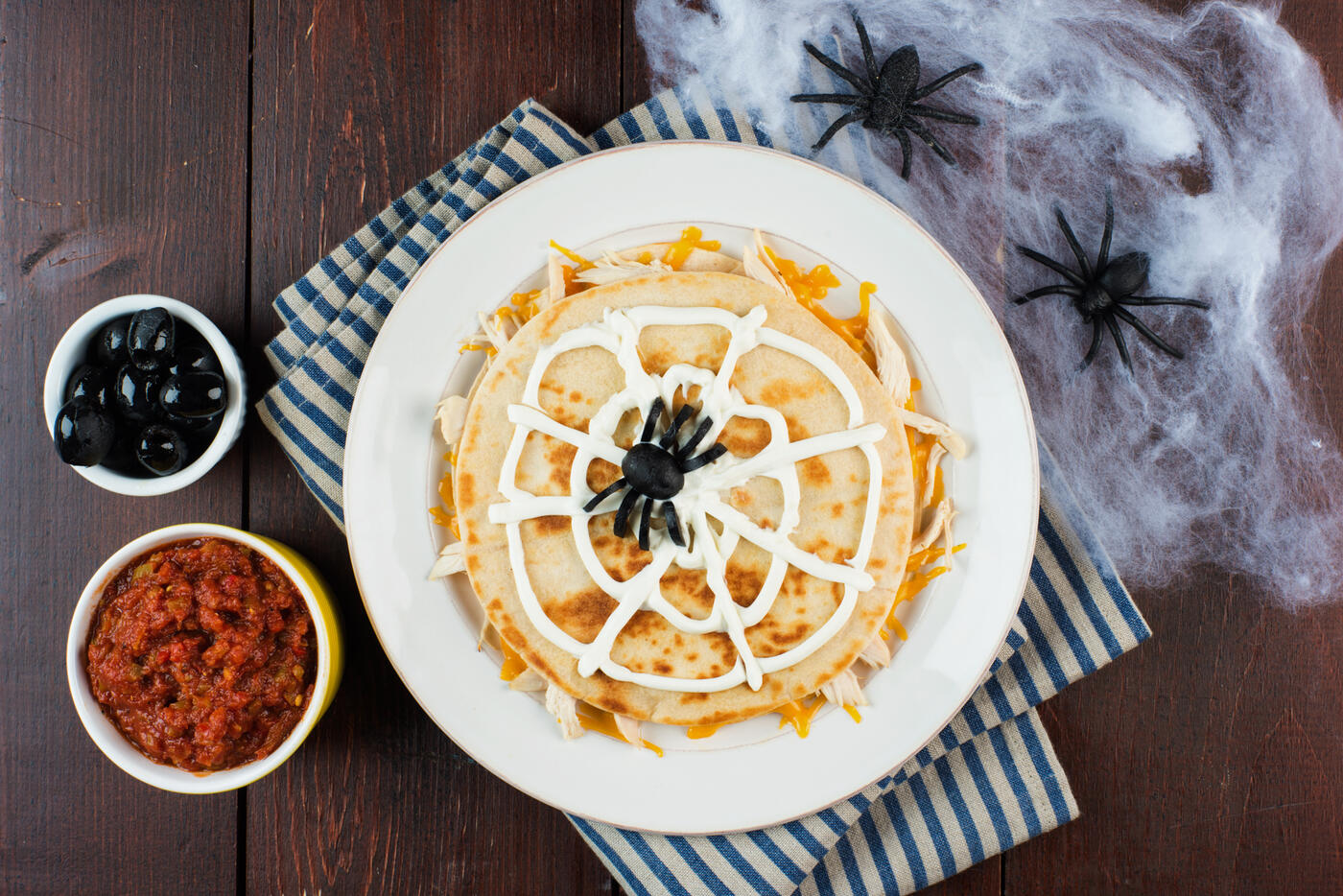 Prep Time: 5 mins
Cook Time: 10 mins
Servings: 2
Spooky Halloween Spiderweb Chicken Quesadilla

Rate this recipe for points

7
Add some scary fun to mealtime with this Spooky Halloween Spiderweb Chicken Quesadilla. Featuring tasty Dempster's® Original Medium Tortillas filled with cheddar cheese goodness and topped with a web of sour cream, this recipe is all treat and no tricks. A black olive spider completes the Halloween fun. Serves two.
Ingredients
4 Dempster's® Original Medium Tortillas
4 whole pitted black olives (approx.)
1 cup (250 mL) shredded medium or old Cheddar cheese
1 cup (250 mL) shredded cooked chicken breast
1/2 cup (125 mL) sour cream
Directions
Cut whole olives in half lengthwise; set aside 2 halves for spider bodies.
Thinly slice remaining halves into 16 strips for spider legs.
Lay 2 tortillas flat on work surface; sprinkle evenly with cheese and chicken.
Top with remaining tortillas; pressing down gently to adhere.
In a large, nonstick skillet set over medium-high heat, toast quesadillas until tortillas are golden brown and crispy; let cool slightly.
Spoon sour cream into a piping bag and pipe a web on top of each tortilla.
Arrange spider bodies on top near middle of web; place four legs on each side of the bodies.