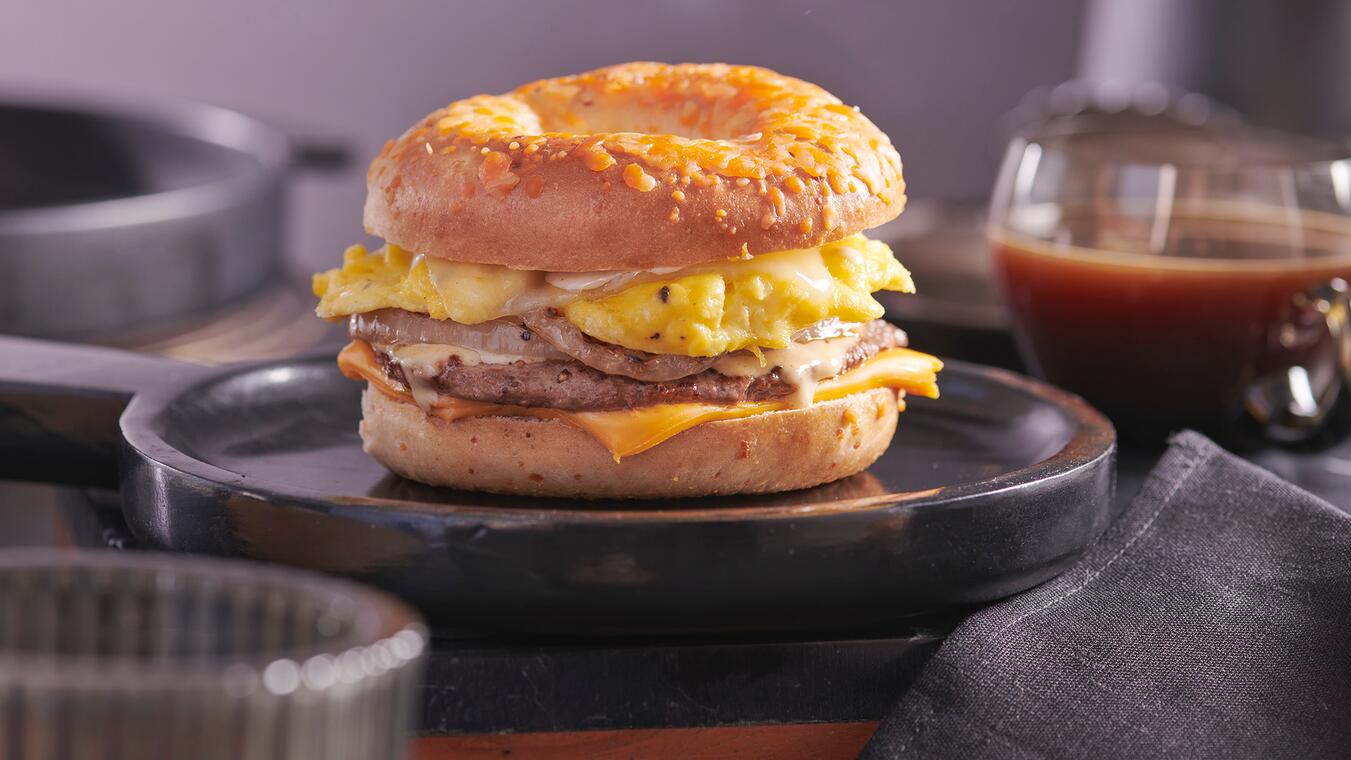 Prep Time: 25 mins
Cook Time: 30 mins
Servings: 5
Steak, Eggs, and Cheese Bagel Sandwich

Rate this recipe for points

27
Ingredients
Sandwich:
1 Package of Dempster's® Signature Cheese Bagel
7 – 8 Extra Large Eggs
4 Tbsp Butter
5 Thick Slices of Cheddar Cheese
1 Large Spanish Onion, sliced thin
1 lb. (500g) of Beef Tenderloin, pounded thin
Salt and Pepper, to taste
Breakfast Sandwich Sauce:
1/2 Cup (125g) Mayonnaise
1 Tbsp (15g) Hot English Mustard
1 Tbsp (15g) HP sauce
1/2 Tsp (2.5g) Honey
1 Tsp (5g) Lemon Juice
Pinch of Chipotle Chili Powder
Directions
In a small bowl, mix all of the ingredients together for the Breakfast Sandwich Sauce and set aside.
Wrap the beef tenderloin in plastic wrap and place in the freezer for about 15-20 minutes to firm up, without turning icy, for ease of slicing.
Remove and slice into 5 even portions of approximately 3 oz (30g) per.
Place each portion between plastic wrap and pound until thin.
Season the beef with salt and pepper, and set aside
In a mixing bowl, whisk together the eggs.
Melt 2 tbsp of butter in a non-stick skillet over medium heat and pour in the egg mixture.
Reduce the heat to medium-low, then, as eggs begin to set, gently move with a spatula across the bottom and sides of the skillet to form large, soft curds.
Continue cooking until eggs are thickened, and no visible liquid egg remains, but not too dry, and set aside
Wipe out the pan and heat up 1 tbsp of butter, over medium-high heat and add the onions, then sauté for 4-5 minutes until golden brown, and set aside.
Toast the package of bagels (5 bagels).
Wipe out the pan and melt 1 tbsp of butter over high heat and add in the steaks, cooking for about 1-1 1/2 minutes per side for medium rare, or add more or less time depending on preferred doneness.
Spread the sauce on the bagels, top with the cooked steak, more sauce, cheddar cheese, sautéed onions, and scrambled eggs.