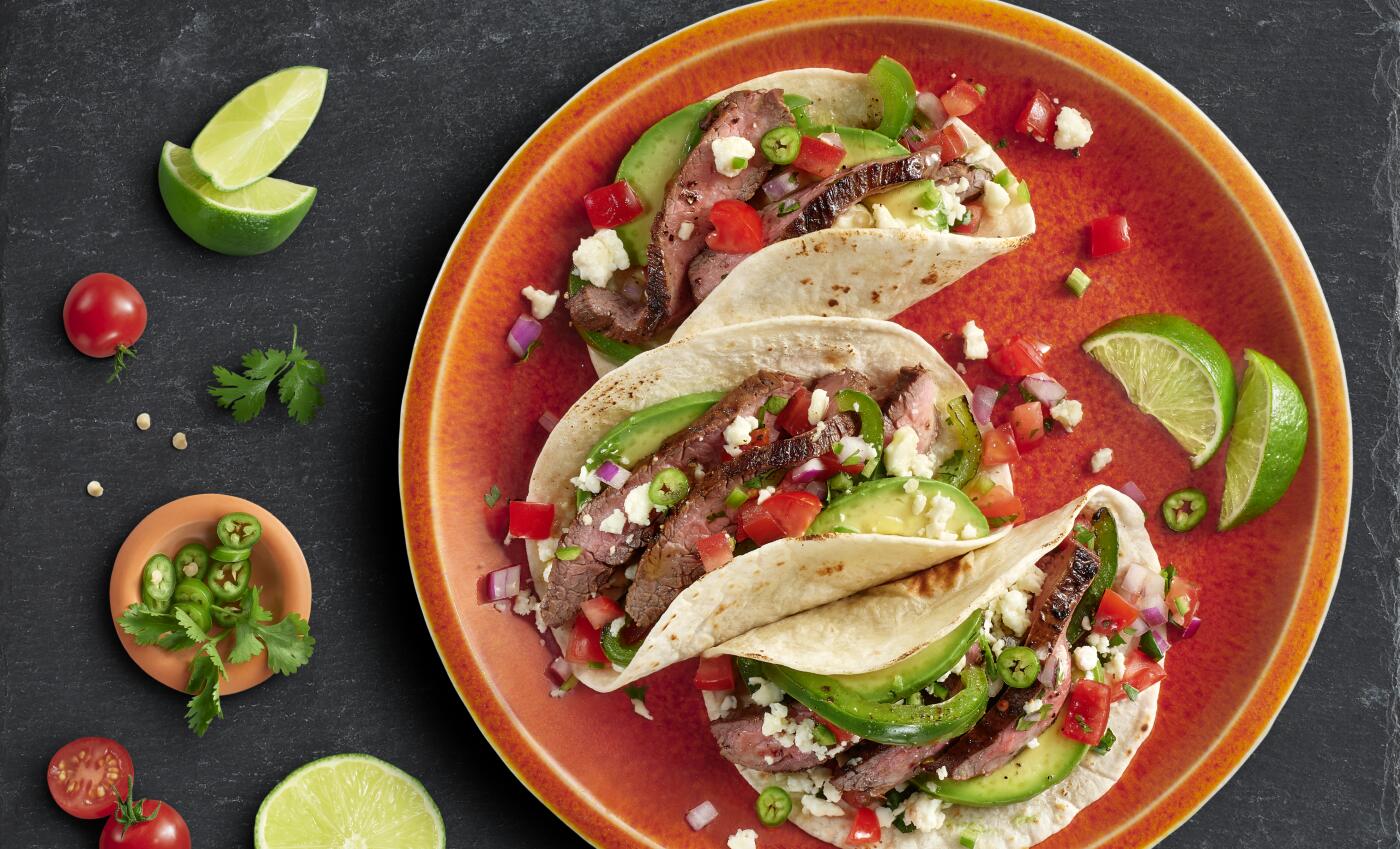 Prep Time: 20 mins
Cook Time: 35 mins
Servings: 4
Steak Street Tacos

Rate this recipe for points

5

These delicious Steak Tacos come together in minutes for a fun and authentic Mexican
meal that Tia Rosa® would be proud of.
Ingredients
12 Tia Rosa® Flour Tortillas
1 Flank Steak, about 1 1/2 lb (680g) - halved lengthwise
Salt and Pepper (to taste)
3 Limes - one zested and juiced, two cut into wedges for squeezing
4 Plum Tomatoes - finely chopped
1 Small Red Onion - finely chopped
1/2 Bunch Cilantro - leaves and tender stems - finely chopped
2 Fresh Chilies, Serrano or Jalapeño - halved, seeded, minced
2 Bell Peppers - halved and seeded
2 Avocados - thinly sliced
1 Cup (225g) Queso Fresco - crumbled
Directions
Season steak with salt, pepper and the zest of one lime. Squeeze the juice of the lime overtop. Set steak aside to marinate for 15 minutes.
To make the Pico de Gallo, toss chopped tomatoes, onion, cilantro and chillies in a medium-sized bowl, set aside.
Wrap tortillas in aluminum foil.
Grill steak over medium-high heat, 4-5 minutes per side. Let rest for 5 minutes before slicing thinly against the grain.
Grill bell peppers until nicely charred on both sides, about 5 minutes. Slice each pepper half into eight.
Add wrapped tortillas to grill to warm, 3-5 minutes, turning the package once.
To serve, divide steak and pepper slices among warmed tortillas, and top with avocado, cheese, pico de gallo and a lime wedge.