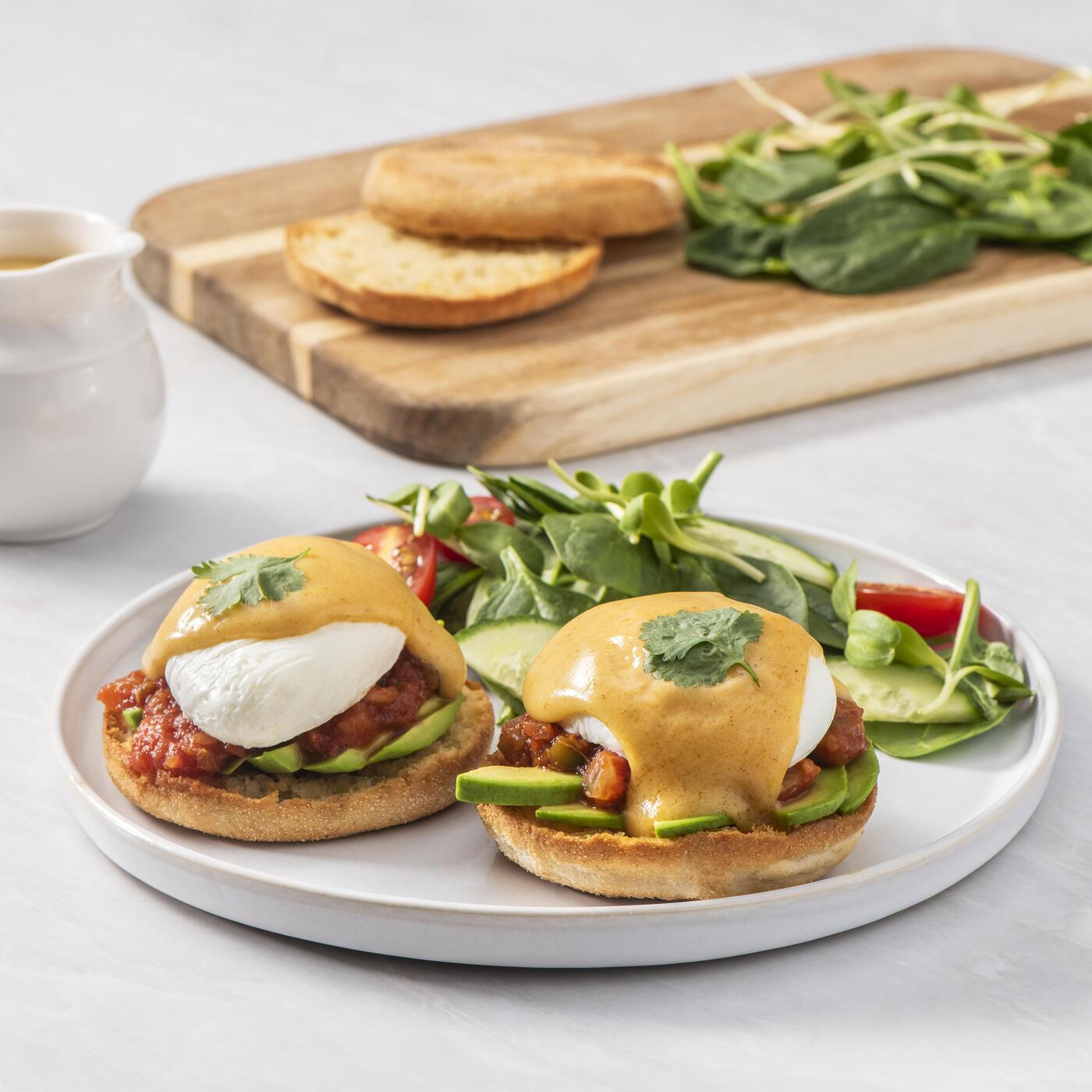 Prep Time: 25 mins
Cook Time: 30 mins
Servings: 6
Tasty Tex-Mex Eggs Benedict

Rate this recipe for points

5
Our Tasty Tex-Mex Eggs Benedict pops with zesty ingredients and hollandaise sauce mix seasoned with chili powder. Sure to be an instant hit, this savoury Eggs Bennie is served on Dempster's® Plain English Muffins for a meal that's quick, easy and filled with flavour. Serves four.
Ingredients
6 Dempster's® English Muffins (White), split and toasted
1 pkg (56 g) Hollandaise Dry Sauce Mix
Butter
1 tsp (5 mL) chili powder
12 eggs, poached
2 avocados, halved, pitted, peeled and sliced
3/4 cup (175 mL) salsa
1/4 cup (60 mL) finely chopped fresh cilantro
Directions
Poached Eggs:
To poach eggs, fill a saucepan with enough water to come 3 inches (8 cm) upside of the pan; stir in 2 tbsp (30 mL) white vinegar and bring to simmer over medium heat.
Vigorously stir the water to create a vortex.
Break 1 egg (cold) into a small dish or saucer.
Holding the dish just above simmering water, slip the egg into the water.
Repeat with remaining eggs.
Reduce heat to medium-low.
Cook eggs, in barely simmering water, for 3 to 4 minutes or until whites are set and yolks are cooked as desired.
Remove eggs with slotted spoon; place on paper towel–lined plate to drain.
Sandwich:
Prepare hollandaise according to package directions, adding butter as required.
Stir in chili powder.
Spread 1/2 tsp (2 mL) butter over each toasted English muffin half.
Top each muffin half with a few avocado slices, a dollop of salsa and a poached egg.
Spoon chili hollandaise over top.
Garnish with cilantro.

Tips: Sprinkle crumbled feta cheese over top before serving if desired.