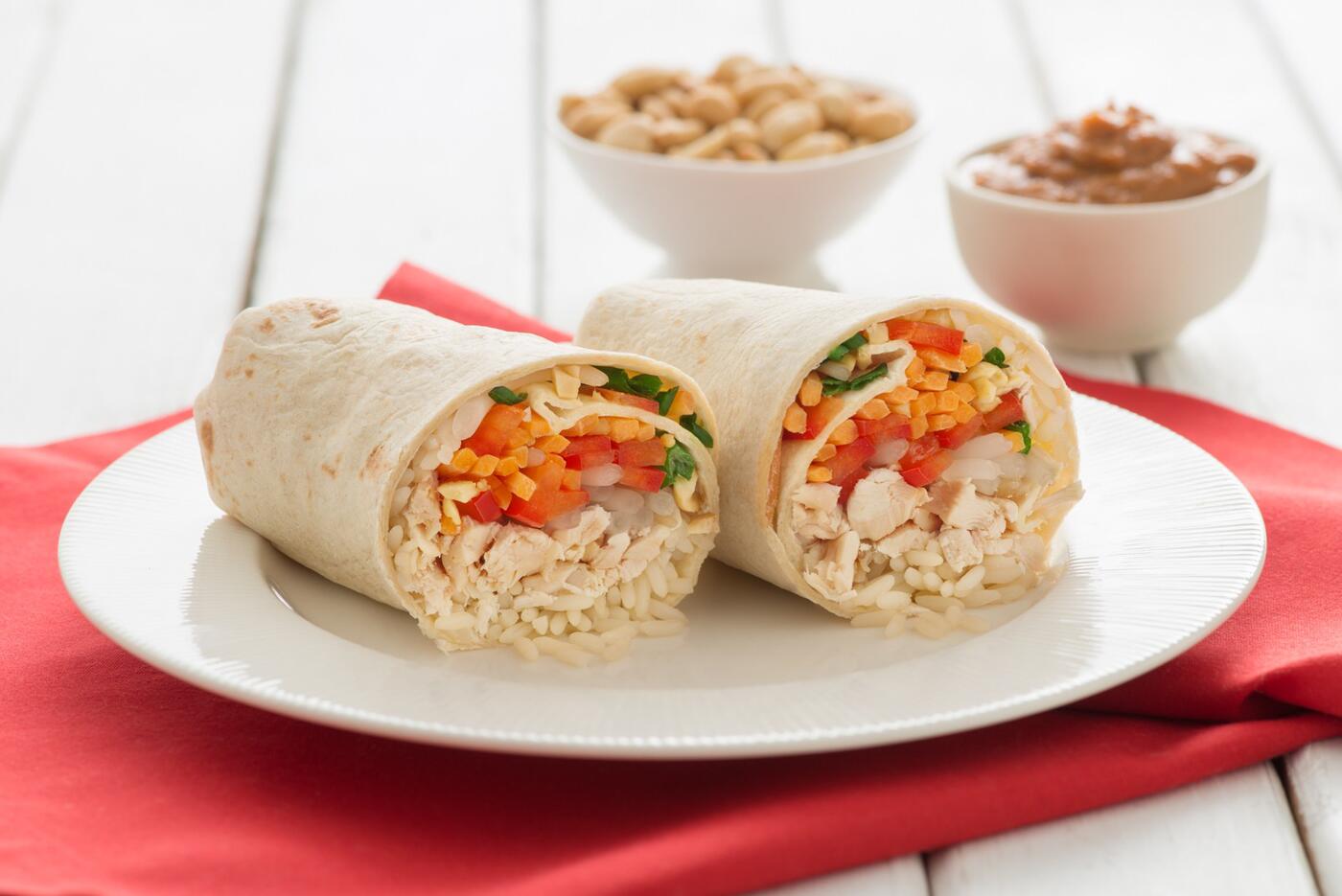 Prep Time: 10 mins
Cook Time: 5 mins
Servings: 6
Tasty Thai Chicken Rolls

Rate this recipe for points

15

Tasty Thai Chicken Rolls are a quick and easy lunchtime alternative to your standard sandwich. Featuring Dempster's® Original 10" Tortillas filled with hearty Thai-inspired ingredients, this wrap is sure to satisfy. A flavourful peanut dipping sauce kicks the flavours up a notch. Serves two.
Ingredients
Tortilla Rolls:
2 Dempster's® Original Large Tortillas
1 cup (250 mL) Jasmine Rice, cooked
1 cup (250 mL) Shredded Cooked Chicken
1/2 cup (125 mL) Bean Sprouts
1/2 cup (125 mL) Grated Carrot
1/4 cup (60 mL) Red Pepper, thinly sliced
1 Green Onion, finely sliced
2 tbsp (30 mL) Chopped Peanuts
Peanut Dipping Sauce:
1/4 cup (60 mL) Thai Sweet Chili Sauce
1/4 cup (60 mL) Smooth Peanut Butter
2 tbsp (30 mL) Lime Juice
1 tbsp (15 mL) Soy Sauce
1 Garlic Clove, minced
Directions
Peanut Dipping Sauce:
Stir together the chili sauce, peanut butter, lime juice, soy sauce, and garlic. Set aside.
Assembly:
Arrange tortillas on a clean work surface; spoon rice along the centre of each tortilla, leaving a small border at both ends.
Top with chicken, bean sprouts, carrot, red pepper, green onion and peanuts.
Fold up the bottom of the tortillas over the filling, then fold in the sides and roll up tightly.
Serve with Peanut Dipping Sauce.