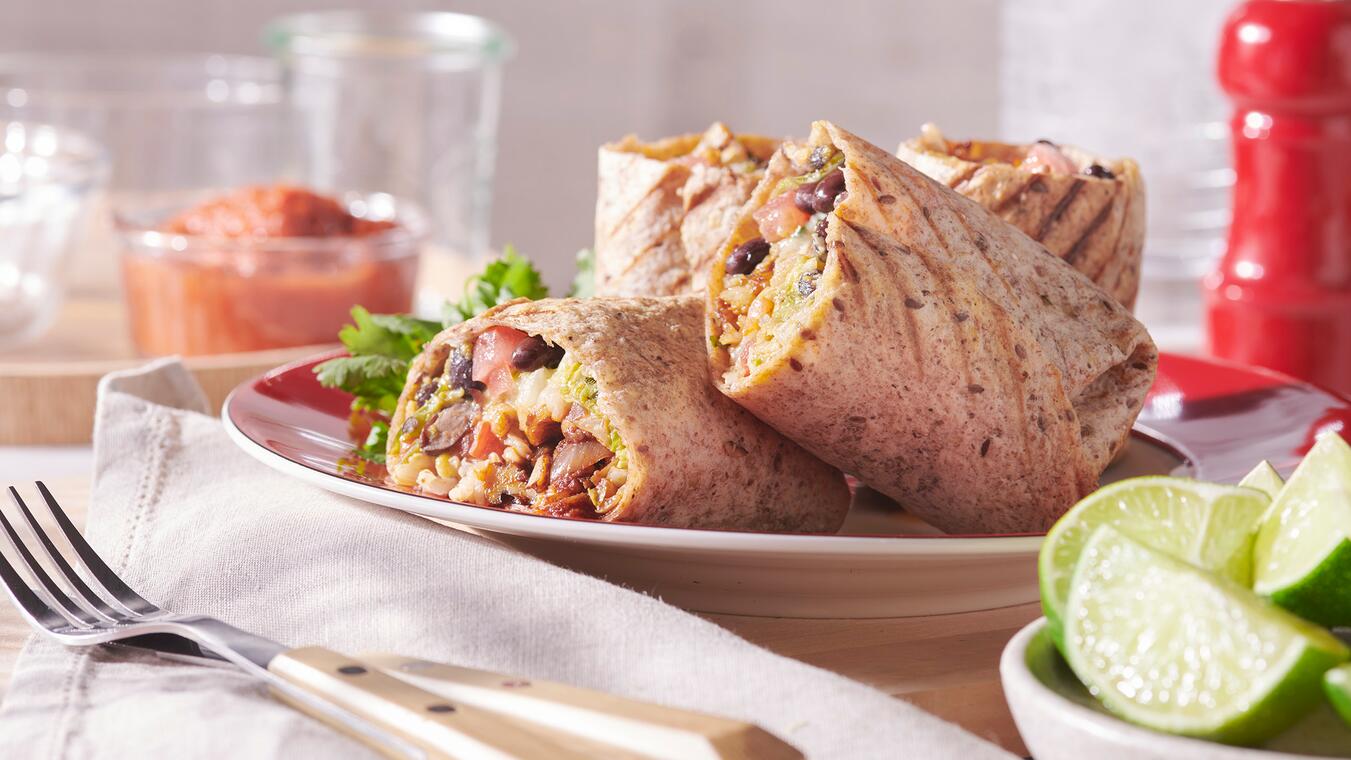 Prep Time: 20 mins
Cook Time: 40 mins
Servings: 4
Vegan Burrito

Rate this recipe for points

18
Ingredients
4 Dempster's® Ancient Grain Large Tortillas
1 Cup (250g) Raw Walnuts
2 Tsp (10mL) Olive Oil
1 Medium Onion, diced
3 Cloves of Garlic, minced
1 Tbsp (15mL) Tamari Sauce
1 Tsp (5g) Chili Powder
1 Tsp (5g) Smoked Paprika
1/2 Tsp (2.5g) Cumin
1/2 Cup (125g) Black Beans
2 Cups (500g) Brown Rice, cooked
1 Tbsp (15g) Tomato Sauce
1/4 Tsp (1.25g) Paprika
Salt & Pepper, to taste
1 Cup (250g) Salsa or Pico de Gallo
1 Cup (250g) Guacamole
1 1/2 Cups (375g) Vegan Cheese, shredded
2 Cups (500g) Lettuce, shredded
1 Jalapeño, seeded and finely diced
1/2 Cup (125mL) Vegan Sour Cream
Fresh Squeezed Juice from Half a Lime
Directions
Heat olive oil in a frying pan, over medium heat, and sauté raw walnuts for 2-3 minutes then, add in diced onions and minced garlic and continue sautéing for another 2 minutes, then, add in tamari, chili powder, smoked paprika and cumin and continue cooking for 2 more minutes.
In a mixing bowl, combine cooked rice with tomato ketchup, paprika and salt & pepper to taste.
On a clean work surface, lay out the tortillas.
Evenly divide and spread each tortilla with sour cream, then, evenly divide and layer with rice mixture, black beans, and cooked walnut mixture.
Spoon salsa and guacamole over each tortilla.
Sprinkle each tortilla with finely diced jalapeño and shredded vegan cheese.
Finish each tortilla off with a squeeze of fresh lime juice.
Fold in the left and right sides, almost enough to touch, with about an inch or so between.
Bring up the bottom flap, then continue to roll. Keeping the side flaps pulled in using your thumbs to bring the bottom up taut and using it to wrap over the filling and the side flaps.
Roll one or two more times, until secured.
Transfer to a hot grill or frypan to reheat and warm up the wrap.
Option to serve with additional salsa or Pico de Gallo for dipping.