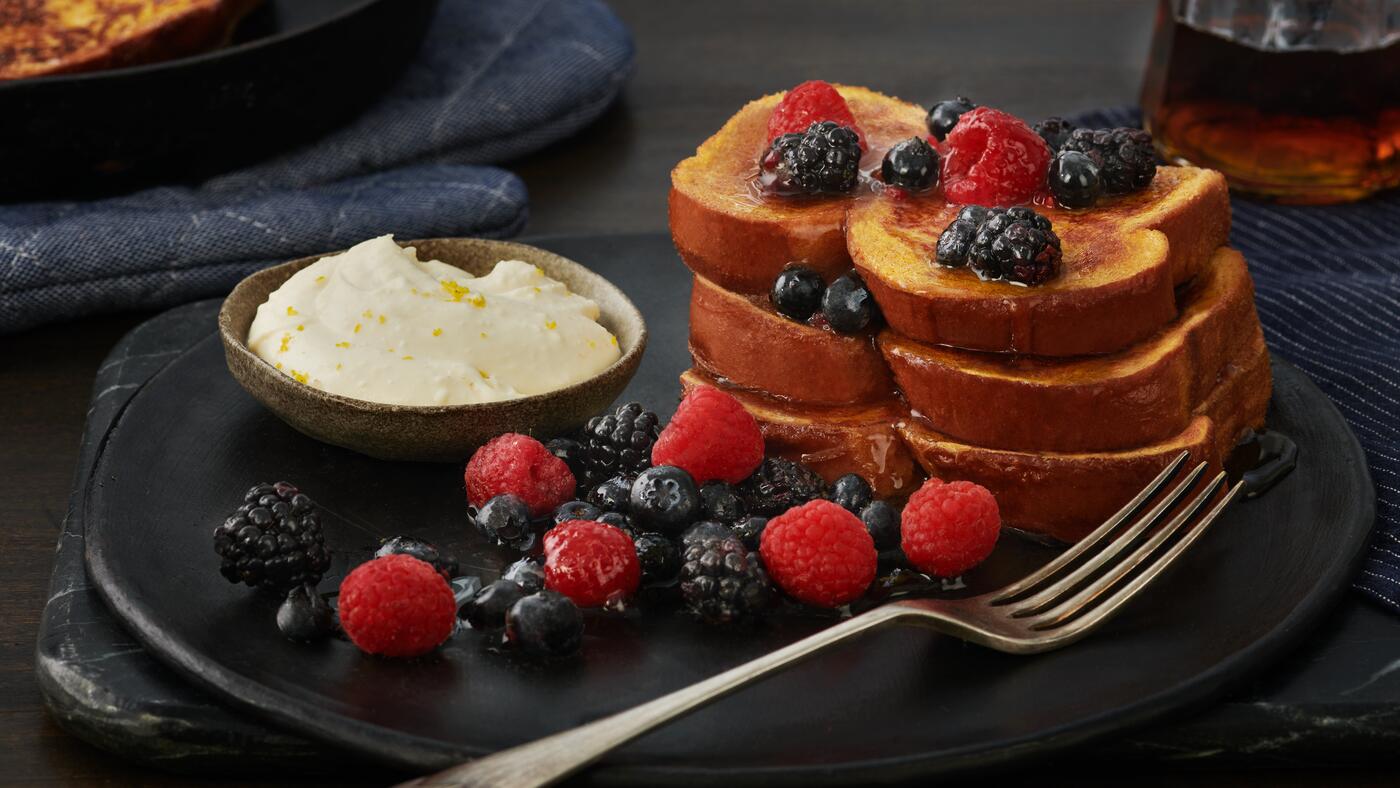 Prep Time: 30 mins
Cook Time: 35 mins
Servings: 4
Berry Melange French Toast topped with Mascarpone

Rate this recipe for points

46

Breakfast doesn't get much more impressive than french toast with creamy mascarpone cheese and fresh berries. Villaggio Artesano® White Bread is stacked and topped with berry melange and mascarpone cheese. A decadent dish for brunch, this french toast looks as good as it tastes. Serves four.
Ingredients
8 Slices of Villaggio® Artesano™ Brioche Style White Bread
1/4 cup (60 mL) of honey
1/2 tsp (7.5 mL) of grated lemon zest
3 tbsp (45 mL) of lemon juice
1 cup of raspberries
1 cup of blueberries
1 cup of blackberries
1/2 cup (125 mL) mascarpone cheese
3 tbsp (45 mL) honey
1/4 tsp (1 mL) grated lemon zest
1/2 cup (125 mL) whipping cream
6 large eggs
1 1/2 cups (375 mL) heavy cream
1 tsp (5 mL) almond extract
2 tsp (5 mL) double vanilla
Pinch of salt
Canola oil
Butter
1 cup (250 mL) sugar
1 tbsp (15 mL) cinnamon
Directions
In a medium bowl, whisk together honey, lemon zest and lemon juice.
Gently incorporate berries into the honey mixture.
Cover; refrigerate for at least 30 Minutes.
In a medium bowl, whisk together all of the mascarpone topping ingredients, until blended.
With an electric mixer, beat heavy cream until stiff, moist peaks form.
Stir whipped cream into the mascarpone to lighten, and fold in the remaining cream.
Refrigerate until serving.
Combine sugar and cinnamon. Set aside.
Whisk together eggs, cream, almond extract, double vanilla and a pinch of salt.
Place the bread in a shallow dish or tray and pour the egg mixture over to soak for approximately 5 minutes.
Heat canola oil and butter in a skillet, over medium heat.
Cook French toast for 2-3 minutes per side.
Dust with cinnamon sugar.
Top with berry melange and a dollop of mascarpone.