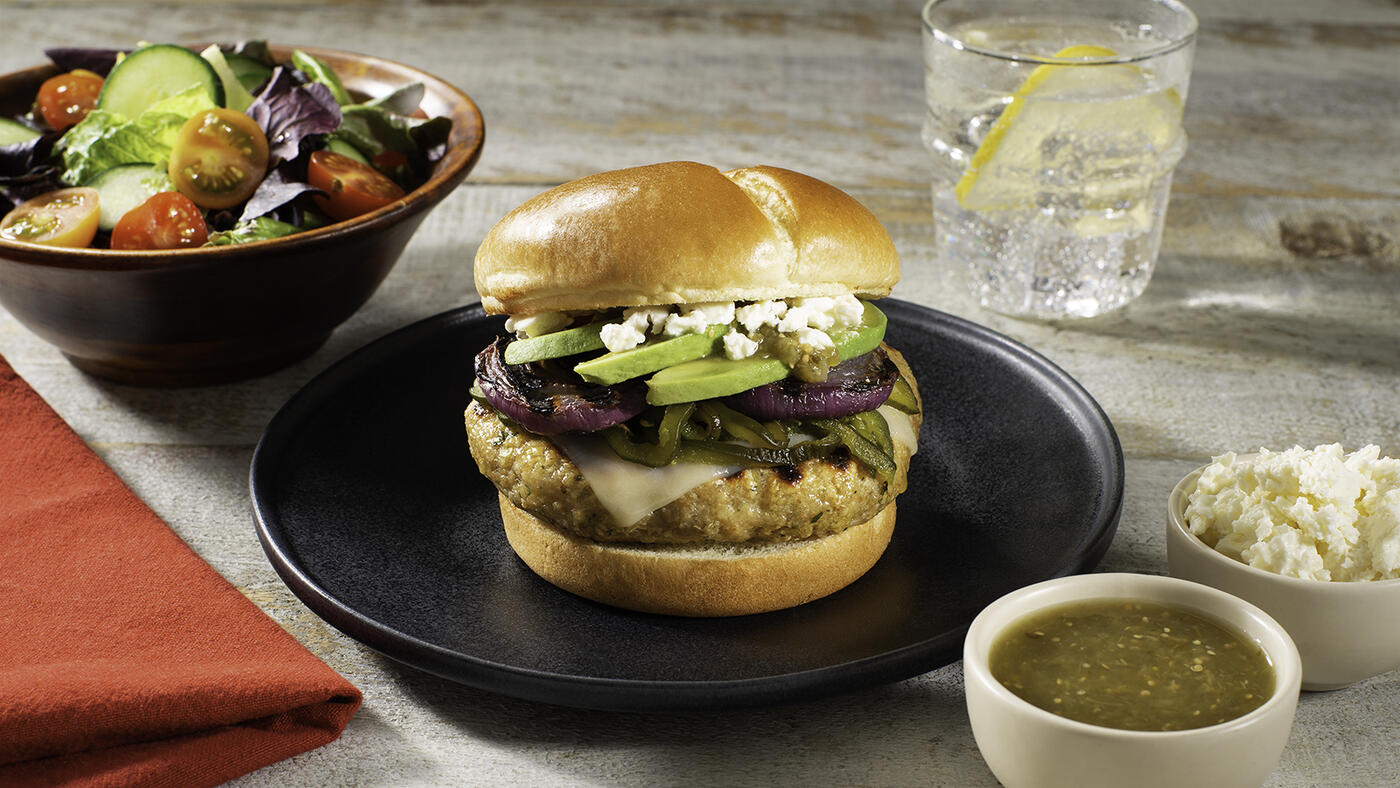 Prep Time: 10 mins
Cook Time: 30 mins
Servings: 4
Green Chili Chicken Burger

Rate this recipe for points

30
Say goodbye to boring chicken burgers with these homemade grilled chicken burgers packed with zesty Tex-Mex flavours.
Ingredients
4 Dempster's® Deluxe Gold Buns
1 1/4 lb (625 g) lean ground chicken
1 cup (250 mL) bread crumbs
1/4 cup (60 mL) finely chopped fresh cilantro
1 egg, beaten
2 tbsp (30 mL) olive oil
2 tbsp (30 mL) finely chopped pickled jalapeño peppers
2 cloves garlic, minced
1 tsp (5 mL) ground cumin
1 tsp (5 mL) each salt and pepper
4 slices Monterey Jack cheese
2 poblano peppers
1 small red onion, sliced into 1/2-inch (2 cm) thick rounds
1 ripe avocado, halved, pitted, peeled and sliced
1/2 cup (125 mL) prepared tomatillo salsa
1/3 cup (75 mL) finely crumbled feta cheese
Directions
Mix together ground chicken, bread crumbs, cilantro, egg, oil, pickled jalapeños, garlic, cumin, salt and pepper; do not overwork.
Divide into 4 portions and shape into 1/2-inch (1 cm) thick patties.
Preheat grill to medium-high; grease grate well.
Grill burgers for 5 to 7 minutes per side or until meat is cooked through and instant-read thermometer reaches 165°F (74°C) when inserted into centre of burger.
Top each burger with slice of Monterey Jack cheese; grill for 60 to 90 seconds or until cheese starts to melt.
Meanwhile, grill poblano peppers, turning occasionally, for 8 to 10 minutes or until tender and charred all over.
Grill red onion rounds for 2 to 3 minutes per side or until lightly charred and tender.
Grill buns for 60 to 90 seconds or until lightly marked and toasted.
Remove seeds and thinly slice poblano peppers.
Assemble burgers in buns with grilled poblano peppers, red onions, avocado, salsa and feta.