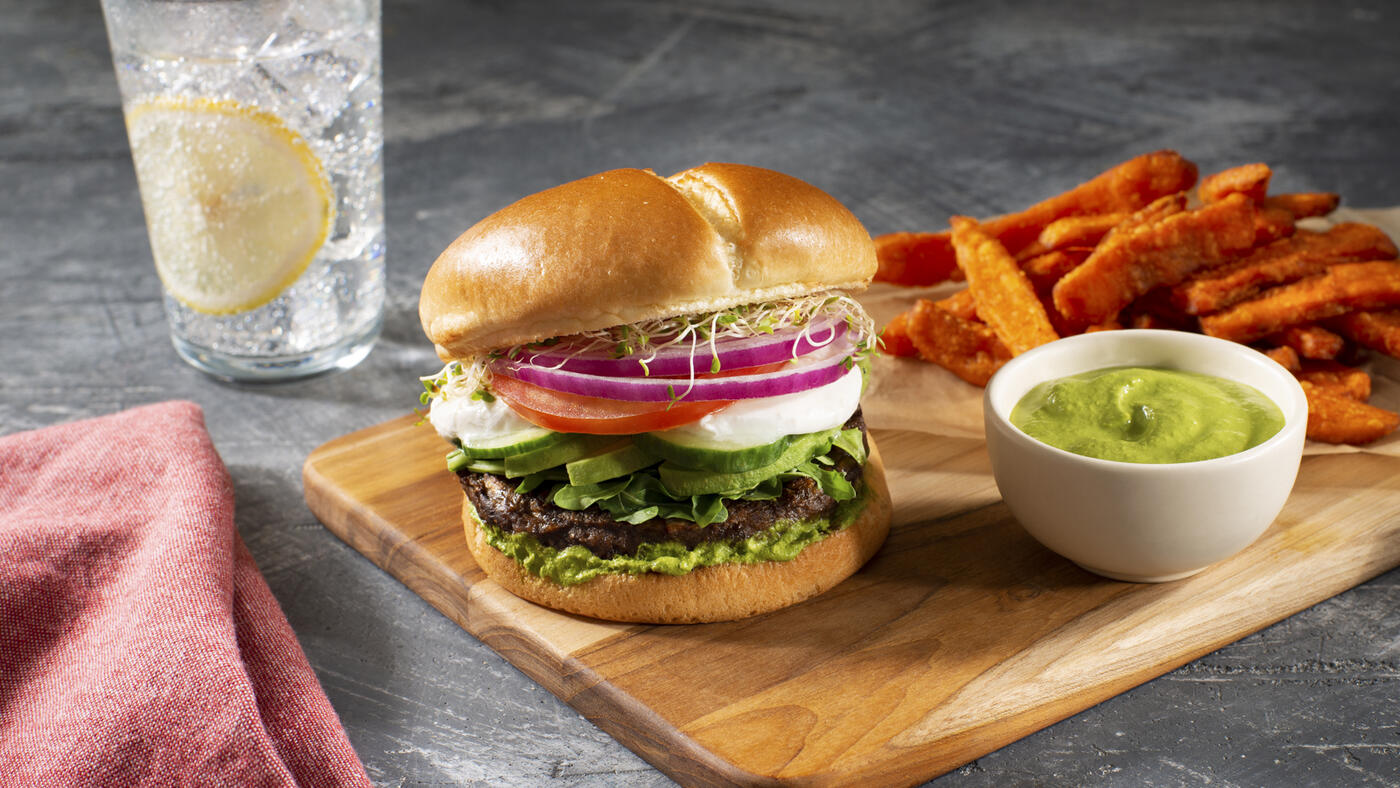 Prep Time: 10 mins
Cook Time: 20 mins
Servings: 4
Green Goddess Veggie Burger

Rate this recipe for points

6
Loaded with lots of veggies and a fresh herb green goddess sauce, these tasty grilled veggie burgers will impress everyone in the crowd.
Ingredients
4 Dempster's® Deluxe Gold Buns
1 clove garlic
1/4 cup (60 mL) packed fresh parsley
1/4 cup (60 mL) packed fresh basil
1/4 cup (60 mL) pack fresh mint
2 green onions, chopped
1/4 cup (60 mL) plain Greek yogurt
2 tbsp (30 mL) mayonnaise
2 tbsp (30 mL) olive oil
1 tsp (5 mL) lemon zest
2 tbsp (30 mL) lemon juice
1/2 tsp (2 mL) each salt and pepper
4 veggie burgers
1 cup (250 mL) arugula
1 ripe avocado, halved, pitted, peeled and sliced
16 thin cucumber slices
6 oz (175 g) mozzarella cheese, sliced
4 thick tomato slices
4 thinly sliced red onion rounds
1 cup (250 mL) sprouts
Directions
In small food processor or blender; pulse garlic clove until minced.
Add parsley, basil, mint, green onions, yogurt, mayonnaise, oil, lemon zest, lemon juice, salt and pepper; blend until smooth.
Refrigerate until needed.
Preheat grill to medium-high heat; grease grate well.
Grill veggie burgers according to package directions or for 3 to 5 minutes per side, until grill-marked and heated through.
Grill buns for 60 to 90 seconds or until lightly marked and toasted.
Assemble veggie burgers in buns with green goddess sauce, arugula, avocado, cucumber, mozzarella, tomato, red onion and sprouts.

Tip: Alternatively, brush veggie burgers with touch of oil; transfer to baking sheet.
Bake in 425°F (220°C) oven until golden brown and heated through.