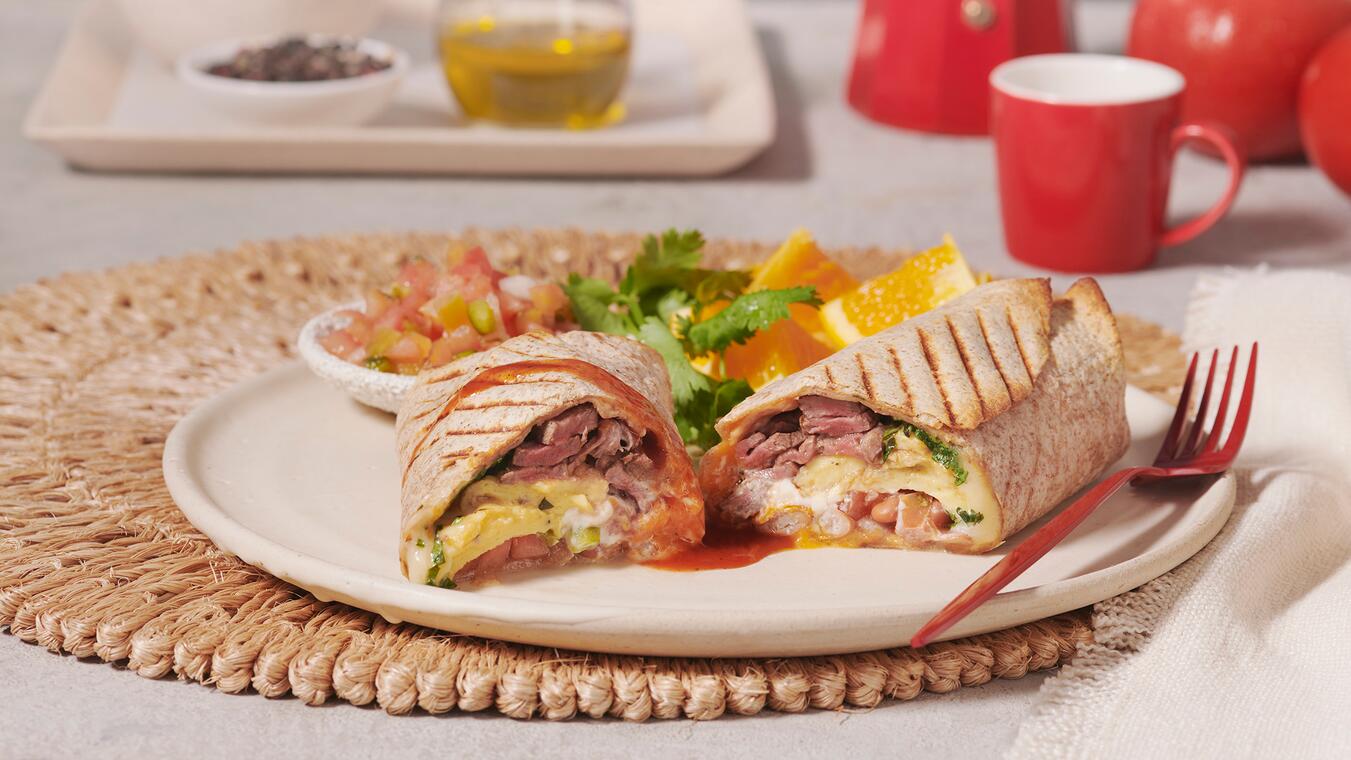 Prep Time: 10 mins
Cook Time: 40 mins
Servings: 4
Habanero Breakfast Wrap

Rate this recipe for points

19
Ingredients
Breakfast Wrap:
4 Dempster's® Whole Wheat Large Tortillas
2 - 9oz (.25 Kg) Striploin Steaks
6 Large Eggs
2 Tbsp (30g) Unsalted Butter
1 Tbsp (15mL) Avocado Oil
Salt and Pepper, to taste
1 - 14oz (398mL) Can of Pinto Beans
1 Cup (250mL) Salsa or Pico De Gallo
1 Cup (250g) Cheddar Cheese, shredded
1 Cup (250g) Pepper Jack Cheese, shredded
1/2 Cup (125mL) Sour Cream
4 Tbsp (60mL) Habanero Hot Sauce
Marinade:
2 Tbsp (30mL) Apple Cider Vinegar
1 Tbsp (15mL) Olive Oil
1 Tsp (5mL) Lime Juice
1 Tbsp (15mL) Habanero Hot Sauce
1 Tbsp (15mL) Honey
1 Tsp (5g) Garlic Powder
Salt & Pepper, to taste
Directions
Combine all the marinade ingredients together in a shallow bowl or resealable plastic bag.
Add in steaks to coat with marinade, then, cover bowl or close bag and allow to flavours to combine for at room temperature for 30 minutes or refrigerate overnight.
Whisk eggs together in a bowl and season with salt & pepper, to taste.
Heat a non-stick pan over medium heat and add butter to melt.
Swirl pan to coat with melted butter.
Add in eggs and cook for about 3-4 minutes,
until nearly set, but, not dry and remove from heat.
Drain and rinse pinto beans, into a mixing bowl, to combine with salsa.
Allow steaks to come to room temperature for 30 minutes (if marinated overnight in the refrigerator).
Heat avocado oil, in a heavy cast-iron/non-stick skillet over medium-high heat until shimmering.
Place steaks in skillet and cook for 4-5 minutes per side without touching. Using tongs to flip steaks.
Cook to medium or 145°f (63°c) internal temperature.
Allow to rest for about 5 minutes before slicing into strips.
Evenly divide and spread the tortillas with a small amount of sour cream and then layer with cooked eggs and steak strips, in the middle of each tortilla.
Spoon pinto beans onto each tortilla, then, layer with salsa or Pico de Gallo, shredded cheddar cheese, and shredded pepper jack cheese.
Fold in both left and right edges and roll up from the bottom to form a tight neatly rolled wrap.
Transfer to a hot grill or frypan to reheat and crisp the wrap.
Serve with additional salsa and hot sauce, for dipping.