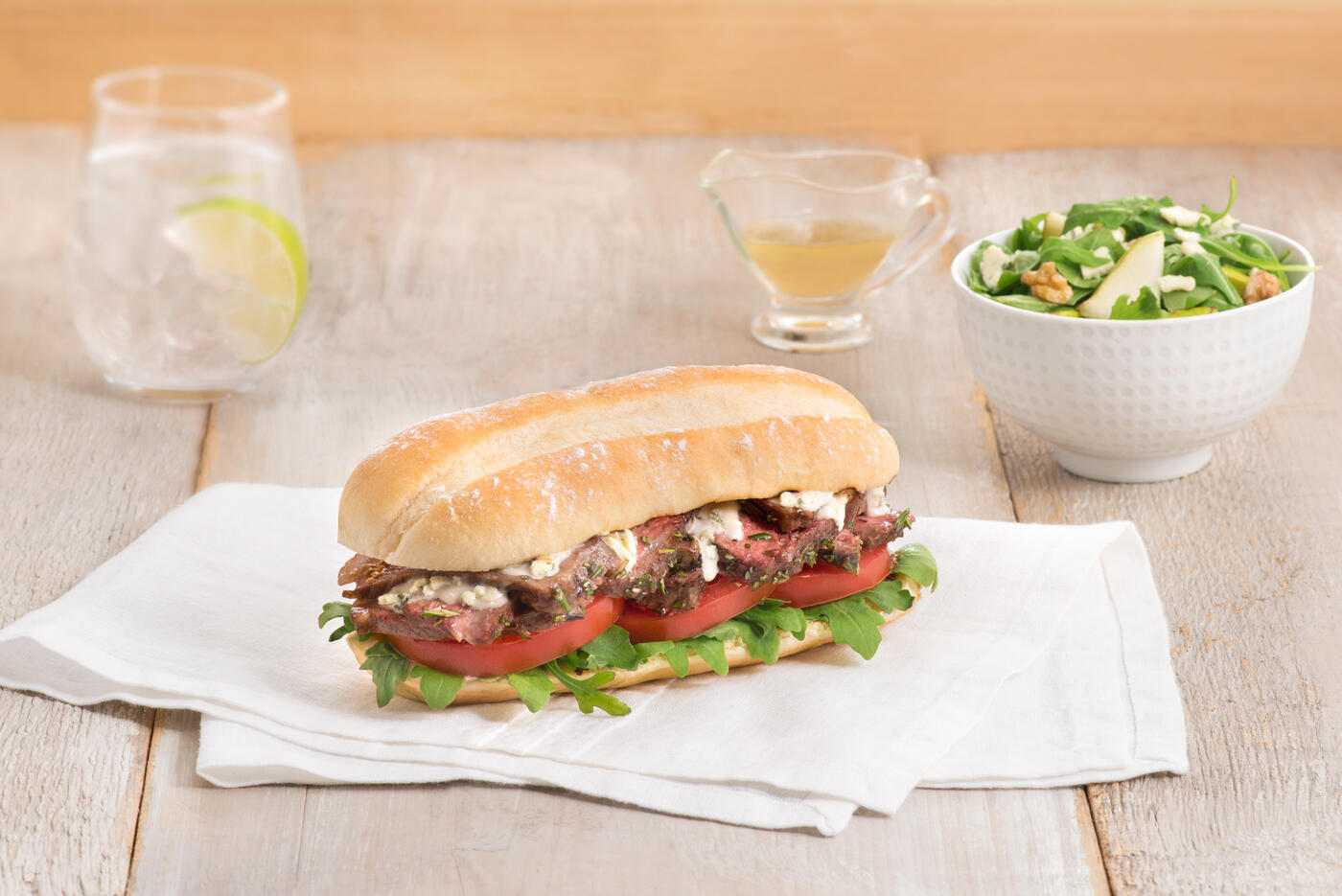 Prep Time: 10 mins
Cook Time: 30 mins
Servings: 6
Rich and Savoury Tuscan-Style Steak Sandwich

Rate this recipe for points

14
Serve this Rich and Savoury Tuscan-Style Steak Sandwich on Villaggio® Toscana Extra Soft Sausage Buns for a delicious grilled dinner. Lightly seasoned steak is paired with blue cheese dressing to create a robust grilled sandwich that's big on flavour. Serves six.
Ingredients
6 Villaggio® Toscana Extra Soft Sausage Buns
3 strip loin steaks
2 tbsp (30 ml) olive oil
4 tsp (20 ml) chopped fresh rosemary
1/2 tsp (2.
5 ml) each salt and pepper
1 1/2 cups (370 ml) arugula
12 tomato slices
6 tbsp (90 ml) blue cheese dressing
Directions
Preheat grill to medium-high heat; grease grates well.
Toss steaks with oil, rosemary, salt and pepper.
Grill steaks for 3 to 4 minutes per side for medium-rare or cook to preferred doneness.
Let rest for 10 minutes then thinly slice across the grain. Meanwhile, grill buns for 30 to 60 seconds or until toasted.
Layer steak in buns with arugula, tomatoes and blue cheese dressing.
If serving for less people, divide accordingly.

Tips: Substitute ranch dressing for blue cheese dressing, if desired.