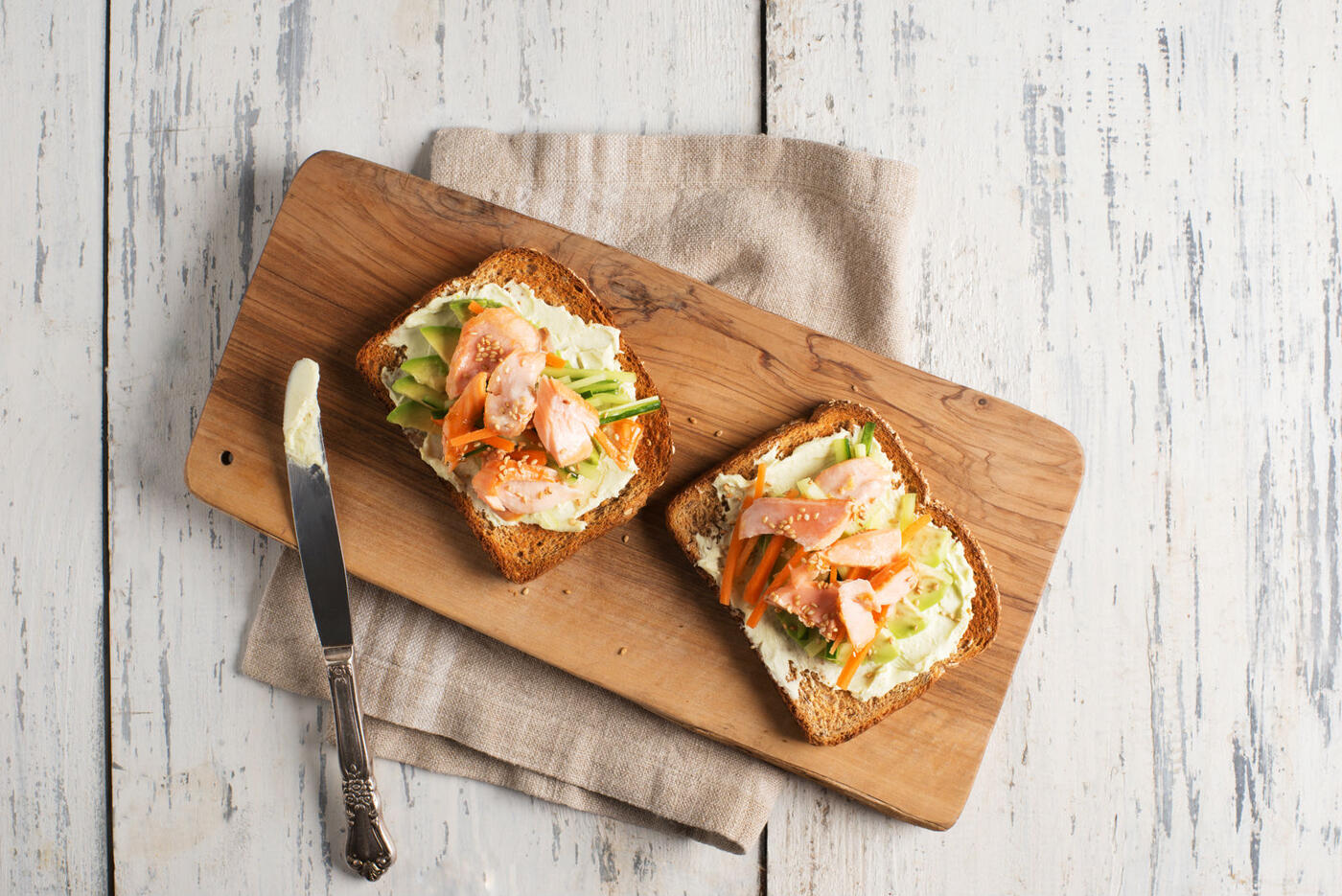 Prep Time: 10 mins
Cook Time: 25 mins
Servings: 4
Salmon Sushi Bowl Toast

Rate this recipe for points

4
Now you can satisfy your sushi craving with a tasty sandwich, thanks to this Salmon Sushi Bowl Toast recipe. Dempster's® 100% Whole Grains 12 Grain Bread and miso-glazed salmon make a delicious duo. Classic ingredients like soy, wasabi and ginger are complemented with crisp veggies. Crunchy, flavourful and full of texture, this open-faced sandwich is a uniquely satisfying meal. Serves four.
Ingredients
4 slices Dempster's® 100% Whole Grains 12 Grain Bread
2 tbsp (30 mL) miso paste
1 tbsp (15 mL) soy sauce
1 tbsp (15 mL) lime juice
2 tsp (10 mL) minced fresh ginger
4 salmon fillets (each 4 oz/125 g)
1/2 cup (125 mL) cream cheese, softened
2 tsp (10 mL) prepared wasabi paste
1 avocado, peeled, pitted and thinly sliced
1 cup (250 mL) matchstick carrots
1 cup (250 mL) matchstick English cucumber
2 tbsp (30 mL) toasted sesame seeds
Directions
Preheat oven to 400°F (200°C).
Whisk together miso, soy sauce, lime juice and ginger.
Place salmon fillets on greased foil-lined baking sheet and brush with miso mixture; roast for about 10 minutes or until fish flakes easily with a fork.
Meanwhile, combine cream cheese and wasabi until smooth; spread evenly over slices of bread.
Divide avocado, carrots and cucumber among slices of bread; top with salmon fillets and sprinkle with sesame seeds.

Tip: To toast sesame seeds, heat a small skillet over medium heat; add sesame seeds and stir constantly for about 2 minutes or until golden and fragrant.