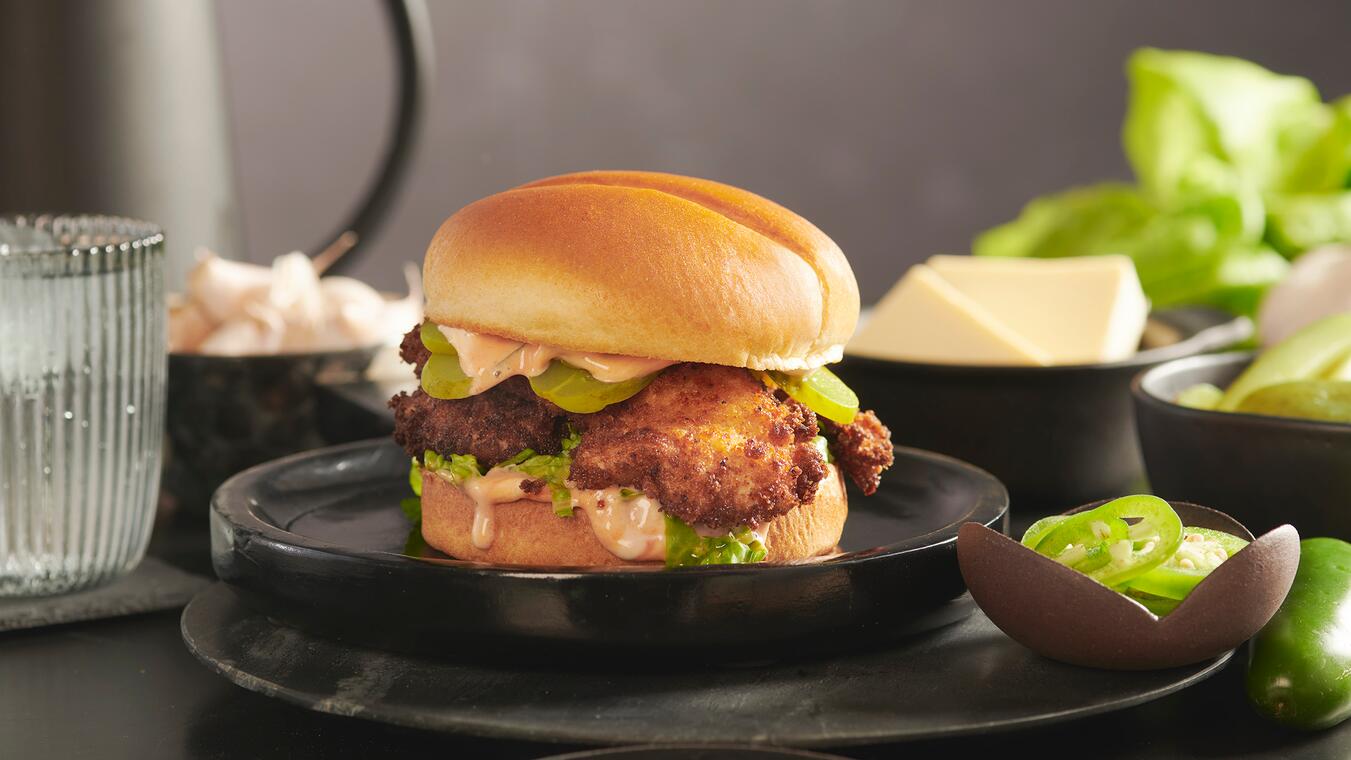 Prep Time: 20 mins
Cook Time: 35 mins
Servings: 6
Ultimate Chicken Sandwich

Rate this recipe for points

34
Ingredients
1 Package Dempster's® Signature Gold Burger Buns
1.5 lbs. (450g) Chicken Breast Fillets (large package of 12 -13 in a packet)
1/4 Cup (60g) All-Purpose Flour
1 Egg, whisked
Cooking Oil Spray
2 Cloves of Garlic, minced
1/4 Cup (60g) Butter, melted
4 -6 Sweet Pickles, sliced
1/2 Cup (125g) Spicy Mayonnaise
4 Leaves of Romaine Lettuce, shredded
Directions
Preheat the Air-fryer to 400F°F (205°C).
Remove 2 hamburger buns from the package.
Using a food processor, combine/pulse the 2 burger buns on high speed for 30 seconds for coarse breadcrumbs or 1 minute for fine breadcrumbs and set aside on a plate.
Whisk the egg in a small shallow bowl.
Measure the flour onto a plate.
Pat the chicken fillets dry with a paper towel to remove excessive moisture.
Dredge each into flour, then, dip into the eggs and coat with breadcrumbs.
Air-fry at 400°F (205°C) until golden brown and crispy, for about 15 minutes.
Mince garlic cloves and mix into melted butter.
Brush the inside of each burger bun with the garlic butter mixture and brush each side of the buns with the melted butter mix and air-fry for about 2-3 minutes, until golden brown and crispy.
Spread spicy mayonnaise on the inside of each bottom bun, then, layer with shredded lettuce.
Evenly divide the cooked chicken filets onto each and top with pickle slices and more spicy mayonnaise.