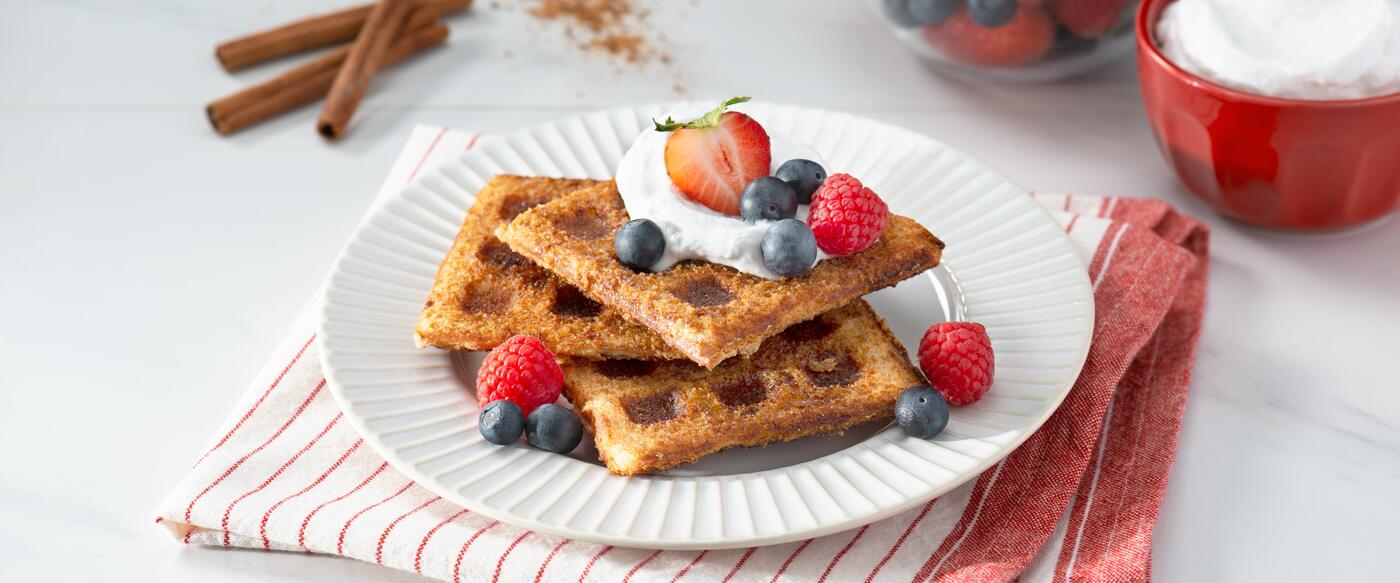 Prep Time: 5 mins
Cook Time: 25 mins
Servings: 4
Vegetarian Cinnamon Toast Waffles with Berries

Rate this recipe for points

1
Whether for breakfast or dessert, Vegetarian Cinnamon Toast Waffles with Berries are sure to satisfy. Dempster's® White Bread serves as a quick and simple waffle base in this popular recipe. Top it off with a dollop of coconut cream and your favourite berries for a sweet finishing touch. Serves four.
Ingredients
8 slices Dempster's® White Bread
1/4 cup (60 mL) melted coconut oil
1/3 cup (75 mL) coconut sugar
1 tsp (5 mL) ground cinnamon
1 cup (250 mL) prepared coconut whipped cream
2 cups (500 mL) sliced strawberries
1 cup (250 mL) raspberries
1 cup (250 mL) blueberries
Directions
Brush slices of bread on both sides with melted coconut oil.
Stir together coconut sugar and cinnamon; sprinkle over both sides of bread.
Preheat waffle iron according to manufacturer's instructions.
In four batches, toast bread in waffle iron for 2 to 3 minutes or until golden brown and caramelized.
Serve toasts with dollop of coconut whipped cream and top with strawberries, raspberries and blueberries.