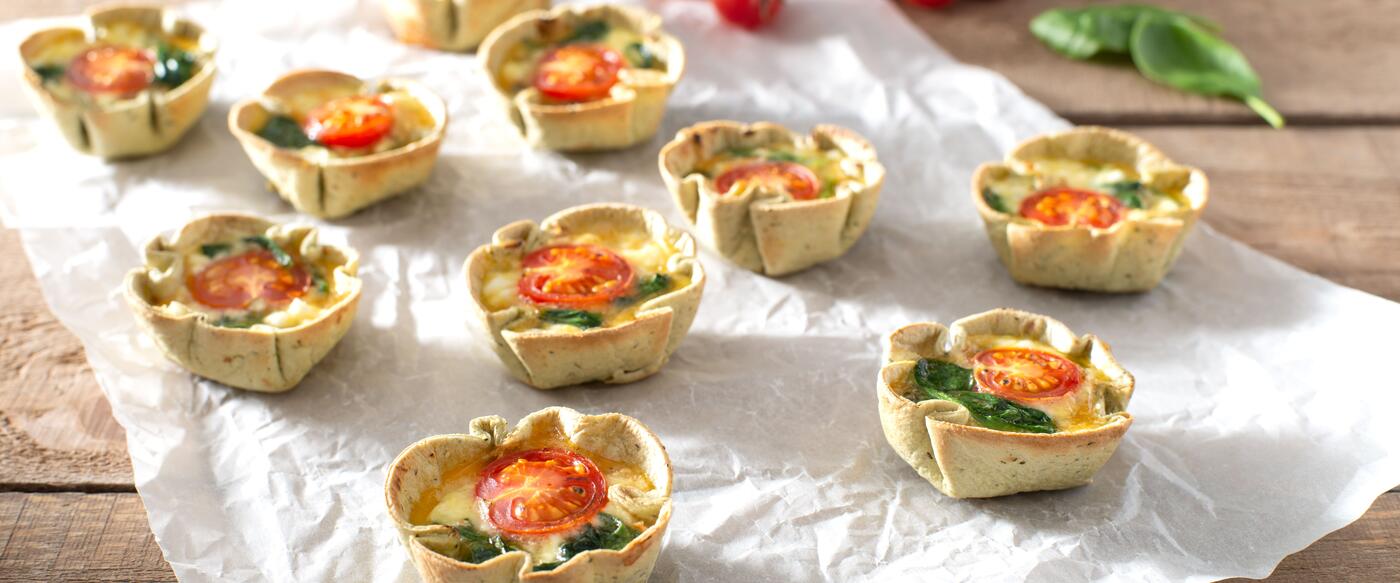 Prep Time: 5 mins
Cook Time: 30 mins
Servings: 12
Vegetarian Spinach and Feta Tortilla Frittata Cups

Rate this recipe for points

4
These Vegetarian Spinach and Feta Tortilla Frittata Cups are easy appetizers you can whip up for any occasion. Dempster's® Spinach 10" Tortillas serve as cups for a savoury and satisfying spinach, feta and egg filling. This versatile vegetarian appetizer is sure to wow any crowd. Serves twelve.
Ingredients
3 Dempster's® Spinach 10" Tortillas
2 tbsp (30 mL) olive oil
4 cups (1 L) packed spinach
1 clove garlic, minced
1/2 tsp (2 mL) each salt and pepper, divided
4 eggs
1/4 cup (60 mL) milk
1/4 cup (60 mL) finely crumbled feta cheese
6 cherry tomatoes, halved
Directions
Preheat oven to 375°F (190°C).
Cut each tortilla into four 4-inch (10 cm) rounds; fit rounds into 12 muffin cups.
Bake for 3 to 5 minutes or until lightly crisped but not browned.
Let cool completely in muffin cups set on rack.
Meanwhile, heat oil in skillet set over medium heat; cook spinach, garlic, and half of the salt and pepper for 3 to 5 minutes or until wilted.
Whisk together eggs, milk, and remaining salt and pepper.
Divide spinach and feta among tortilla cups.
Pour egg mixture over top.
Top each with tomato half.
Bake for 10 to 15 minutes or until filling is set.
Let stand for 10 minutes; remove from muffin cups.