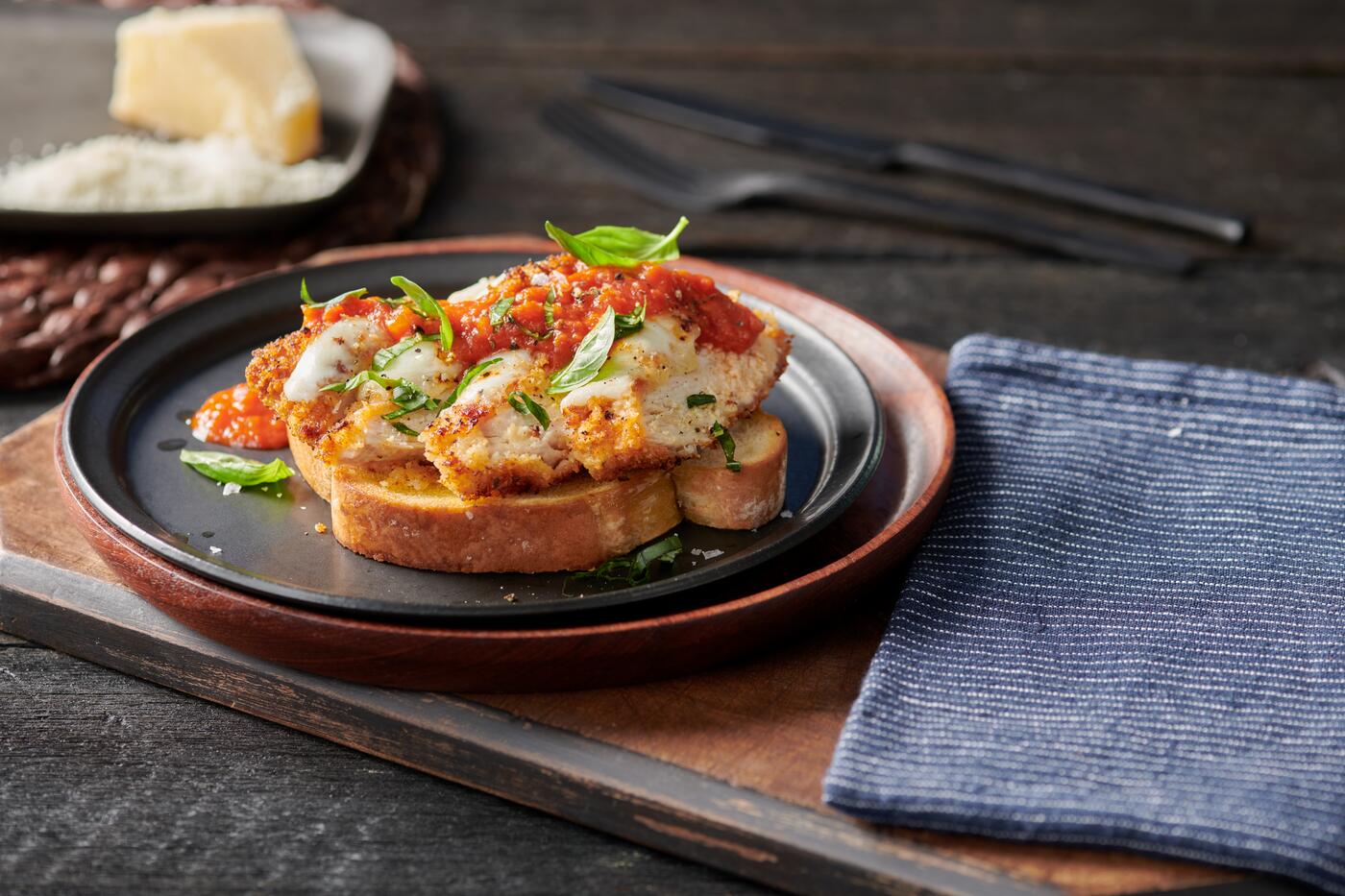 Prep Time: 5 mins
Cook Time: 20 mins
Servings: 4
Chicken Parmesan Sandwich

Rate this recipe for points

8
Ingredients
8 Slices of Villaggio Artesano® White Bread
2 Large Boneless Skinless Chicken Breasts
1/2 Cup (225g) Grated Parmesan
1/2 Cup (225g) Panko Breadcrumbs
1 Tsp (5g) Garlic Powder
1/4 Tsp (1.25g) Oregano
1 Large Egg
1 Tbsp (15g) Water
1/4 Cup (55g) All-Purpose Flour
2 Cups (450g)Fresh Tomato Sauce
2 Medium Fresh Mozzarella Cheese
1 Cup (225g) Fresh Basil Leaves, loosely packed
Salt and Pepper, to taste
Directions
Preheat over to 350°F (176°C)
Warm up Tomato Sauce, in a small saucepan and set aside
Prepare a breading station in 3 large rimmed dishes or bowls: 1 with bread crumbs seasoned with garlic powder and Oregano, 1 with a beaten egg with 1 Tbsp of water, and 1 with flour seasoned with garlic powder and oregano
Season each boneless skinless chicken breast with salt and pepper, then, coat each piece in flour, shaking off excess. Dip the floured chicken breast into the egg mixture, and then coat them with bread crumbs. Setting aside on a plate.
Add about 1 inch of oil, to a large castiron skillet over medium-high heat. When the pan is hot, but not smoking, add the breaded chicken breasts and cook until golden brown, approximately 6 to 8 minutes per side. Check to ensure they are thoroughly cooked through.
Transfer to a paper towel-lined plate.
Line a sheet pan with parchment paper, place the slices of bread on the sheet pan and brush with olive oil. Toast in the oven for 1-2 minutes, until lightly golden brown.
Layer 4 slices each with sliced chicken breast and top with mozzarella. Toast again in the oven until the cheese begins to melt.
Top with warm tomato sauce and fresh basil leaves. Top with a piece of toasted bread and serve immediately.