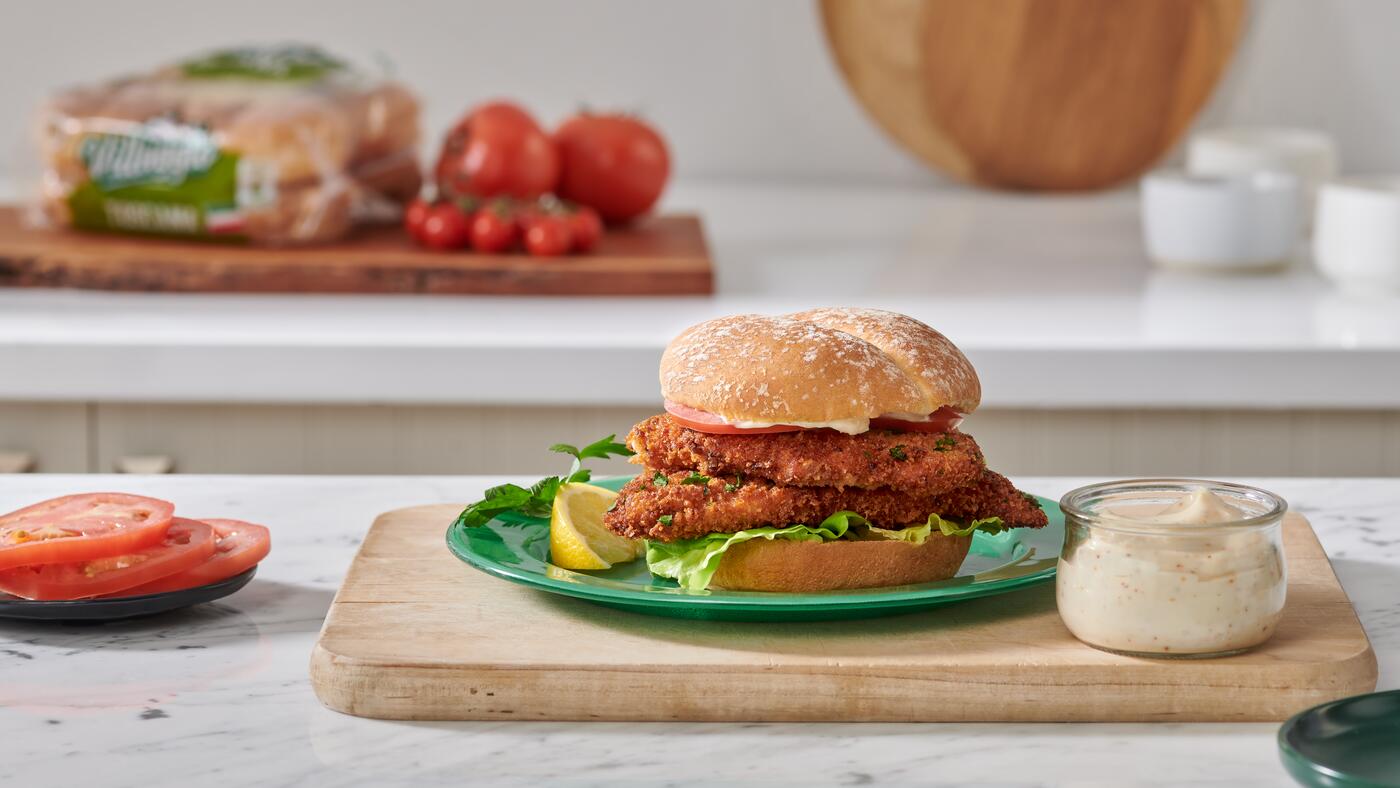 Prep Time: 20 mins
Cook Time: 40 mins
Servings: 4
Chicken Schnitzel Sandwich

Rate this recipe for points

6

Give your crispy chicken sandwich a schnitzel upgrade with this parmesan, panko crumbs and mustard breading.
Ingredients
4 Villaggio® Toscana Extra Soft Hamburger Buns
4 lettuce leaves
1 tomato, sliced
1 tbsp (15 ml) Spicy mayonnaise
4 small boneless skinless chicken breasts
Salt and pepper, to taste
1 cup (125 g) all-purpose flour
2 large eggs
2 tbsp (30 ml) grainy mustard
1/2 cup (50 g) grated parmesan
2 cups (300 g) panko breadcrumbs
2 tbsp (30 ml) canola oil
2 tbsp (30 g) unsalted butter
Chopped parsley for garnish
1 lemon, cut into wedges
Directions
Place chicken breast in a plastic freezer bag or parchment and pound each until evenly thin.
Prepare "breading station" with 1 plate of flour, 1 bowl with eggs and mustard (beaten together) and 1 bowl of cheese and panko breadcrumbs (mixed together).
Season each chicken breast with salt and pepper, then, dip into the flour for dusting, then, into the egg mixture and lastly into the cheese and panko mixture.
Set aside.
In a large frying pan, heat butter and oil over medium-high heat.
Cook each prepared chicken breast until golden brown on both sides for approx. 8-10 minutes per side.
Spread mayonnaise on the bottom bun and layer with tomato.
Cut each chicken breast in half and layer on top, sprinkle with chopped parsley and a quick squeeze of lemon, then top with more mayonnaise, if desired.