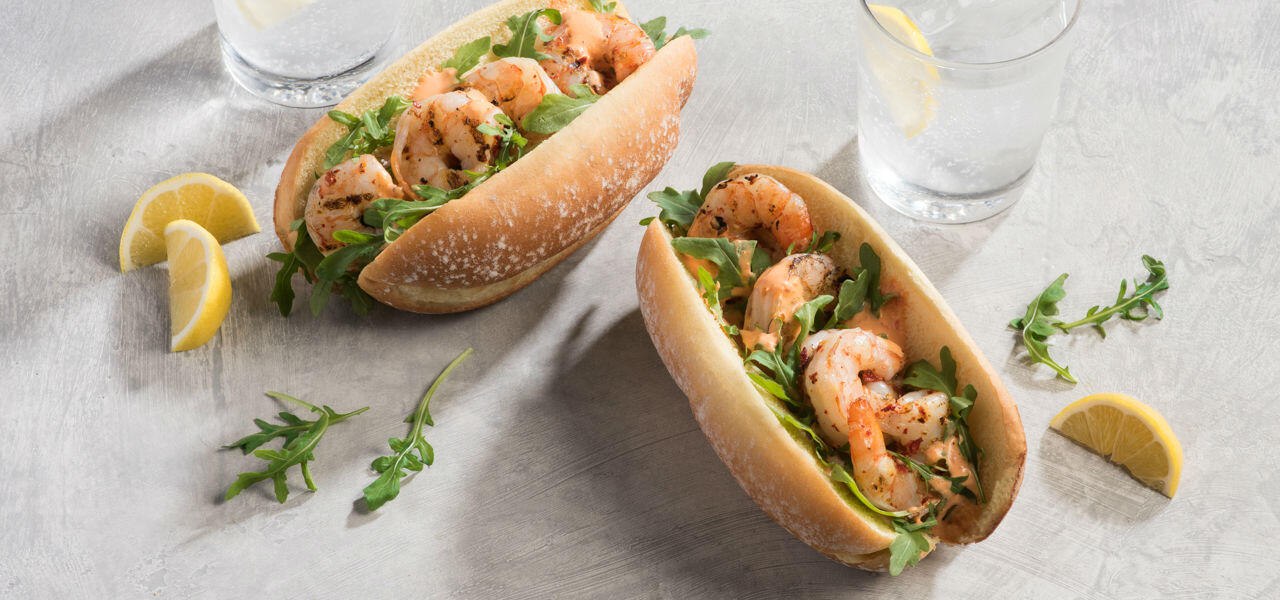 Prep Time: 15 mins
Cook Time: 20 mins
Servings: 4
Grilled Shrimp Rolls with Red Pepper Mayo

Rate this recipe for points

23
Savoury, Simple Grilled Shrimp Rolls with Red Pepper Mayo are a popular, easy-to-prep choice for BBQ season. Seasoned jumbo shrimp with a hint of chili heat are loaded onto delicious Villaggio® Toscana Extra Soft Sausage Buns and topped off with a tangy sauce. Serves four.
Ingredients
4 Villaggio® Toscana Extra Soft Sausage Buns
1 tbsp (15 ml) olive oil
1 clove garlic, minced
1/2 tsp (2.
5 ml) salt
1/4 tsp (1 ml) hot pepper flakes
1 lb (500 g) jumbo peeled deveined shrimp (16-20 count)
1/4 cup (60 ml) chopped roasted red peppers
1/2 cup (120 ml) mayonnaise
1 cup (250 ml) arugula
Lemon wedges
Directions
Mix together olive oil, garlic, salt and hot pepper flakes; toss with shrimp.
Preheat grill to medium-high; grease grates well.
Thread shrimp onto soaked bamboo or metal skewers.
Grill shrimp, turning once, for 4 to 5 minutes or until grill-marked, pink and opaque.
In food processor or blender, purée red peppers. Add mayonnaise; blend until smooth.
Spread red pepper mayonnaise over buns; sandwich shrimp and arugula in buns.
Serve with lemon wedges.

Tip: To roast red peppers, place peppers on foil-lined baking sheet and broil, turning to char all sides. Place in a plastic bag to steam. Peel off charred skins and remove seeds and stems. Chop and use as desired.