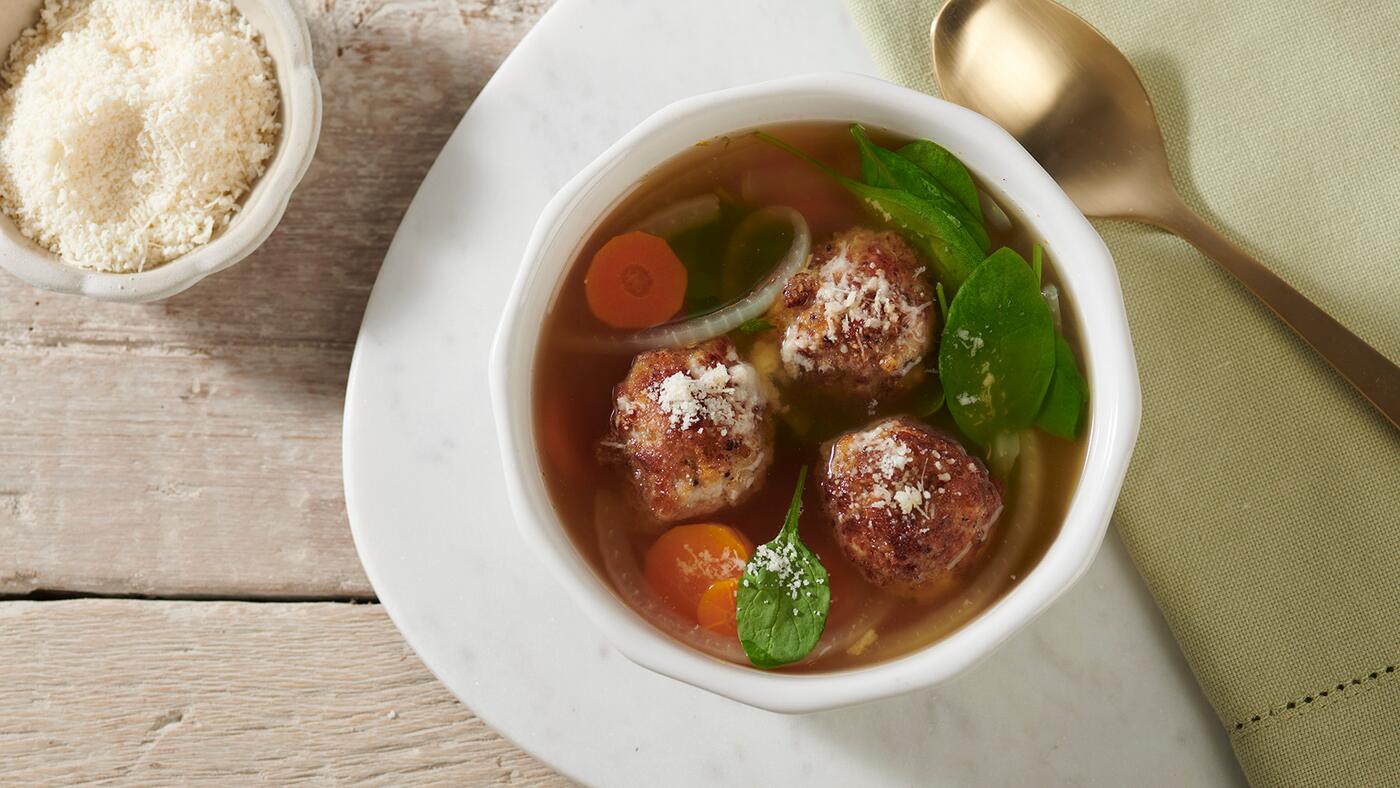 Prep Time: 15 mins
Cook Time: 65 mins
Servings: 6
Italian Meatball and Spinach Soup

Rate this recipe for points

43

Our flavourful Italian Meatball and Spinach Soup is a hearty soup that will satisfy on any day of the week. Pork meatballs are prepared with Villaggio® Classico Italian Style Thick Slice White Bread and savoury seasonings for delicious flavour in every spoonful.
Ingredients
Meatball:
2 slices Villaggio® Classico Italian Style Thick Slice White Bread, toasted
1 lb (500 g) ground pork
1 tbsp (15 mL) Worcestershire sauce
1 tsp (5 mL) Italian seasoning
2 cloves garlic, minced
1/4 tsp (2 mL) each salt and pepper
2 tbsp (25 mL) olive oil
Soup:
8 cups (2 L) chicken broth
6 cups (1.5 L) baby spinach1 tbsp (15 mL) olive oil
2 carrots, chopped
1 onion, chopped
1 clove garlic, minced
1/2 cup (125 mL) grated Parmesan cheese
Directions
Meatballs:
In a food processor, pulse toasted bread to make fine crumbs; mix together with ground pork, Worcestershire sauce, Italian seasoning, garlic, salt and pepper.
Form into 24 balls, about 1 inch (2.5 cm) in diameter.
Heat oil in a large nonstick skillet set over medium-high heat; brown meatballs, in batches if necessary, for 3 to 4 minutes.
Transfer to a plate.
Soup:
Heat olive oil in a large saucepan or Dutch oven set over medium heat; cook onion, garlic and carrots, stirring, for about 5 minutes or until onion is tender.
Stir in chicken broth.
Bring to boil; reduce heat and simmer for about 15 minutes or until vegetables are tender.
Add meatballs; simmer for about 10 minutes or until cooked through.
Stir in spinach and cook for about 2 minutes or until wilted.
Sprinkle with grated Parmesan before serving.

Tip: Soup can be made ahead and refrigerated for up to 5 days or frozen for up to 1 month.