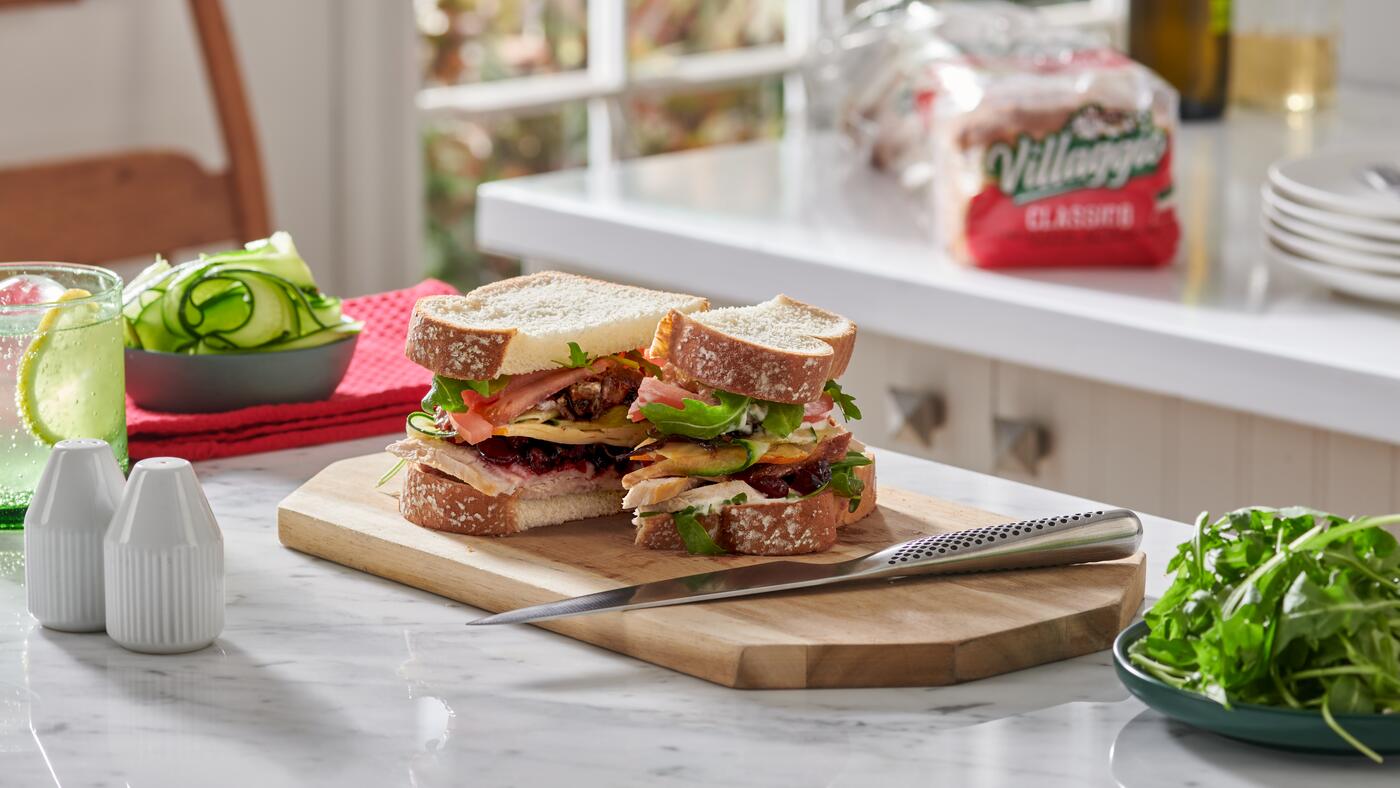 Prep Time: 20 mins
Cook Time: 70 mins
Servings: 4
Leftover Turkey Club Sandwich

Rate this recipe for points

5

Bacon jam, gouda and watercress are just some of the ingredients helping turn your leftover turkey into this unforgettable turkey club.
Ingredients
8 slices of Villaggio® Classico Italian Style Thick Slice White Bread
16 strips of bacon, uncooked
2 large sweet red onions, quartered and thickly sliced
1/2 cup (125 mL) brown sugar or coconut sugar
1/2 cup (125 mL) water
1/3 cup (79 mL) espresso or strong coffee
1 tbsp (15 mL) balsamic vinegar
Salt, if necessary
1/2 cup (125 mL) aioli
500 g leftover turkey
1/2 cup (125 mL) spicy cranberry sauce
8 slices of gouda
1 bunch of arugula
1/2 cucumber, cut into ribbons
1 tomato, thinly sliced
Directions
In a large skillet/frying pan, cook up bacon over medium-high heat for 10 minutes.
Remove from pan with a slotted spoon and set aside.
Pour out all but 1 tablespoon of bacon drippings and set aside.
Add in sliced red onions and cook for approximately 8-10 minutes, then, reduce heat to low.
Add in sugar and continue cooking and stirring for approximately 20 minutes, untiil onions have carmelized.
Add the reserved bacon, coffee and water. Increase the heat to medium and continue. Cooking, stirring about every 5 mintues, until the onions are thick and jammy, approx. 30 mins.
Remove from heat and stir in balsamic vinegar.
Spread 1 tbsp of aioli on each slice of Villaggio® Classico Italian Style Thick Slice White Bread.
Layer 4 slices of bread with turkey, cranberry sauce, gouda, cucumber layer with bacon jam, arugula and tomato slices.
Spread mayonnaise on the 4 remaining slices of bread and cover.
Cut in half or quarters.